Atom bank review
Save on the go with one of the UK's digital-only challenger banks.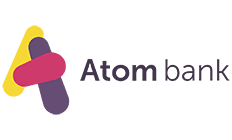 Atom bank is one of the "challenger banks"" aiming to bring banking into the present. Atom works entirely through your smartphone or tablet, making banking more accessible. However, unlike many of its competitors, Atom offers savings accounts and mortgages rather than current accounts. It also offers business loans.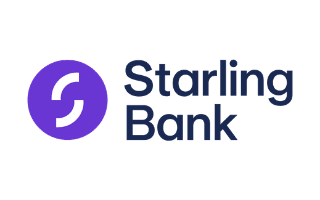 Starling Bank: award-winning banking on your mobile
No monthly fees or fees overseas
Apply in minutes, direct from the app
Winner 2020 - Best Current Account, British Bank Awards
What is Atom bank?
Atom bank was one of the first wave of
challenger banks
, starting in 2016. It sees no need for physical branches, providing all of its services from the app.
Atom's strengths are value for money and convenience, and it has won praise for how easy it is to use. Atom doesn't offer any current accounts – only savings and mortgages, and business loans.
Fixed-rate bonds
Table: sorted by interest rate, promoted deals first
How does Atom bank work?
Completely through an app on your tablet or smartphone. It doesn't even send a card, you just move your money via bank transfers.
Atom makes the app personal to you, giving the option to alter your brand, theme and the name of your account. The design focuses on the products offered by Atom, with added extras like a blog and videos about the company.
The basic app functions include:
Your savings: See how much money you have saved, and how much money you will earn through interest. Your interest rates are also displayed on the screen.
Atom's products: Atom offers a small pool of savings accounts, as well as mortgages at a competitive rate. From the products screen you can select or apply for one of these options.
Your mortgage: If you have opened a mortgage with Atom, an option to view your repayments becomes available on screen. This will let you know how much and when you need to pay back your loan. Read our Atom bank mortgage review to learn more.
Business loans: Atom also offers business and buy-to-let loans for small business and sole traders through intermediary brokers.
The app also features:
Blog: Atom's blog, "Atomised", is updated monthly and discusses a variety of current topics within banking and society.
Videos: A video on Atom bank's story so far and a video on security can be found on the app home page.
Daily quote: Atom provides customers with a daily quote for anyone who wants to be inspired.
How safe is Atom bank?
With an emerging bank like Atom you might worry what will happen to your money if the bank goes bust. Atom is covered by the
Financial Services Compensation Scheme (FSCS)
. So you're covered for up to £85,000 if Atom suddenly went insolvent.
You might also have concerns about the bank's day-to-day security features – how effective is the bank at stopping fraud?
Well, it offers broadly the same security features as a traditional banking app. Instead of using the standard passcode and password combination, Atom bank uses face and voice recognition to keep your money safe. The Atom app asks for a selfie and voice clip when logging in.
Along with your personal details and address Atom also requests your existing bank details when you register.
Can Atom bank be used abroad?
Atom has no option for a
current account
, meaning you may want to look elsewhere if you are looking for a mobile bank to travel with. Additionally, while you can use the app overseas, or even start an account, you might struggle to get updates. If, however, you would like to put some money away while travelling, Atom bank might have a nice return for you to come home to.
Atom bank customer reviews
Atom ranked top for public sentiment during lockdown among 10 banks that we tracked as part of September 2020 study that we conducted in partnership with the social data analyst BrandsEye.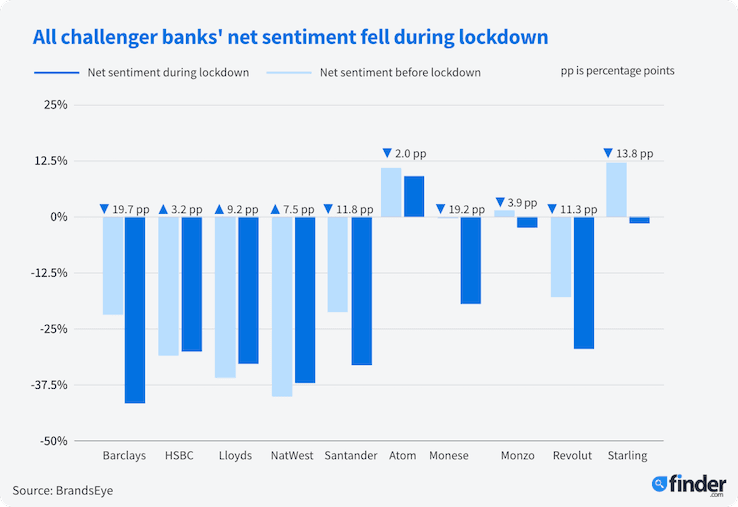 You can see more on challenger vs traditional banks during lockdown in our industry report, which is free to download.
In the App Store, the Atom banking app scores 4.7 out of 5 stars, from 11,800 reviews. It gets a similar average rating over at the Google Play store, where it picks up 4.4 out of 5 stars, from 2,500 reviews.
On Trustpilot, Atom has 4.6 out of 5 stars and a rating of "Excellent", based on over 3,700 customer reviews (updated October 2020). Positive reviews praised the app's simplicity and ease of use, while negative feedback spotlighted technical issues and specific problems with in-app face recognition.
Pros and cons of Atom bank
Pros
Register in under 30 minutes.
Display of account balance and interest rates, as well as how much you will get back at the end of the saving period.
Display of your possible returns encourages you to save.
Competitive rates of AER and tax-free interest up to £1000.
Personalised bank account.
Choose how long you want to save for.
Tough security to keep your money safe.
FCA and PRA certified.
Cons
Security features often take multiple tries to work.
Atom asks for a lot of information from you.
No bank card issued.
Traditional banks are still necessary for full money management.
Our verdict
Atom Bank has a good range of fixed rate savings accounts, the set up is fairly quick and the rates are competitive (although not always the top of the market). You can choose how long the account lasts for and whether to get interest paid monthly or annually.
Just keep in mind that once you deposit your money, you won't be able to get it back until the account expires – Atom has no "cooling off" period, so think carefully before opening an account. Also, it's just fixed-rate savings accounts, no easy access accounts or regular savers available.
You can open an account with as little as £50 and still get Atom's best rates. Together with its flexibility and easy setup, this makes Atom a competitive option for small savers who want to grow their stash without touching it for a while.
Compare Atom bank against its competitors
How easy is it to top up?
Very easy. Transfer up to £100,000 to your Atom
savings account
within a week of registration, and then watch your money mature. Be wary, you must deposit your money within a week of opening an account.
Frequently asked questions
We show offers we can track - that's not every product on the market...yet. Unless we've said otherwise, products are in no particular order. The terms "best", "top", "cheap" (and variations of these) aren't ratings, though we always explain what's great about a product when we highlight it. This is subject to our terms of use. When you make major financial decisions, consider getting independent financial advice. Always consider your own circumstances when you compare products so you get what's right for you.
More guides on Finder
Revolut Plus review

Revolut Plus is the latest current account to be offered by digital banking brand Revolut – we take a look at its features and fees.

Bank accounts for charities

Opening a bank account is one of the very first things you need to do when setting up a charity. Here we look at how to go about finding the right account, from comparing different options to saving on fees.

Types of bank accounts

Should you get a current account, a savings account, or both? What about joint accounts and premium accounts? Banking can be messy if you don't know the jargon. This guide looks at the main types of bank accounts and what services they offer to help you figure out what you need exactly.

Online business accounts

Opening a business bank account can seem like a stressful process, but in fact there are now a number of banks and providers that will let you do it quickly and easily online. Here's where to look and what to expect.

Premium bank accounts

Premium bank accounts offer additional perks for people who hold significant sums with the bank providing them, and can be good value for money. We take a look at how they work, what features they offer and what the eligibility criteria can look like.