Finder is committed to editorial independence. While we receive compensation when you click links to partners, they do not influence our opinions or reviews. Learn how we make money.
Select Quote life insurance review 2020
It does the heavy lifting to connect you with coverage.
finder.com's rating: 4 / 5
★★★★★
Get a quote if… You want the cheapest price out there or have less-than-perfect health. SelectQuote scours over 70 policies to match you with the best provider for your exact situation or health condition.
Pick something else if… You want to buy insurance directly. SelectQuote will connect you with a provider, but it doesn't sell coverage directly.
$100,000 to $5,000,000+
Coverage
Depends on policy and provider
Medical Exam Required
Details
| | |
| --- | --- |
| Free quote | Online, Phone |
| Policy options | Term |
| Term lengths | 10, 15, 20, 25, or 30 years |
| Monthly cost | Depends on policy and provider |
| Claim methods | Ask carrier |
| Available states | SelectQuote does not sell Life Insurance in South Dakota |
| Customer support | Phone, Email |
| Riders | No info available |
Expert review
Review by
amy.stoltenberg@findercrew.com
---
Amy Stoltenberg writes about lifestyle and money for Finder, researching the best options for shopping, banking, insurance and authentic travel experiences. After studying writing and fashion at Savannah College of Art and Design, she worked designing apparel at a corporate behemoth before opting for a career with unlimited travel time. When her laptop's closed, she can be found wandering the streets looking for happy hour and hole-in-the-wall eateries.
Expert review
Simply put, Select Quote's services match you with relevant coverage. So if you're overwhelmed with the search process, it can lend a hand.
But if you'd rather buy directly from a provider or want to take the reins on your own hunt for coverage, be sure to compare quotes to find the best deal.
What type of life insurance does SelectQuote offer?
Select Quote sells a wide array of products, since it works with different companies. But it specializes in term life insurance.
Term life insurance. The death benefit is guaranteed for the length of the term, the monthly premiums are cheaper than for permanent life insurance. But there's no investment component, so your payments don't build cash value.
What riders can I add to my life insurance policy?
The riders available to you depend on what each specific insurance company offers, so check with your SelectQuote agent about possibilities.
Some common rider options include:
Accidental death: If the policyholder dies unexpectedly due to a qualifying accident, an additional benefit is paid.
Waiver of premium: If the policyholder becomes disabled for predetermined amount of time and is unable to work, they're off the hook from paying monthly premiums until they can return to work.
Accelerated death benefit: This kicks in if the policyholder is diagnosed with a terminal illness, allowing them to take some or all of the benefit early.
Child term: While you can't buy a policy specifically for kids from any of the companies Select Quote represents, this common rider lets you insure a child up to a specified age.
How much does SelectQuote cost?
Since Select Quote sources life insurance from a pool of 12 different providers, the cost varies from case to case. But its goal is to find you the best price based on your personal circumstances, so being honest about details like your health can help SelectQuote match you to the right provider. One review states SelectQuote can get your life insurance for less than a dollar per day.
Pros and cons of SelectQuote
It's a solid choice for finding good rates, but may not be for everyone. Benefits and drawbacks include:
Pros
Its services are free. You pay nothing directly to Select Quote — it relies on commission fees from the providers. And Select Quote claims to be pressure-free along the way.
Could save you time and energy. If you don't want to devote time to searching for the best rate, or find it difficult to advocate for your pre-existing condition, Select Quote could help ease that burden by leveraging its expertise and doing the grunt work for you.
Only works with A-rated companies. It only works with insurance companies that have been deemed A- to A+ by AM Best, a rating agency that scores providers based on financial strength.
Cons
It doesn't sell insurance. If you're hoping for a company to directly service your needs, you may want to go right to the source instead of through a third party.
Its pool of options is relatively small. Select Quote is limited to the 12 insurance companies it partners with, which is a relatively small slice of what's out there.
To get a quote, you'll need to talk on the phone. Some agencies show you a quote and let you start a policy through just a series of clicks. But with Select Quote, you'll need to connect with an agent over the phone to move the process forward.
Compare life insurance companies like SelectQuote
Select Quote reviews and complaints
It has an A+ rating from the BBB and has been accredited since 1996. However, customers have given it an average of 2 out of 5 stars. Most of the complaints seem to be hang ups in the communication process — people feeling misled or forgotten about. Select Quote has replied to some of these comments with an apology.
But there are a handful of 5-star ratings from customers who applaud Select Quote's ability to find the best policies and cheapest rates. So service may depend on the competency of the agent you're paired up with.
How does Select Quote protect my data?
Select Quote claims to never sell your contact information, and it won't give your data to an insurance company unless you explicitly give permission — in writing. It's part of the Better Business Bureau's BBB Online Privacy Program, which means it adheres to strict policies about how it handles your personal info.
Sometimes, your details may be used to request credit, medical and driving records from a third party, but only for underwriting purposes. And Select Quote uses encryption (SSL) to encode your info as it travels across the Internet.
How do I sign up?
Getting a quote just takes a few minutes, and eventually leads to a phone call with an agent. To start, follow these steps:
Go to Select Quote's website and select Get Your Free Quote.
First, it'll ask for your ZIP code. Pop it in and select Get Quote.
Next, it'll ask for some basic information, such as your gender, birthday, height and weight. Just click Next when you're ready for more.
You'll select your desired amount of coverage and term length (or indicate that you want to buy a permanent policy). It'll ask for information about your lifestyle, like whether or not you use tobacco or skydive.
Finally, you'll enter some personal information like your name, phone number and email address. Click Finish to complete the process.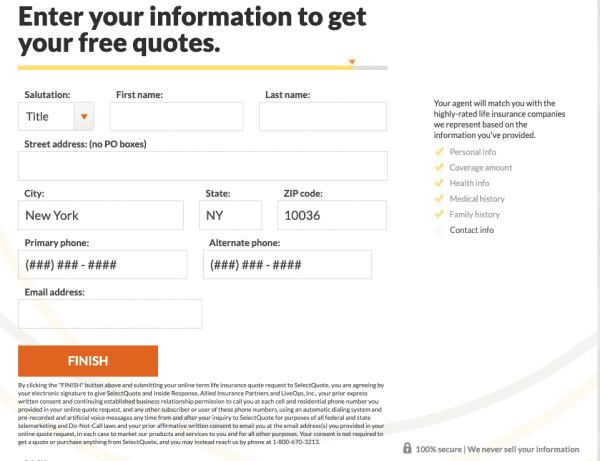 I've signed up. What happens next?
A Select Quote agent matches you with one of the companies it represents, based on the info you provided. They'll give you a call to talk things through.
More about Select Quote
Select Quote has sold over $500 billion in life insurance coverage since it was founded in 1985. It claims to lobby on behalf of consumers to help them buy the best policy, and only shops fully vetted, trustworthy providers. It's headquartered in Overland Park, Kansas, and sells senior insurance as well as home and auto, and medicare.
Frequently asked questions
Life insurance ratings
★★★★★ — Excellent
★★★★★ — Good
★★★★★ — Average
★★★★★ — Subpar
★★★★★ — Poor
Our experts analyze life insurance companies to help you to find the strongest possible policy and premium for your family's needs. We assess their financial strength, customer satisfaction, policy features and riders. We then give each insurer a score between one and five stars that reflects their offering and reputation in the industry.