Finder is committed to editorial independence. While we receive compensation when you click links to partners, they do not influence our opinions or reviews. Learn how we make money.
Citizens Bank loans
This midsize regional bank offers products for a wide range of needs.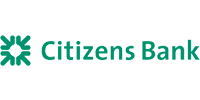 Through this regional bank, you can apply for most loans online without sacrificing the comfort of walking down to your local branch to meet with a representative in person. Its competitive interest rates and wide variety of financial services don't hurt either. But customers aren't always satisfied with their experience.
What types of loans does Citizens Bank offer?
Citizens Bank is a midsize regional bank that provides personal, student and small business loans. You can qualify for a personal loan or a student loan if you live anywhere in the country, thanks to its online branch, Citizens One.
However, you can't take advantage of loyalty perks outside of Citizens Bank's 11-state area, because you're not eligible to open a bank account. Business loans are also not available through Citizens One, the result of a more involved application process.
Here's a breakdown of what Citizens Banks can offer you.
Loan
Types offered
Who it's for
What you can do with it
Amounts available
Personal loan
Fixed- and variable-rate term loans
US citizens and permanent residents with good credit
Cover any legitimate one-time personal expense
$5,000 – $15,000
Student loan

Student loans for undergrads, grads and parents
Student loan refinancing

Undergraduates
Graduate students
Former students

Pay for educational expenses while you're in school
Refinance a private student loan

$1,000 – $295,000
Business loan

Lines of credit
Term loans
Equipment flex loans
SBA loans
Business mortgages

Small business owners in the Northeast and Midwest
Almost anything related to your business:

Cover day-to-day expenses
Pay for large, one-time expenses
Buy equipment
Purchase, renovate or refinance commercial real estate

$20,000 – $150,000
Citizens Bank has branches in:
Massachusetts, Connecticut, Delaware, Michigan, New Hampshire, New York, New Jersey, Ohio, Pennsylvania, Vermont and Rhode Island
Why should I consider taking out a loan with Citizens Bank?
Citizens Bank's appeal goes beyond the financial. It offers the attractive features of a traditional financial institution, including:
Discounts. Get a 0.50% reduction on your interest rate for personal and student loans if you open an account with Citizens Bank and set up autopay.
In-person service. True, you can be approved for most loans without talking to another soul. But you can also call its customer service line — or walk over to a local branch, if you live in the right state.
No prepayment fees. Pay off your total loan cost early to avoid paying unnecessary interest — without additional fees or penalties.
Full suite of financial products. Citizens Bank could be a one-stop shop for your money-related needs. Take out a loan, open a bank account, get a credit card, set up a retirement plan, put together an investment portfolio, manage your wealth and more.
Funding for nonprofits. Citizens Bank's foundation provides financing for nonprofits and charitable organizations.
Community involvement. Employees and executives alike are active members of their local communities, providing a deeper understanding of what those communities need.
Compare Citizens Bank to top loan providers
How much will it cost me to borrow with Citizens Bank?
Citizens Bank loans are relatively inexpensive: They come with few fees, and interest rates are competitive.
Here's what you can expect for APRs and fees on personal, student and business loans:
Personal loans
Student loans
Business loans
APR
6.78% – 16.24%
1.25% and up
4.75% and up
Fees related to getting your loan
None
None

Term loans — $295 documentation fee for loans up to $100,000; origination fee of 0.5% of your loan amount
SBA loans — SBA guarantee fee equal to 0.25%–3.75% of your loan amount

Prepayment penalty fees
None
None
None
Annual or monthly fees
None
None

$50,000–$100,000 lines of credit — $150 annual fee
$100,000–$1 million lines of credit — 0.30% annual fee

Late fees
5%–10% of your payment amount after a 15-day grace period
Determined by your loan amount
Percentage of the payment due determined by your loan amount
Returned check or nonsufficient funds fees
$15
Non-sufficient funds fee — but customer service wasn't able to tell us how much
$39
Is it safe to take out a loan with Citizens Bank?
Generally, yes. The bank's site uses SSL encryption to protect sensitive personal information like your Social Security number. But the site sometimes reverts to submitting your information unencrypted.
Avoid unwittingly submitting your information over an unencrypted page. Look for a padlock to the left of your page's URL, which itself should start with "https," indicating a secure site. Citizens Bank also suggests downloading IBM Security Trusteer Rapport software.
If you have any problems, call the customer service line, which you can easily find on any page. Our experience with customer service has been nothing but positive, but many online reviewers disagree. Your information might be safe, but Citizens Bank has a reputation for charging unexpected fees or double payments and being unresponsive when customers complain.
How to apply for a loan with Citizens Bank
The application process differs depending on the type of loan you're looking for.
Here's a general overview of the application process.
Eligibility requirements
Whether you qualify for a loan depends on the type of loan you want. All loans require you to be the age of majority in your state — usually 18 years old — and a US citizen or permanent resident as the bare minimum.
You also must be able to prove that you can afford to pay your loan back with some kind of income (it doesn't have to be from an employer). Applicants with good credit have a better chance of approval.
Have the following information and documents on hand before starting your application:
Your Social Security number
Your personal contact information
Proof of income
Should I borrow with Citizens Bank?
What's to like about Citizens Bank
No fees on most loans. You can get away with only paying interest if you need a personal or student loan.
Competitive interest rates. You might not get the lowest interest rate out there, but personal loans are capped at 16.24% — nearly half what banks can legally charge.
Brick-and-mortar locations. There's only so much help a website can provide. Talking with a rep can be helpful if you haven't applied for a loan before.
What's not to like about Citizens Bank
Poor online reputation. Forums across the Internet are filled with stories gone wrong with Citizens Bank — without options to fix them.
Business loans are slow. It could take anywhere from weeks to months to see funding for your business.
Limited reach. You can get a loan through Citizens One from anywhere in the US, but you won't be able to take advantage of major perks like discounts and face-to-face interaction if you don't live in a state where Citizens Bank operates.
Bottom line
Chances are good that Citizens Bank offers the type of loan you're looking for. And if you have good credit, it might check off many of your other financing needs. But its poor customer reviews online could compel you to look elsewhere.
Be sure to compare your borrowing options from banks and online lenders before settling on a loan — you won't know if there's something better out there for you if you don't look.
Frequently asked questions
Read more on this topic
Citizens Bank personal loans review

Borrow up to $50,000 with this regional bank offering personal loans with fair interest rates. But consider poor online reviews before applying.