Finder may earn compensation from partners, but editorial opinions are our own. Advertiser Disclosure
Interest-Only Mortgage Finder
The advantages and pitfalls of this niche mortgage product.
Though lenders tend to have tight qualifying guidelines for interest-only loans, there are still plenty of competitive offers out there. For investors, an interest-only mortgage can maximize returns and reduce payments in the short term. For home buyers, they can provide some breathing room early in the loan — though it'll cost more in the long run.
What is an interest-only mortgage?
An interest-only mortgage only requires that you make payments on the interest for the first several years. After this period — typically after five to 10 years — you're required to pay both the principal and interest.
How do interest-only mortgages work?
While you're making interest-only payments, your monthly mortgage payment is lower, but you're not reducing the principal balance. After the initial interest-only period is up, payments increase and include payments to the principal. When that happens, some homeowners choose to refinance for more favorable terms.
How do I qualify for an interest-only mortgage?
Qualifying for an interest-only mortgage isn't as easy as it was before the housing crisis — and requirements vary by lender — but your chances may increase if you:
Have a bigger down payment. Many banks are more willing to consider an interest-only mortgage if you have a larger down payment. A bigger down payment — usually at least 20% — makes you a more attractive borrower.
Prove you can make future payments. Before the 2008 market crash, home buyers only had to demonstrate they could make the interest-only payment. Today, buyers must prove they can make the full payment once the interest-only period ends.
Increase your credit score. Lenders typically want to see your credit above 720 to qualify for this type of loan.
Lower your debt-to-income (DTI) ratio. Lenders factor in both the principal and interest payments when determining your DTI, and typically want to see it around 43%. Work on paying off as much debt as possible to increase your chances.
Why would I want an interest-only mortgage?
If you're buying a house as an investment, you might use interest-only loans because interest payments on an investment mortgage are tax deductible. Investors choose interest-only loans to minimize their monthly payments while maximizing cash flow and tax effectiveness. The risk with this strategy is that if property prices fall, you can end up in negative equity.
What if I'm an owner-occupier?
Interest-only mortgages might not be the best option if you're planning on living in your new home as a primary residence. For starters, banks are typically hesitant to approve interest-only loans for owner-occupiers. The reasoning is that if you can't afford to make principal and interest payments, you're likely trying to borrow more than you can afford.
One of the main dangers of owner-occupiers using an interest-only home loan is that the payments can rise dramatically when the loan reverts to principal and interest.
However, an interest-only mortgage could be a good option for first-time home buyers who plan on moving or refinancing before the interest-only period ends. It's also a good option if your income fluctuates — you can always pay more when you can.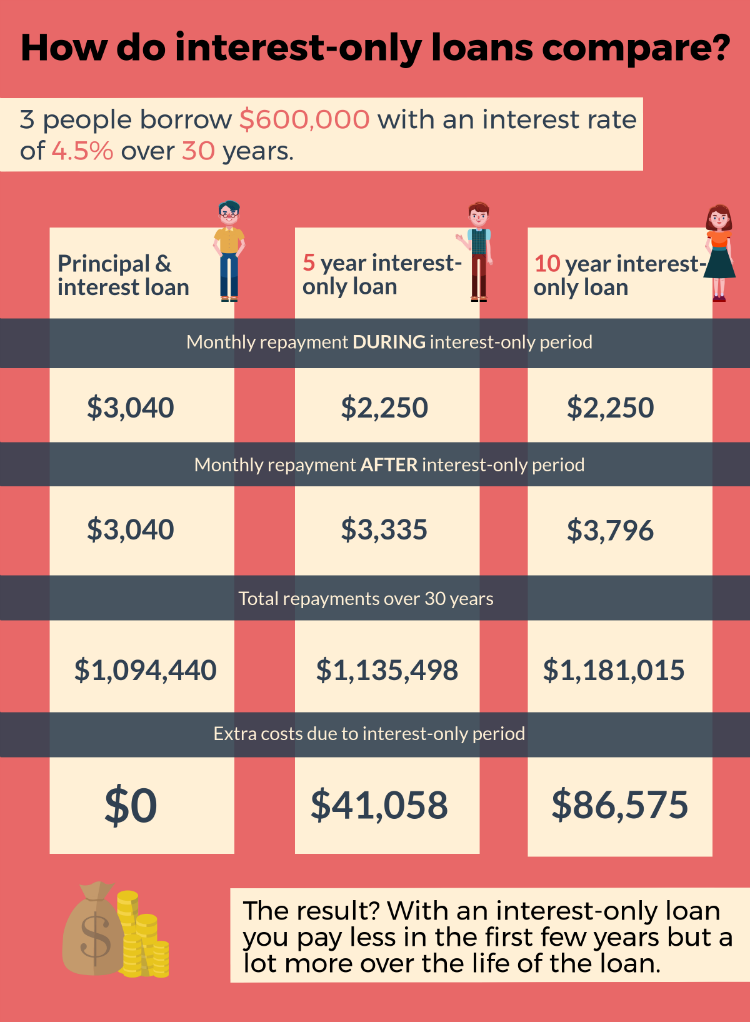 What are the pros and cons of interest-only loans?
Pros
Lower payments. With an interest-only mortgage, you have a few years where you don't pay toward the principal balance.
Tax savings. If you're an investor, your monthly mortgage payments may be tax-deductible.
Cons
Need to refinance. Interest-only periods generally last five to 10 years. After that, you may have to refinance to another lender if you wish to continue making interest-only payments.
Market risk. Interest-only loans can be higher risk than principal and interest loans, as you're not building equity in the property. In other words, if property values decrease, you could end up owing more than your property is worth.
Compare mortgage lenders
Compare top brands by home loan type, state availability and credit score. Select See rates to provide the lender with basic property and financial details for personalized rates.
How can I find the best interest-only mortgage?
There's no one best interest-only mortgage, but there are different ways to find out if a home loan is the right one for you. Compare interest-only mortgages on:
Fees. Look for an interest-only mortgage with low upfront and ongoing fees.
Interest rates. Interest rates are slightly more important when comparing interest-only home loans, as there's no principal repayment. The full amount of your monthly payment is based on the interest rate you're paying.
Features. Find out if you can make extra payment on your loan, how long you'll pay interest only and if it's a fixed or variable loan.
Alternatives to an interest-only mortgage
Before diving into an interest-only loan, make sure the financial benefits outweigh the risks. Also be aware of your alternative options and whether or not they make sense for your situation.
Balloon mortgage. These loans typically have short terms of five to 10 years. At the end of the term, whatever's left of the loan amount becomes due in full. A balloon mortgage could be a solid choice If you're expecting a windfall in the near future or if you're planning to move within a few years. They often come with lower rates than interest-only loans and should save you money over the life of the loan. But as with many loan products, they aren't without their risks.
Adjustable-rate mortgage (ARM). An ARM features a period where the rate is fixed — most commonly for three, five or 10 years — after which the rate adjusts annually with the market. ARM rates are often lower than those of more traditional loans, and are typically best for those looking to move or refinance before the fixed term expires.
Fixed-rate mortgage. If you're able to qualify for and make the principal and interest payments of a fixed-rate mortgage, you stand to save thousands over the life of the loan compared to an interest-only product.
Bottom line
Though they could be a solid choice for many borrowers, interest-only loans are not without their risks and potential pitfalls. Save yourself from paying too much by comparing mortgages to find the one that's right for you.
Frequently asked questions