How to finance an Acura
Service members, recent college grads and loyal customers might qualify for special discounts.
Acura — the luxury division of Japanese manufacturer Honda — offers upscale car models at relatively competitive price points. And with several discount programs and financing options available, you may be able to drive home without emptying your wallet.
How can I finance an Acura?
When you're looking to buy an Acura, the most obvious choice is taking out a traditional car loan from a bank, credit union or online lender. While this typically takes more time, you have a better chance of qualifying for a competitive rate.
If speed is your main priority, you might want to consider financing directly through an authorized dealership. Advantages of financing through Acura Financial Services include special discount programs and APR offers.
Here are a couple of ways to go about stepping behind the wheel of a new Acura.
Acura financing. By financing directly through an authorized Acura dealership, well-qualified buyers may be able to score a 2.9% APR for the 2020 Acura RLX Hybrid or a 0.9% APR on the 2019 ILX Special.
Acura leasing. Specific lease deals vary by city and dealership, though many 2019 and 2020 Acura models have 36-month leases available with relatively low monthly payments.
As with all types of financing, the exact rates and terms you qualify for will vary depending on your credit history and personal financial situation.
Does Acura offer special discounts or programs?
Yes, active-duty military members and recent veterans may qualify for up to $750 off select models when leased or financed through Acura Financial Services. Recent college graduates qualify for a similar deal — $500 off select models.
If you're looking to buy or lease a specific model, check Acura's Current Offers page for details. You may be able to qualify for up to $1,500 off select vehicles if you're a loyal Acura owner or currently driving a newer model from a competing manufacturer.
What will a new Acura cost me?
A new Acura will cost anywhere from $25,900 to over $150,000 — it all depends on the model you choose and your negotiating skills.
Choose a type
Cars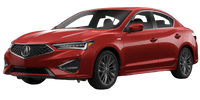 ILX
Starting MSRP: $25,900
Build: Sedan
City/highway MPG: 24/34
TLX
Starting MSRP: $33,000
Build: Sedan
City/highway MPG: 23/33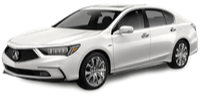 RLX
Starting MSRP: $54,900
Build: Sedan
City/highway MPG: 20/29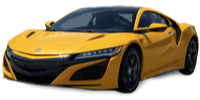 NSX
Starting MSRP: $157,500
Build: Coupe
City/highway MPG: 21/22
SUVs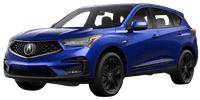 RDX
Starting MSRP: $37,600
Build: Crossover
City/highway MPG: 22/28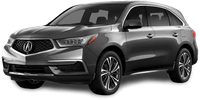 MDX
Starting MSRP: $44,400
Build: SUV
City/highway MPG:20/27
Car insurance costs that come with driving an Acura
Does a new Acura come with a warranty?
Yes, every new Acura comes with a four-year, 50,000-mile limited warranty that covers repairs or replacements of defective parts, but not normal wear and tear. If you'd like more coverage, you can opt for Acura Care — which extends coverage up to eight years or 120,000 miles. And if you're in the market for a preowned Acura, you can purchase this extended protection plan for your used vehicle as well.
Compare car loans to buy an Acura
Bottom line
You have a few ways to finance a new or preowned Acura — from a traditional car loan to direct financing through Acura Financial Services. To find the best deal available to you, compare several car loan provider offers first before hitting the dealership.
Frequently asked questions
How can I apply for financing through Acura online?
Acura has a quick online application available for prospective buyers looking to get preapproved for financing. And unlike other preappproval offers, you're guaranteed whatever rates and terms you're given — saving you time and paperwork when you visit the dealership.
How can I buy a used Acura through Acura Financial Services?
Used vehicles qualify, but your chosen model must be purchased through the Acura Certified Preowned Vehicle Program.
Pictures: Acura's Official Page