Finder is committed to editorial independence. While we receive compensation when you click links to partners, they do not influence our opinions or reviews. Learn how we make money.
U.S. Bank CDs review
Decent promotional APYs from a financially strong provider.
While U.S. Bank's standard selection of CDs leaves a little to be desired — the highest interest rate is just 0.6% — its single term CD specials have fairly competitive rates. And some consumers might enjoy the assurance of depositing money with a fiscally stable, longstanding provider.
Details
Minimum deposit to open
$500
Interest compounding
Daily
3-month APY
0.05%
6-month APY
0.05%
9-month APY
0.05%
1-year APY
0.1%
18-month APY
0.15%
2-year APY
0.2%
3-year APY
0.3%
4-year APY
0.4%
5-year APY
0.6%
Early withdrawal penalty
1% for terms of 1 to 6 months + a flat $25
1% for terms of 7 to 12 months + a flat $25
3% for terms of 13 + months + a flat $25

What CDs does U.S. Bank have to offer?
U.S. Bank CD Special. U.S. Bank offers a selection of CD Specials with competitive APYs that last for a single term. But you need to deposit a minimum of $1,000 to open an account.
U.S. Bank Step Up CD. This account increases interest over the course of six months, rewarding you for leaving the money in the CD. The blended APY ends up equaling about 0.4% over the long haul.
U.S. Bank Trade Up CD. These CDs are designed to encourage folks to keep cash in the CDs for a longer period of time.
U.S. Bank Standard CD. Long-term U.S. Bank customers might consider its basic CD options. While the APYs are lower, they're more constant — so if you wanted to renew the CD for more than one term, you'll get a similar APY as when you first opened the account.
U.S. Bank's CDs come with an industry standard of 10-days as a grace period, when you can withdraw funds and close the CD without penalty.
What are the benefits of a CD with U.S. Bank?
Perks of opening a CD with U.S. Bank include:
Free to open and maintain. There's no service fees or initiation fees associated with opening a U.S. Bank CD, so 100% of your initial deposit will remain in the CD and will start accumulating interest.
Financially strong provider. U.S. Bank is an industry heavyweight that's in 26 states — mostly Midwest with more than 3,000 branches. It has an A1 rating from Moody's, AA- from Fitch and A+ from S&P — all indicators of solid financial health.
Withdraw cash. If you live near a branch location, you can collect funds in person when the CD matures. This gives U.S. Bank a leg-up from online-only providers that require electronic transfer directly into a bank account.
What should I look out for?
As a brick-and-mortar bank, U.S. Bank has high overhead costs which tend to equal less competitive CD interest rates. Here's what to consider before parting with your money:
Standard CD rates aren't competitive. Its highest APY is only 0.6% over a 60 month term. This is lower than many high APY savings account available from online providers.
Maximum deposit is $249,999. That's a fairly low cap, as competitors like HSBC let you deposit up to $2 million.
U.S. Bank charges a penalty fee for early withdrawal. In addition to a flat $25 for early withdrawal, you'll lose:
Term length
Penalty (whichever is greater)
Up to 6 months

All interest that would've been earned throughout the entire term
1% of the amount you withdraw

7–12 months

Half of the interest that would've been earned throughout the entire term
1% of the amount you withdraw

13+ months

Half of the interest that would've been earned throughout the entire term
3% of the amount you withdraw
Also note that once the CD starts, you won't be able to add money until it matures. If you're hoping for a CD with more flexible fine print, look for a no-penalty CD — though keep in mind that these generally have less competitive APYs.
Compare with other CD accounts
How do I open a CD with U.S. Bank?
You'll send in an application online to get started with one of U.S. Bank's CDs.
From the U.S. Bank home page, under "Personal," hover over "Checking & Savings" and select CDs.
Scroll down to the CD you're most interested in and select Open now.
Indicate whether or not you already have an online banking account with U.S. Bank. If you do, the process should move more quickly. Hit Continue.
Next, fill out personal information like your name, address and contact information. Indicate your employment status, identity and the purpose of the CD account. After selecting whether you're opening an individual or joint account, hit Continue.
On the next page, review the application and submit it. Decide how to fund the account. U.S. Bank will be in touch regarding the status of your application.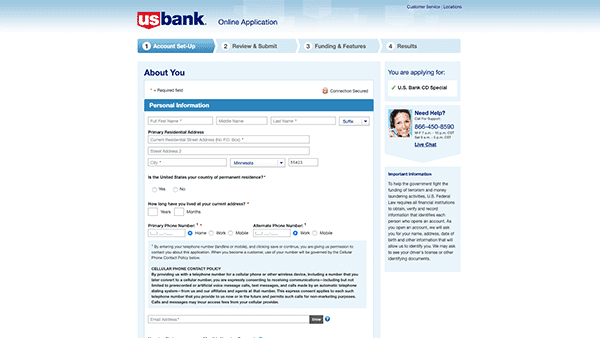 Eligibility
You must be 18 years or older and a legal resident of the US to qualify.
Required information
You'll need the following information handy to open a CD with U.S. Bank:
Social Security or tax ID number
Driver's license, state or military ID
A way of funding the account; options include:
Credit, debit or prepaid card
Account information for electronic transfer
U.S. Bank account information for internal transfer

How do I cash in a CD?

When the term on your U.S. Bank CD ends, you have 10 days to withdraw the funds before it automatically renews. To access the money, you can:

Visit a branch location to receive funds via cash.
Transfer the funds into an external or internal bank account.

What other savings products does U.S. Bank offer?

Other ways to grow your savings with U.S. Bank include:

Standard savings account. Deposit $25 to get started, and maintain a balance of at least $300 daily, or $1000 each month between accounts, to waive the $4 monthly maintenance fee. However, the interest rate is low.
Package Money Market Savings. There's no monthly maintenance fee, but $25 is required to open an account. This account is only available if you also have a Gold checking account.
Elite Money Market Account. Deposit $100 to get started, and waive the $10 monthly maintenance fee by maintaining a daily balance of at least $10,000.
Platinum Select Money Market Savings. There's no monthly maintenance fees, but a $25 initial deposit is required. Earn interest at a higher rate, the more you save — though you only qualify if you have a Platinum checking account.

Bottom line

U.S. Bank is a financially strong provider that offers decent specials for a single term. But if you're hoping for higher rates overall, browse the market to see what other banks have to offer.

Frequently asked questions