Case study: Sarah needs a loan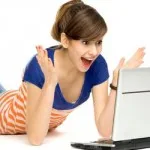 Sarah has been out of work for three months after completing her degree and currently receives welfare payments. She can get a job as a sales rep, but the trouble is she'll need a car to make it to work every day.
She has found a cheap car to purchase from a friend for $1,500. All she needs is a quick cash loan, which she'll be able to comfortably repay using her welfare payments — and when she gets paid from her new job, the loan repayments will be even easier to manage.
Sarah compares her short-term loan options and sees that there are lenders who will consider her welfare payments as income. After comparing what's available and double-checking the eligibility criteria, she submits an online application and is approved for a $1,500 loan.
Her repayment dates are structured around when she receives her welfare benefits. And, after purchasing the car, she is offered the job as a sales rep.