Tally Money review
An account that literally turns your money into gold... what's this sorcery?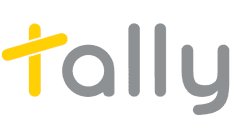 As you probably already know, the vast majority of the currency circulating in the world doesn't physically exist: it's just digital. Unless, of course, you invest it in a physical asset… such as gold, which is what Tally does for you.
It's an innovative way of thinking about banking, while also building on a concept that's as old as the world – that money should somehow be tied to its physical value. It's still early days, but we've taken a look at whether it could be a good idea for your finances.
What is Tally?
At its core, Tally is a digital bank account that works thanks to an app and its card, just like your favourite challenger bank (Monzo? Starling? Revolut?).
However, the moment you transfer your pounds to your Tally account, you're actually purchasing the equivalent amount in gold. This gold actually exists and is kept in a secured vault in Switzerland (yeah, for real).
This means that the value of your money will fluctuate according to the price of gold and not to the value of the pound. Hence the slogan "Brexit-proof your money", which you can spot on Tally's social media.
How does Tally work?
Tally operates using the Tally currency, where 1 Tally = 1 milligram of gold. This is how it works:
Download the app and set up the account. It's a fairly quick and easy process. You'll need your ID.
Buy Tally to fund your account. You can send a bank transfer in pounds to your Tally account directly from your regular bank account and it will be instantly converted.
Use the card to make purchases or withdraw cash. You will receive the card within a few days after opening the account and you can use it in the UK or abroad.
The gold you purchase is pure, insured and sourced from "LBMA-accredited commodity brokers", which in practice means that the gold meets the ethical and purity standards set by the London Bullion Market Association, a global authority for precious metals.
Also, keep in mind that getting Tally practically means investing your money in gold. This is riskier, and more complicated, than getting a traditional bank account. More on this below.
All investing should be regarded as longer term. The value of your investments can go up and down, and you may get back less than you invest. Capital is at risk.
How much does Tally cost?
Tally has one main fee, which is 0.1% of your average monthly holding. In practice, this means that if you hold the Tally equivalent of £1,000 in the account, you'll be charged £1 a month. This also covers the gold's storage and insurance.
If you hold more than half a million Tally (around £18,500 at the time of writing), you'll be charged half price (0.05%).
Depositing money in your Tally account, using the card and withdrawing cash from an ATM (both in the UK and abroad) are all free. ATM withdrawals are limited to £250 a day.
Is Tally safe?
Tally isn't a bank and your money isn't protected by the FSCS. However, it is licensed by the Financial Conduct Authority to trade in electronic money.
Moreover, the gold you come to own is insured against theft, loss and damage due to fire or any other natural events. When you get your Tally account, you'll also receive your insurance documents – make sure you read them carefully and are aware of the cases in which the insurance wouldn't cover you.
Pros and cons of Tally
It's a comparatively cheap and flexible way of investing in gold.
It's quick and easy to set up; you can do everything from the app.
There are no extra fees for using the card in the UK or abroad or to withdraw cash.
You could earn more on your savings than with your average savings account.
Licensed by the FCA.
If the price of gold goes down, you'll lose money.
Some more advanced banking functions are not available yet, for example, you can't set up direct debits.
The verdict
Why on earth should you bother to get Tally? Will it make your money work harder? The answer is somewhat complicated.
The idea behind Tally is that fiat currencies are volatile, whereas gold, being a physical asset, is less likely to lose its value. While this is true to a degree, it is also true that gold's prices (just like those of any other physical asset, say, oil) go up and down all the time according to market trends. When you use Tally, you're investing in gold, and investing always comes with the potential for earnings but also the risk of losses. You need to be very aware of this, because the fact that your money is accessible all the time thanks to the card, can make it look like this is a regular bank account – it's not.
By keeping your money in pounds, on one hand, you have the same problem: if the pound goes down, your money will be worth less from a global point of view. However, if you live in the UK, you won't feel it as much, because the economy of the whole country will readjust accordingly (usually, imported goods will become more expensive but exports will thrive). It's still less than ideal, but it's not as bad for you personally. If you hold your money in Tally and the price of gold goes down instead, you will bear the brunt of it.
Conversely, if the price of gold goes up, your money will be worth more than that of your fellow UK citizens. So, you're taking a bet. In the long run, the price of gold has been going up, but it doesn't mean you can't lose money, especially in the short term – as you know, "past performance is no guarantee of future results".
Finally, Tally is an innovative way of investing in gold, but certainly not the only one. You can learn more about it and compare options in our dedicated guide.
Frequently asked questions
More guides on Finder