Hastings Direct home insurance
Find out if Hastings Direct Home Insurance provides the right cover for you and your home.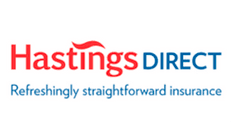 We know how important it is to make sure your home is protected from whatever life throws your way, be it a leaking pipe or a bad storm. So it's paramount that you find the right home insurance policy to protect your home.
Keep reading to find out if Hasting Direct has a Home Insurance policy that fits you and your home.
Compare home insurance
Search up to 50 UK home insurance providers
Get multiple quotes for free
Find the best cover for your home
Who are Hastings Direct?
Hastings Direct is a UK company who launched in 1997 as a brokerage, providing private car insurance policies to customers.
Since then, Hastings Direct have branched out and now provide a range of products including home, bike and van insurance.
In 2009, Hastings Insurance Services Limited was bought by its management from Insurance Australia Group (IAG), giving them the chance to become one of the UK's leading insurance providers. In 2015, Hastings Direct reach their two million customer mark.
What are Hastings Direct's cover options?
Hastings Direct provides two levels of cover. Each has a range of different features and benefits so you can select the cover most suitable for you. You can choose from Hastings Direct and Hastings Premier. Hastings Direct is their most basic cover whereas Hastings Premier has some additional cover as shown below.
Hastings Direct Cover
This is Hastings Direct's more basic home insurance package. It offers essential cover for your building and contents against loss or damage caused by a long list of insured events.
Features of this policy include:
£1,000,000 of buildings cover.
£75,000 of contents cover.
Alternative accommodation.
24 hour claims helpline.
New for old contents insurance
Defaqto 5 star rated cover.
Hastings Premier Cover
Just like Hastings Direct's basic option, this policy covers you against a wide range of insured events including fire, storm and theft but it also offers additional benefits:
£1,000,000 of buildings cover.
£75,000 of contents cover.
Higher level of coverage for alternative accommodation.
24 hour claims helpline.
New for old contents insurance.
Defaqto 5 star rated cover.
Family legal expenses cover.
Home emergency cover.
What's covered in the basic Hastings Direct policy?
Hastings Direct home insurance policies offer cover and protection for your home against certain risks. These include:
Fire, lightning, explosion or earthquake
Smoke
Riot, civil commotion, political disturbance
Collision
Falling trees or branches
Falling television and radio aerials
Storms
Theft/vandalism
Accidental damage to underground drains, pipes, cables and tanks
Escaped oil/water
Subsidence
But Hastings Direct's home insurance policies also include some extra cover as standard too. Check out some of these additional extras below, for a full list refer to the Hastings Direct policy documents.
| What is covered | Buildings | Contents |
| --- | --- | --- |
| Debris removal and building fees | ✓ | |
| Keys and locks | ✓ | ✓ |
| Alternative accommodation | ✓ | |
| Emergency entry | ✓ | |
| Contracting purchaser | ✓ | |
| Property owner's liability | ✓ | |
| Trace and access | ✓ | |
| Pipes and cables | ✓ | |
| Glass and sanitaryware | ✓ | |
| Alternative accommodation | ✓ | ✓ |
| Home entertainment equipment | | ✓ |
| Mirrors and glass | | ✓ |
| Credit card liability | | ✓ |
| Domestic heating oil | | ✓ |
| Metered water | | ✓ |
| Contents in the garden | | ✓ |
| Temporary removal | | ✓ |
| Documents | | ✓ |
| Religious festivals and weddings | | ✓ |
| Domestic staff's personal effects | | ✓ |
| Visitors' personal effects | | ✓ |
| Frozen food | | ✓ |
| Liability to domestic staff | | ✓ |
| Tenant's liability | | ✓ |
| Liability to the public | | ✓ |
| Unrecovered damages | | ✓ |
| Garden plants | | ✓ |
| Emergency entry | | ✓ |
| Fatal accident | | ✓ |
| Downloaded audio/visual files | | ✓ |
| House removal | | ✓ |
What optional extras can I get with Hastings Direct's Home Insurance?
Additional accidental buildings damage cover.
Additional accidental contents damage cover.
Personal possessions cover.
Family legal protection.
Home emergency cover.
Key cover.
What is my excess?
An excess is the amount of money you contribute when you make a claim. The amount of your excess will depend on the level of cover you have and the nature of your claim. It's important that you refer to your policy schedule as this will give you more information about what excess, and how much, applies to your claim.
What is Hastings Direct's claim process?
If you need to make a home insurance claim, you can get in contact with Hastings Direct via the contact details found on your policy documentation.
If you purchased additional products e.g. family legal protection and you want to make a claim under these policies, you can contact them on the following numbers:
Home emergency assistance – 0800 633 5088 (if your policy started or renewed on or after 12th July 2017).
0330 400 1614 (if your policy started or renewed before 12th July 2017).
Family legal protection – 0344 770 1046
Key protection – 0800 035 4782
---
The offers compared on this page are chosen from a range of products we can track; we don't cover every product on the market...yet. Unless we've indicated otherwise, products are shown in no particular order or ranking. The terms "best", "top", "cheap" (and variations), aren't product ratings, although we always explain what's great about a product when we highlight it; this is
subject to our terms of use
. When making a big financial decision, it's wise to consider getting independent financial advice, and always consider your own financial circumstances when comparing products so you get what's right for you.