Best bank cards for kids: Debit and prepaid cards
Starting from age 6 to 18 you can get a children's debit and prepaid card where you can see where your child shops and teach them good money habits.


There's a range of prepaid debit cards for kids. They come with an accompanying mobile app which is there to help teach them good financial skills and help you as a parent keep an eye on their spending.
Bank cards: Debit and prepaid cards for kids
Features of a kids' debit card
Spending controls. Many children's debit cards come with spending control limits that parents can set within the linked mobile app.
Card lock. Parents can also lock the debit card via the app.
Choose how your child can spend. Parents can choose if the debit card can be used at ATMs, online or for in-store purchases.
Spending tracking tools. Many of the apps offer spending tracking tools and features to help your child learn how to manage their money.
How to choose the best prepaid debit cards for kids
Compare the following features when shopping around for a debit card for your kids:
Check the fees. The costs can vary between different cards. Most prepaid accounts will have either a monthly or yearly fee.
Spending limits. Look for cards that let you cap daily spending, set limits for ATM withdrawals or block specific stores.
Shopping online. Consider whether being able to buy online is a benefit or a downside, and opt for a kids' debit card that can restrict or block online spending if needed.
How do prepaid debit cards for kids work?
Many debit cards for kids are prepaid cards. You can load money onto them from the parent's bank account using a mobile app that accompanies the physical card.
A lot of these cards and apps come with extra features, like the ability to see how your child spends their money or the option to pay them pocket money for doing their chores.
At what age can my child get a prepaid debit card?
Prepaid cards can be available for kids as young as six. You can let your child keep their prepaid card as they get older, or help them open a current account for teenagers when they've outgrown the prepaid card.
What's the difference between a kids' prepaid debit card and a children's bank account?
Debit cards are available with both the app-based digital accounts mentioned in this guide, as well as with traditional children's bank accounts. So the difference is actually between the accounts themselves.Children's bank accounts are current accounts, operated by traditional banks in a similar way to adult current accounts, although they don't have overdrafts and sometimes have spending limits. There's usually not a fee involved for having the account, and kids can use the accompanying debit card to make purchases and ATM withdrawals. Obviously children will need money in their bank account in order to do this, and you can add funds as a parent, have family members pay monetary gifts in, or they can even have some wages from a part-time job paid in if they're old enough to be working.
With the app-based accounts, usually run by digital-only providers, the kids' debit cards are prepaid, so you'll have to load money onto them. Often it's only the account owner, which is the parent, who can do this. There's sometimes a subscription fee associated with these accounts, but in return you get more digital features and innovative ways to manage the account through the app (including parental controls and digital notifications), than you would with a traditional children's bank account. This type of digital account plus card is also available for kids who might be too young to open a traditional bank account.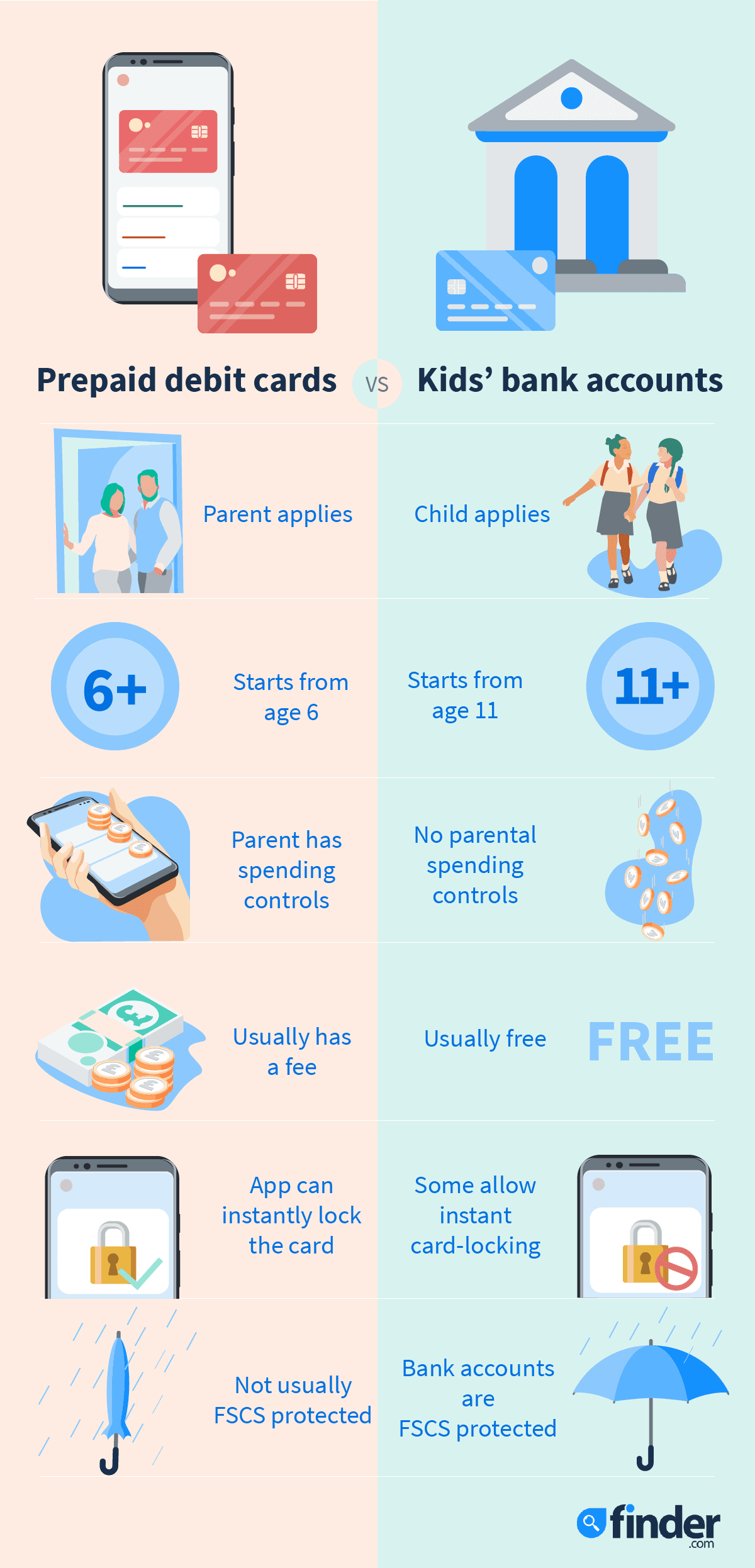 Can I get a credit card for kids?
You have to be 18 to get a credit card in the UK, so it won't be possible for your child to have one. However, parents can get a prepaid card (like the ones outlined in this guide) for children as young as six. Another option is to set up a
children's bank account
, which often come with a debit card or a cash card that kids can use from around the age of 11.
What are the pros and cons of debit cards for kids?
Before you get a debit card for your child, consider these features and drawbacks:
Pros
Control. Keep track of your child's spending online and cap the daily limit as you see fit.
Security. You can monitor your child's spending in the mobile app and see where they're shopping.
Safety. Because you can quickly and easily lock the debit card if it's misplaced, debit cards are often safer than carrying cash.
Good practice. Using a debit card will teach your child how money works digitally, as well as create good budgeting habits.
Cons
Not a current account. These types of debit cards are prepaid cards and not actual current accounts.
Not good for large purchases. The spending limits on these prepaid debit cards for kids are generally much lower than those found on traditional adult debit cards.
Account fees. Many of these cards and their associated apps come with a monthly or annual fee.
No interest. These types of prepaid accounts usually don't pay interest.
Age limits. Each debit card or app can set its own age limit.
Compare debit and prepaid cards for kids
Our verdict
A prepaid debit card that comes with a mobile app can help your child learn how to manage money responsibly, plus it lets parents track their kids' spending so you can see if they're meeting that goal. If this is the route you want to go down, there are a number of products available in the UK – our guide on gohenry and similar alternatives explores these more.
However, prepaid debit card accounts aren't designed to be full current accounts or savings accounts, so you'll have to weigh up what type of financial account you're looking for for your child. Check out our guides on current accounts for children and savings accounts for children to help you decide.
Summary: Finder's best debit and prepaid cards for kids in the UK 2020
| Provider | Score | Rank |
| --- | --- | --- |
| Rooster Card | 4.1 | 1 |
| gohenry | 3.8 | 2 |
| Revolut Junior (basic) | 3.7 | 5 |
| nimbl | 3.6 | 3 |
| Osper | 3.5 | 4 |
| Starling Kite | 2.8 | 6 |
Frequently asked questions
More guides on Finder