Best bank accounts for kids
Looking for a new home for your child's pocket money? Here's what you need to know about the best bank accounts for children.
With cash becoming somewhat old-fashioned, the idea of providing kids with their own debit cards isn't as weird as it would have sounded 20 years ago.
With a child's current account, you can set up a standing order instead of withdrawing from an ATM to give your kids their pocket money and you can show them how banking works in real life. They'll appreciate the trust you place in them and love the feeling of adulthood and independence that having a bank account conveys.
If you're considering this step, this guide is for you. We've gathered some useful information on how bank accounts for kids work, who they're suitable for and how to compare them (you're welcome!).
An easy and fun way to pay your kids pocket money and teach them good money habits
gohenry is a debit card and app with unique parental controls for young people aged 6 to 18.
gohenry costs just 32.99 per child per month, and you can cancel at any time.
Join 100,000s of families and get started for free.
No obligation. No upfront payment.
How do bank accounts for kids work?
Children's bank accounts basically work like adults' bank accounts: they come with a debit card and can be used to make payments and withdraw cash. They can be a useful alternative to cash for pocket money and help you teach your kids how to budget.
Standard children's current accounts can be opened for kids from 11 to 18 years old. Some banks also offer separate "teen" bank accounts, that can be opened by 16-18-year-olds.
What's the difference between children's and adults' bank accounts?
Your child's account won't be especially different from your own, but there may be some extra restrictions to look out for, such as:
Withdrawal limits. Some accounts only allow relatively low daily withdrawals, or may require a parent's signature to authorise transfers over certain amounts.
No overdraft. You'll like this: bank accounts for kids don't offer overdrafts, so there's no way your child can go into debt.
Age limits. Aside from the age limit to open the account, there may be specific ones to use certain account features, such as the app or Apple Pay.
Benefits and interest. Many current accounts for children come with tailored benefits, such as debit cards with personalised design or discounts. Some will also pay interest on the account balance, giving a little boost to your child's money.
Like most adults' current accounts, current accounts for kids usually have no monthly fee and allow fee-free card payments and ATM withdrawals. However, there's usually a foreign currency transaction fee for using the card abroad.
Latest bank accounts for kids
This is a children's current account that is available at high street bank Santander. For children aged 12 and under, the 123 Mini is just a basic deposit-holding account, which must be opened in a branch by an adult (trustee) and then be managed by that trustee. But for kids aged 13-18, they can apply online to open the account themselves. They'll get a Santander contactless debit card or a cash card (the latter can be used for ATM withdrawals only). These teenagers can also use Santander's online and mobile banking services to manage their account. So apart from deciding what money to put in for their kids to spend, there's not as much in the way of parental controls with this account.
Account is free to open and operate (no monthly fee).
Interest is paid on the account balance.
The bank has a large branch network.
Contactless debit card available for children aged 13 and over.
Children aged 13 and over can apply for the account themselves online.
Children aged 13 and over can manage the account through online and mobile banking.
For children aged 12 and under, the account must be opened in branch by an adult (who must also have a Santander current account).
No card available for children aged 12 and under.
No specific app (just the regular mobile banking one) to monitor transactions or help children learn how to budget.
For children aged 13 and over, there are few parental controls on the account (outside of not putting money in it).
| | |
| --- | --- |
| Monthly fee | Free |
| Card delivery fee | Free |
| Card transaction fee | Free |
| Cash withdrawal fee | Free |
| Loading fee | Free |
| Replacement card fee | |
| Network | Mastercard |
| How many child accounts | |
| Fees abroad | |
| Other fees | |
| Freeze/unfreeze card | |
How about prepaid cards for kids?
Prepaid cards are the main alternative to children's current accounts. While also offering an account and a (prepaid) debit card to hold money and make payments, there are some substantial differences:
Prepaid cards are digital-only. They're usually provided by fintech companies, not by traditional banks, and you can do everything online (which can be an advantage or a disadvantage depending on how you prefer to bank).
They usually come for a monthly fee. Unlike current accounts, which are usually free.
Expect a slick app with great features. Your kids will love it and will probably learn how to use it better than you.
They offer much more control. With prepaid cards, parents are able to see how and when kids spend their money and can sometimes set personalised limits.
Kids as young as six can get one. If you want to start their money education from a really early age.
All in all, the deal with prepaid cards is that you have way more options and control, in return for a monthly fee. For this reason, they're probably more suitable for young kids than for teenagers, whom you can (usually) trust with more independence.
The main prepaid cards for kids are gohenry, nimbl and Osper. Click on the one you're interested in to read our dedicated review and learn more about what it offers, how it works and how much it costs, or you can learn more about the best debit cards for kids.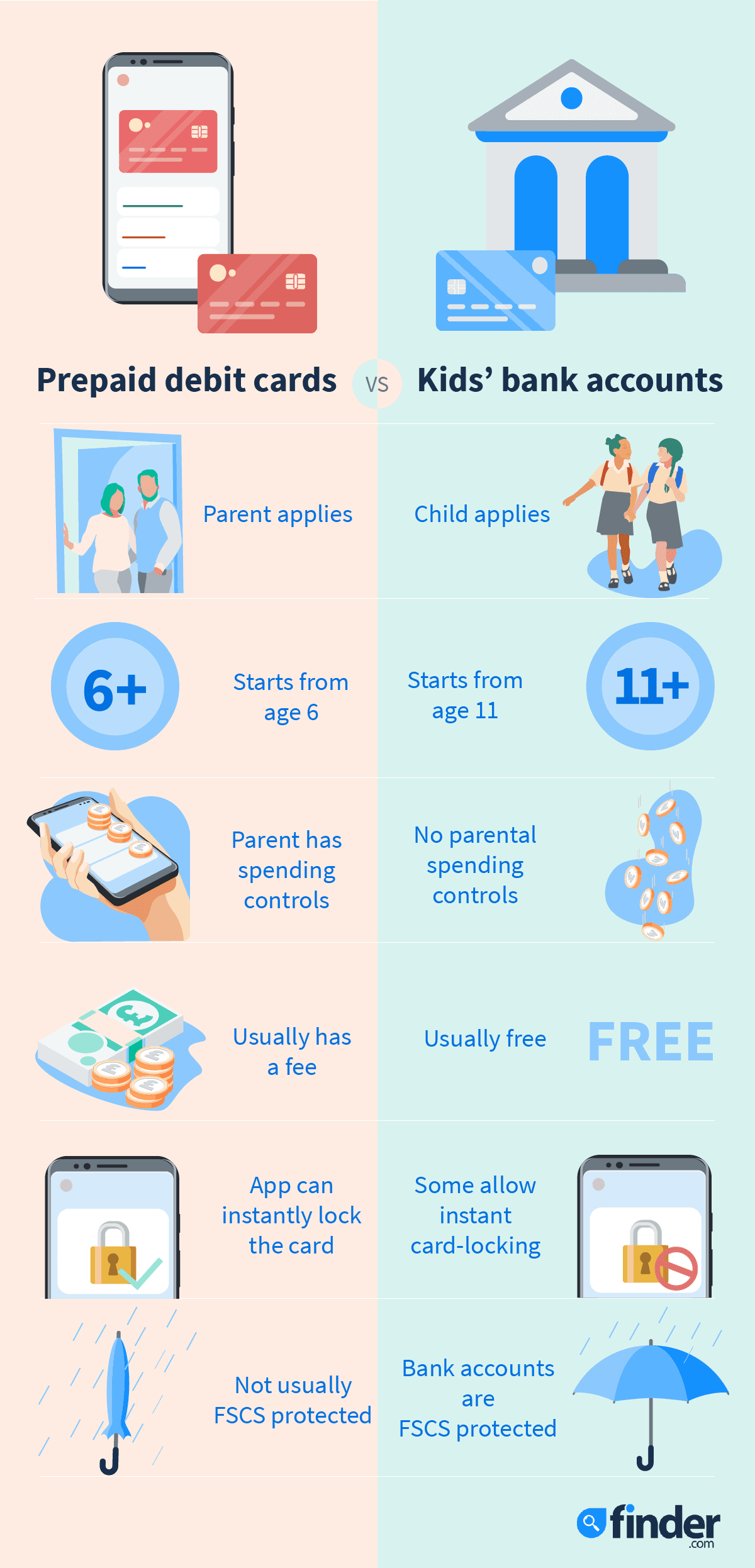 How to find the best bank account for your child
Comparing bank accounts is always tricky, and the features you may want to look at when choosing an account for your child aren't necessarily the same you'd value for your own account. To help you out, here's our children's current account comparison checklist:
Current account, prepaid card or savings account? That's the first thing to figure out. The choice will depend on your child's age, on what you're planning to do with the account and on how much control you want to retain. You can learn what you need to know about children's savings accounts on this page.
Interest rate. It's a nice incentive to teach your kids why it's important to save money, so it's a good idea to look for an account that offers it. Most savings accounts' rates will beat the rates offered by current accounts, but on the other hand, a current account gives your child more freedom and immediate access to the money.
App. Realistically, by the time your child becomes an adult, most banking operations will be done online. A slick, secure and well-functioning mobile app is an essential feature of any bank account these days.
Eligibility and limits. Make sure your child is old enough to qualify for the account and that you're aware of any other limitations.
Costs and fees. Don't forget to read the small print and make sure you know if, when and how much your child will be charged.
Related products. Some children's current accounts automatically come with a savings account. It's worth checking it out to see if it makes for a good deal.
Bank accounts for children
Frequently asked questions
We show offers we can track - that's not every product on the market...yet. Unless we've said otherwise, products are in no particular order. The terms "best", "top", "cheap" (and variations of these) aren't ratings, though we always explain what's great about a product when we highlight it. This is subject to our terms of use. When you make major financial decisions, consider getting independent financial advice. Always consider your own circumstances when you compare products so you get what's right for you.
More guides on Finder