SmartAsset Financial Adviser Matching review
Get matched with up to three professionals that meet your criteria.
SmartAsset is a service designed to simplify the process of finding financial help. Its algorithm connects you with a vetted professional based on your situation and goals for free. Value, however, depends on the adviser you're ultimately matched with.
Who is a financial adviser matching service best for?
SmartAsset advertises its ability to connect you with up to three advisers who match the criteria you establish at signup, supporting both:
New investors. Newcomers can find investing a daunting prospect. Third-party services like SmartAsset match you with an adviser who can help you through the process, even if you don't know where to start.
Long-term investors. If your situation requires more specialized help, SmartAsset can connect you with an adviser who can guide you toward the future, retirement and more.
How does financial adviser matching work?
SmartAsset considers your financial goals to match you with a local adviser who can help you reach them in three steps:
Sign up. Tell SmartAsset your financial details, investment goals and adviser preferences.
Match. Its algorithm pairs you with up to three vetted advisers in your area who match your preferences.
Book. Your adviser contacts you within a few business days to set up an appointment.
What are the benefits of tailored financial advice?
SmartAsset's free matching tool simplifies narrowing down an adviser to get you the financial advice you need:
One form for multiple matches. You answer 20 questions about your financial situation and goals for personalized matches that fit your criteria.
Vetted advisers. Advisers with SmartAsset are registered with the SEC or an appropriate state regulator and have no active disclosures in the last 10 years.
Concierge service. A live team member is available to help navigate the process of interviewing and selecting a financial adviser from available matches.
Easy booking. After you're matched, book an appointment with the adviser of your choosing online or through SmartAsset.
Online access. If you're not able to find an adviser in your neighborhood, you can work with a remote adviser better suited to your needs.
What to watch out for
Before signing up with SmartAsset for financial advisement, weigh the convenience against potential pitfalls:
Advertising. It's not clear how advisers are paid — whether to be a part of its network, when you click them from your match list or in some other way — leaving room to doubt the advisers you're matched with.
Limited reviews. While SmartAsset says that it reviews advisers before accepting them to its platform, the service itself garners few online reviews.
Varying fees. Because SmartAsset doesn't employ advisers directly, it's up to the professional to set their fees, making it hard to predict what you'll end up paying.
SmartAsset reviews and complaints
As of October 2020, you won't find many customer reviews for SmartAsset online. Nor does the company have a page with the Better Business Bureau. If you're matched with an adviser, you may be able to search the person by name to learn more about them and read individual reviews about their services.
How do I get started?
Fill out the 20 questions online to be matched with a financial adviser based on your answers.
Visit the SmartAsset website and click Find a financial advisor.
Enter your ZIP code and click Get started.
Answer each of the questions, clicking Next after each prompt.
Enter your email, name and phone number, then submit your questionnaire.
You're matched with up to three advisers you can contact directly, or request they contact you with a consultation.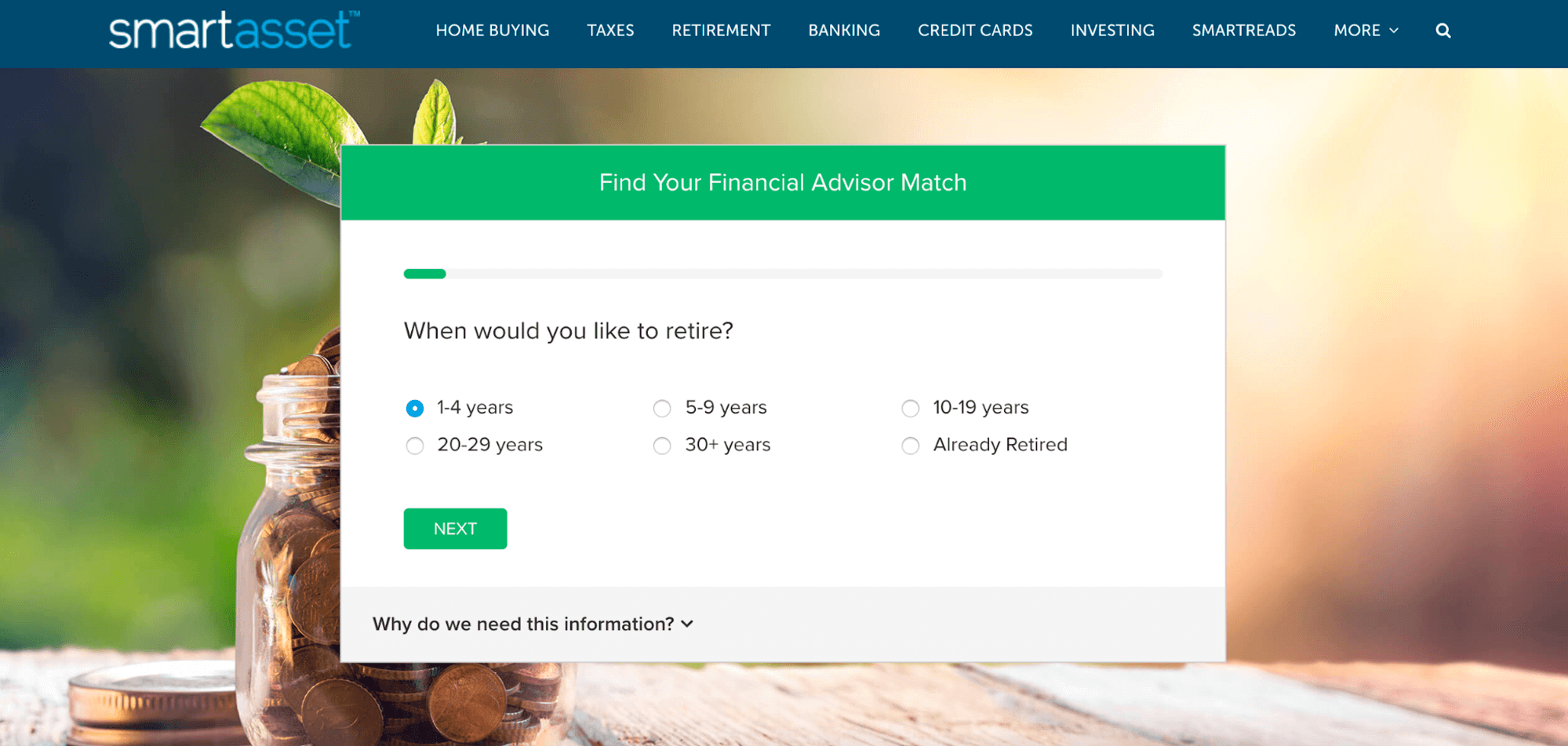 Required information
The matchmaking questionnaire asks such information as your:
Full name and ZIP code
Phone number and email
Investment preferences
Retirement timeline and accounts
Income information, investable assets and monthly savings
Marital and parental status
Eligibility
SmartAsset doesn't list eligibility details to use its matching service. Rather, anybody can submit the matching questionnaire with personal and financial information to be matched to a financial professional.
How do I contact SmartAsset customer service?
After you're matched with an adviser, you're able to contact them directly or book appointments online and through the site's concierge. To contact SmartAsset, email info@smartasset.com.
I'm matched with an adviser. Now what?
Get the most out of SmartAsset's adviser-matching service by setting up a consultation with the advisers you're matched with. Gather information on your assets, debts, income and taxes, and review the plans and goals you'd like to discuss.
You'll be entrusting your money to the adviser you ultimately choose. Look for candid answers to questions like:
Are you a fiduciary? Rather than merely recommend products to customers, fiduciaries focus on the best interests of their clients.
What are your qualifications? Look for licensing, credentials and other designations you can learn more about from FINRA's Professional Designations database.
What are my fees and minimums? Review the adviser's fee structure and any account requirements to make sure it's a fit with your budget.
Who are your typical clients? Learning who the adviser is familiar with can help you determine whether their philosophy meets your own — especially important when the market falls.
How can I reach you? Find out whether the adviser's business hours, contact flexibility and appointment availability is a match for your busy schedule.

Stay in touch with your adviser to track progress, manage accounts and adjust your portfolio as your goals and the market change.

Bottom line

SmartAsset can match you with vetted financial professionals that meet the criteria you establish using more than 20 comprehensive questions at signup. But it's not clear how these advisers are paid through the network.
For more ways to find financial guidance, compare other financial adviser services.

Compare Smart Asset Financial Advisors to other platforms

SmartAsset Financial

---

Available asset types

Other

---

Stock trade fee

---

Minimum deposit

$0

---

Complete signup bonus

JP Morgan Personal Advisors

★★★★★

Finder rating 3.3 / 5

---

Available asset types

Stocks, Bonds, Options, Mutual funds, ETFs

---

Stock trade fee

---

Minimum deposit

$25,000

---

Complete signup bonus

Vanguard Personal Advisor

★★★★★

Finder rating 3.8 / 5

---

Available asset types

Stocks, Mutual funds, ETFs, Treasury Bills

---

Stock trade fee

$0

---

Minimum deposit

$50,000

---

Complete signup bonus

N/A

Frequently asked questions

SmartAsset Financial is not currently available on Finder

Have you considered SoFi Invest®?

Min. deposit: $0
Stock trade fee: $0
Sign up bonus: Get up to $1,000 in stock when you fund a new account within 30 days