Finder is committed to editorial independence. While we receive compensation when you click links to partners, they do not influence our opinions or reviews. Learn how we make money.
Compare debt consolidation loans
Simplify your debt payments into one with lower rates and better terms.
Editor's choice: Credible personal loans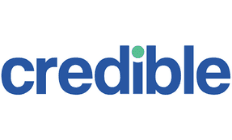 Loan range: $1,000 to $100,000
Personalized rates in minutes
Funds as soon as 1 day
See your rate
A debt consolidation loan can help you move multiple debts into one personal loan — giving you one monthly repayment and a potentially lower rate or better terms. But it's not right for everyone. If you're struggling with more debt than you make in a year or can't make changes to your spending habits, you might want to consider other debt relief options.
Compare debt consolidation loans
How do debt consolidation loans work?
A debt consolidation loan works by moving all of your debts to one place with one monthly repayment. It's a personal loan that you use to pay off your credit card balance and other debts, which then you then repay at the rate and terms of your new loan. Typically you can borrow between $5,000 and $50,000 with rates from 5% to 36% APR and terms from 3 to 7 years.
A debt consolidation loan can help you manage your repayments and create a pathway out of debt if you're used to just making the minimum monthly payment. It can also help you save, since personal loans tend to come with lower rates than credit cards. It's one of the most popular reasons for taking out a personal loan.
How much can I save?
Use the debt consolidation calculator below to see estimates of how much you could save and what your monthly payment could be.
Debt Consolidation Savings Calculator
Calculate how much you could save by consolidating your debt
Your current balances
1)
Debt amount
Interest rate
2)
Debt amount
Interest rate
3)
Debt amount
Interest rate
Total monthly payments
Add another balance
New loan terms
Loan length in years
Fill out the form and click "Calculate" to see your estimated savings and new monthly payment.
or
You'll save an estimate of !
| | Before Consolidation | After Consolidation |
| --- | --- | --- |
| Balance | $ | $ |
| Interest rate | % | 9% |
| Year(s) to pay off | ~ | |
| Monthly payment | $ | $ |
| Total interest paid | | |
| Total balance paid | | |
You currently have a total debt balance of $ with an average rate of %. By consolidating them into a new loan at 9% APR with a -year term, you'd pay approximately $ per month. Your estimated total savings would be .
Your total monthly payments is not enough to cover the interest. Your loan(s) will never be paid off.
Am I eligible?
You generally need to meet the following criteria at a minimum to get a debt consolidation loan:
18 or older
US citizen or permanent resident
Checking or savings account
No bankruptcies or foreclosures
The most competitive deals are available to borrowers with good or excellent credit and a low debt-to-income ratio (DTI). That means you generally need a credit score of 670 or higher and make monthly debt repayments worth less than 43% of your monthly income.
How do I get a debt consolidation loan?
To get a debt consolidation loan, follow these steps:
Apply for a personal loan with a lender.
Select "debt consolidation" as the purpose on your application.
Wait for the lender to transfer your approved funds to your bank account
Use the funds to pay off open credit card accounts, medical bills — even other loans.
After paying off your debts, you're left with one loan to repay at the fixed or variable rate and repayment terms you signed up for with your new lender.
How much will a debt consolidation loan cost me?
Ideally, a debt consolidation loan won't cost you anything you weren't already going to pay in interest with your existing loans. While some debt consolidation loans come with origination fees — usually 1% to 5% of your loan amount that's often deducted before you receive the money — it's possible to find a consolidation loan offering no upfront fees.
Consider the APR
When weighing consolidation loans, your APR and monthly repayments are two other costs to consider. Typically, you need to have excellent credit and a low debt-to-income ratio to qualify for the lowest APRs.
Consider the loan term
You might be concerned about immediate costs, however. In that case, a loan with a longer loan term could meet your needs. While you'll end up paying more in the end because your interest accumulates over a longer term, your monthly repayments can be significantly lower than with a shorter term.
Balance transfer credit cards vs. debt consolidation loans
Balance transfer credit cards can offer exciting perks, like 0% interest for a year or more on transferred balances. But you face a high revert APR if you're not able to pay off your debt within the intro period.
A balance transfer credit card could be a suitable way to consolidate debt if you're certain you'll pay off your consolidated balance within a year. If you need more time, a debt consolidation loan could be a better deal because the interest rate is lower.
Keep in mind that getting a balance transfer credit card will add another account to your credit utilization ratio, so you'll want to consider the limit you're approved for. On the other hand, debt consolidation loans won't be added to your credit utilization ratio.
Deeper dive into balance transfer credit cards vs. debt consolidation loans
Case study: Russell consolidates to save on interest
Imagine this scenario: Russell is carrying two credit cards — one that he's nearly maxed out to pay emergency bills and another filled with general spending — along with a medical bill that wasn't covered by his insurance.
With a new job and a determination to get his debt under control, Russell looks into a debt consolidation loan. Here's how much he could save by consolidating his debt.
3 steps to take after getting a debt consolidation loan
So you were approved for a debt consolidation loan? Here are a few ways to make the most of it.
Sign up for autopay. Some lenders offer an interest rate discount for borrowers who register to have automatic repayments withdrawn from their account each month. Plus it can help you avoid late fees.
Learn how to budget. Budgeting can help you avoid needing a debt consolidation loan again by helping you manage your spending.
Build an emergency fund. Most Americans can't afford a $400 emergency expense. Having at least six months of personal expenses saved up can help you avoid going into debt again when the unexpected happens.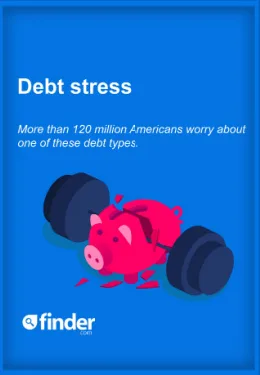 What type of debt do Americans stress about?
Finder published a paper in August 2020 analyzing which types of debt puts stress on Americans, including which age and gender stress the most. Our paper includes original research and predictions from experts including Jennifer Tomko, LCSW and Owner of Clarity Health Solutions, Howard Dvorkin, CPA and Chairman of Debt.com and Timo Wilson, CEO of ASAP Credit Solutions.
Bottom line
A loan could help you consolidate multiple debts into one monthly repayment with lower rates or better terms. But beware of the temptation to spend more now that your credit cards are freed up.
Think a consolidation loan is right for you? Compare multiple providers to find the best one for your financial situation.
Want to learn more about how to manage your debt? Check out our tips on managing five different types of debt. Or browse our debt consolidation guide for other options available.
Frequently asked questions
Image source: Shutterstock
More guides on Finder