Finder is committed to editorial independence. While we receive compensation when you click links to partners, they do not influence our opinions or reviews. Learn how we make money.
Compare personal loans for American expats
You can get funding for that spontaneous trip while living abroad (and boring things too). It's tricky, but possible.
Living abroad is a life-changing experience. But it's not uncommon to need just a bit more cash to get by.
Unexpected opportunities often arise while you're an expat — as do unexpected medical expenses — but borrowing money as a foreigner is a bit complicated. We give you a rundown of your options to get cash as an American abroad.
Can I get a loan while traveling abroad?
Yes, but it might be more difficult than get a loan back home — and your options are limited. While the most common types of financing available to American expats are mortgages and student loans, it's not impossible to find loans for general personal use.
Getting an online loan
The simplest and quickest way to get financing while abroad is to apply with an online lender based in the US. These providers tend to have less rigorous requirements and can typically get you money faster than a bank will.
You often need to have a US account for this option to work — most online lenders aren't keen on sending money to an overseas bank since payments could take as long as a month to go through. You might also need to have a US address or work for a US employer.
Here are a few online lenders that might approve a loan while you're traveling.
Lender
Eligibility requirements
Borrowing limits
Laurel Road

US address
US citizen
680+ credit score

$1,000 – $45,000
Read review
SoFi

US employer
US bank account

Good credit

Make sure to use Google Chrome when applying for a SoFi loan from abroad — otherwise, you could have trouble with its website.

$5,000 – $100,000
LendingPoint

Bank account in a state LendingPoint serves.
600+ credit score
$40,000+ annual salary
One+ years of continuous employment.
No bankruptcies, liens or chargeoffs in past year.

$2,000 – $25,000
NetCredit

Active US checking account
US citizen
18+ years old
Valid email address
Verifiable income (must show up in your US checking account)

$1,000 – $10,500
Read review
LendingClub

US address
US bank account
660+ credit score

You might have trouble qualifying if you work for a foreign company, but Lending Club recommends trying — applying for preapproval won't hurt your credit score.

$1,000 – $40,000
Getting a personal loan from your home bank
Taking out a loan with your US bank could be option for expats that still have a US bank account accessible overseas. That's because some banks only require you to be a US citizen — not a current resident — to qualify for a loan.
More likely than not, you won't find online if your bank cares where you live. Give your bank a call to see if you qualify, and ask what the process involves. It could take a while to get approved if you're employed by a foreign company.
You might be able to get around a bank's residency rules by applying with another person living in the US. Finding a coborrower can increase your chance of being approved.
If your bank offers international banking options, take advantage of them — it could also help you qualify for a loan.
Compare top US banks offering personal loans
International banking
Living abroad is extra expensive if you have the wrong bank account. Among foreign withdrawal fees, currency exchange fees and the inability to deposit paychecks, your US bank account is impractical if you're staying for a year or longer.
Before you leave, look for a bank that offers international-friendly options — like HSBC Expat, which allows you to link your foreign bank account to your account back home, manage multiple currencies and streamline money transfers. These accounts make it easy to cover rent, utilities and shopping, easing the challenges that come with living abroad.
Getting a loan from a local financial institution
In some countries, it's possible for a US citizen to take out a personal loan from a local financial institution. Loans typically depend on such factors as the country's financial regulations, its relationship with the US and the demand for US expat financing.
You won't want to go for this option unless you're a legal resident with a bank account or you're trying to buy real estate — otherwise, you might have trouble qualifying. Even if you do qualify, make sure you fully understand how lending works in that country, and how to pay back your loan. Don't sign anything without running it by a translator unless you're a native speaker with a firm grasp of financial jargon.
Lina opens an account in France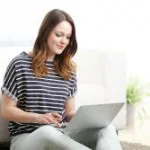 Moving to Paris was a childhood dream of Lina's. So after graduating from college, she took on a teaching job in the City of Light before starting her career. She applied for an HSBC Expat account and opened a local account in France to make sure she could easily transfer money back and forth.
Everything went smoothly until the day her apartment was broken into. It was a nightmare: The burglar took her computer and an expensive camera she needed for work. She didn't have insurance to cover the loss, and the police told her there wasn't much she could do to get it back. Altogether, it cost Lina about $4,000 to replace.
Not wanting to borrow money from her family, she looked at her personal loan options. It was hard enough opening a bank account as an American in Paris, so she quickly ruled out French banks, going with a US online lender instead. She applied to prequalify with three lenders and got the best offer from Laurel Road: a $4,000 loan with a 6.75% APR.
After Laurel Road disbursed the money into her US account, Linda transferred it to her French bank account and replaced her stolen items. To guarantee on-time repayments, she transferred part of her salary to her US account a few days before payments were due.
Bottom line
Getting a loan abroad complicates an already seemingly complicated process. It's possible to get one, but you might have to convince a lender to work with you — it's just not something they do very often.
You almost certainly need a working US bank account to qualify for a loan from a US-based lender. If you decide to look locally, qualifying can depend on factors like your residency status and employment.
Make sure to compare your options and look into other financial solutions — such as borrowing from friends or family — before you apply with a particular lender.
Frequently asked questions