Finder is committed to editorial independence. While we receive compensation when you click links to partners, they do not influence our opinions or reviews. Learn how we make money.
New cars vs. used cars
You only have two options: How to pick the right one for your next ride.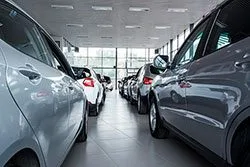 It's the age-old question that every car buyer needs to decide: Should I buy a new or used car? A new car won't have the same risk or wear and tear as a used car, but it'll cost you more.
New vs. used cars in a nutshell
| | New car | Used car |
| --- | --- | --- |
| Price | Generally costs more and depreciates immediately | Generally costs less and retains its value longer |
| Car options | Lots of options that you can customize to your needs | You'll face a limited selection depending on your location |
| What you need to know | Know how to avoid expensive sales tactics | Know what to look for in a used car and how to avoid a lemon |
| Financing options | More options with lower interest rates | Fewer options with higher interest rates and more stringent requirements |
| Information available | Manufacturer stickers, dealer documentation and up-to-date reports | Typically general information only, and private sales may have none |
| Warranty | Manufacturer and dealer warranties are available | Varies depending on the age and condition of the car |
Financing options for new and used cars
New and used cars typically have the same financing option: car loans. Most lenders offer both to cover a range of buyers, but there can be a difference in rates and terms.
If you have decent credit and are looking to buy a new car, you'll be given a lower interest rate than someone looking to finance a used car. But because new cars cost more, you may not actually save money. A used car may have a higher interest rate, but you'll likely be paying significantly less than you would for a new car. The downside? Some lenders only finance used cars under a specific amount of miles or age.
However, you aren't limited to just car loans. An unsecured personal loan could help you finance car without using it as collateral. However, these tend to have higher APRs and lower maximum borrowing amounts than car loans.
What factors should I consider between new and used cars?
Before you jump into your next ride, consider a few factors to help you decide whether a new or used car is best for you.
How does depreciation impact my choice?
Depreciation can be the bane of a new car owner's existence — but used car owners also need to account for it. Basically, depreciation occurs when your car loses value after you first purchase it. The act of changing hands between a dealership and a buyer or between two buyers will lead to your car being worth less, which means you could quickly become upside down on a loan.
How hard depreciation hits you depends on the car you buy. A new car typically loses 20% of its value the moment you drive it off the lot. For the average $30,000 car, this will decrease its value to just $24,000 if you sold it on the same day. And the longer you drive a car, the more it depreciates. Mileage, wear and tear and other mechanical issues could further decrease your new car's value, making it that much harder to make back your money when you sell it.
Used cars also depreciate, but at a much slower rate. Because the majority of depreciation has already occurred, you may only see your car drop in value by a few thousand dollars before you sell it. This is why many people consider a used car to be a better deal. But just like with new cars, any mechanical issues or excessive mileage could quickly diminish your car's value, which will make it more difficult to sell for a good price.
Luckily, there are ways to reduce your car's depreciation — from keeping up with maintenance to avoiding nonstandard modifications.
What are the advantages of financing a new vs. used car?
New and used cars come with their own benefits you should consider before making a decision:
New cars
More financing options. Not only will you have less restrictions on your loan overall, but many manufacturers offer special incentives like cash back and low APRs.
Better reliability. It's not a guarantee, but new cars tend to be more reliable. And if yours breaks down, the warranty typically covers most major repairs.
Newest technology. While you may be able to get modern tech in a used car, you can ensure the newest features in a new car — just be prepared to pay a premium.
Minimal maintenance. You might not need to even use that warranty since new cars typically require fewer repairs.
Easier to find. You don't have to do nearly as much digging when you're looking for a new car.
Longer warranty. New cars typically come with a warranty that covers any repairs over the first three years or 36,000 miles.
Manufacturer deals. Sometimes car manufacturers will cover part of the price to move less popular models off of the lot, meaning you might still be able to find a good deal even if you buy a new car.
Used cars
Registration costs less. Although this will depend on where you live, registering an old used car typically costs less than registering a new car.
Lower insurance rates. Because used cars cost less to insure, you may be able to save money on your insurance premium each month.
Slower depreciation. Used cars don't lose value nearly as fast as used cars.
Lower upfront cost. Because the value of a new car goes down so fast, a used car in prime condition often costs significantly less than a new model — especially if you go with a used luxury car.
Cheaper car insurance. Car insurance premiums are typically based on the value of your vehicle, which is lower on a new car.
More reliable than you might expect. Cars typically don't need any major maintenance until they have at least 100,000 miles — far after the 36,000 miles that a new car warranty covers.
Best new and used cars under $20,000
Compare loans for new and used cars
Bottom line
Used cars are considerably cheaper, but you're not getting the first-owner benefits that come with a new car. Whichever you decide, compare your car loan options before hitting the dealership to ensure you're getting the best deal available to you.
Frequently asked questions
Image source: Shutterstock
More guides on Finder