Finder is committed to editorial independence. While we receive compensation when you click links to partners, they do not influence our opinions or reviews. Learn how we make money.
Getting a mortgage in Florida
The financing options for your new home in the Sunshine State.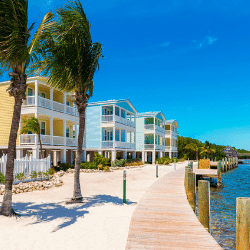 Buying a home is a big decision, and you want a lender that's schooled on rates between Florida's counties, with strong terms and excellent customer service. Whether you're buying a beachfront condo or looking for a home in a good school district, you'll find loans to suit first-time buyers and beyond.
What to consider when looking for a mortgage in Florida
Buying a home in Florida is much like buying a home anywhere else. But if you're applying for an FHA loan, note that maximum loan limits vary between the 67 counties in the state.
Counties with basic standard mortgage limits are:
Alachua
Bay
Bradford
Brevard
Calhoun
Charlotte
Citrus
Columbia
Desoto
Dixie
Escambia
Flagler
Franklin
Gadsden
Gilchrist
Glades
Gulf
Hamilton
Hardee
Hendry
Hernando
Highlands
Hillsborough
Holmes
Indian River
Jackson
Jefferson
Lafayette
Lake
Lee
Leon
Levy
Liberty
Madison
Marion
Okeechobee
Orange
Osceola
Pasco
Pinellas
Polk
Putnam
Santa Rosa
Seminole
Sumter
Suwannee
Taylor
Union
Volusia
Wakulla
Washington
The basic standard FHA mortgage limits
The 2019 basic standard mortgage limits are as follows:
One-family: $314,827
Two-family: $403,125
Three-family: $487,250
Four-family: $605,525
All other counties are considered "high cost" areas with higher limits.
| | | | | |
| --- | --- | --- | --- | --- |
| Baker | $358,800 | $459,300 | $555,200 | $690,000 |
| Broward | $356,500 | $456,350 | $551,650 | $685,550 |
| Clay | $358,800 | $459,300 | $459,300 | $690,000 |
| Collier | $450,800 | $577,100.00 | $677,600 | $866,950 |
| Duval | $358,800 | $459,300.00 | $459,300 | $690,000 |
| Martin | $327,750 | $419,550.00 | $507,150 | $630,300 |
| Miami-Dade | $356,500 | $456,350.00 | $551,650 | $685,550 |
| Monroe | $529,000 | $677,200.00 | $818,600 | $1,017,300 |
| Nassau | $358,800 | $459,300 | $555,200 | $690,000 |
| Okaloosa | $370,300 | $474,050 | $573,000 | $712,100 |
| Palm Beach | $356,500 | $456,350.00 | $551,650 | $685,550 |
Closing costs in Florida
Florida's closing costs are relatively high, ranking 40th for closing costs after taxes. If you buy a property in the state's average price range of $200,000 to $300,000, you can expect to pay about $5,585 in closing costs after taxes. Costs vary between counties and lenders, which is another reason to compare three or more lenders before choosing one.
Title insurance is treated differently in Florida. In Sarasota, Collier, Miami-Dade and Broward counties, the buyer pays for title insurance and picks the title company. In all other counties, the seller is in charge.
Averages are based on sample data. Your closing costs will vary by lender, the size of your loan and whether you're paying in cash.
Government-backed financing in Florida
The Florida Housing Finance Corporation offers help for aspiring homeowners through the First-Time Homebuyer Program. The program offers 30-year fixed-rate mortgages to new homebuyers through select banks and financial institutions. Other programs can help with down payments and closing costs.
Eligibility depends on the cost of your home, the county the home is in and your income, and you must complete a class on homeownership to qualify. Learn more with the Homebuyer Loan Programs Wizard.
Federal agencies like the FHA and USDA run programs for first-time homebuyers or those interested in buying in rural or suburban areas of the state. These programs often come with lower interest and stronger terms than more traditional mortgages.
Mortgage lenders for veterans in Florida
Military service members can access mortgages through the US Department of Veteran Affairs. While the department issues loans directly, you're more likely to get a VA-backed loan from a private lender. These loans are complicated to apply for, but can offer lenient eligibility and low down payments, among other perks.
How to compare lenders in Florida
Rates vary so much among lenders, it pays to shop around. Compare at least three banks and lenders by weighing such factors as:
APR. This rate rolls in your loan fees, making it a more accurate way to compare loans.
Down payment. Some lenders require 20% down, while others are happy with 10% or 15%.
Origination fees. Think of an origination fee as a lender's commission. Anywhere between 0.5% to 1% is standard, which can translate to thousands of dollars.
Rate locks. If you can lock in a solid rate, you won't have to worry about it changing before closing.
Prepayment penalties. Do you intend on moving out of your home before your loan limit is up? Learn whether you're on the hook for fees.
Special mortgage programs. Many lenders offer rebates or rate savings to existing customers.
Closing costs. Look at Section C of your loan estimate to see a list of services you can shop for — third-party charges that typically include the surveying fee, pest inspection, title search, title insurance and the settlement agent. They're opportunities to comparison shop and save.
Customer service and expertise. Consider customer satisfaction, reliability and speedy loan processing when weighing lenders.
Bottom line
Purchasing a home is complex, and you'll want to make sure you qualify for the lowest rates and strongest terms you're eligible for. Look into rates for your county and weigh rates, terms and fees to find the best loan for your needs.
Learn more about buying a home in our guide to mortgages.
Frequently asked questions
Read more on this topic