Finder is committed to editorial independence. While we receive compensation when you click links to partners, they do not influence our opinions or reviews. Learn how we make money.
Caliber Home Loans mortgage review
finder.com's rating: 3.3 / 5.0
★★★★★
This lender claims it can close a loan in 10 days, but customer reviews are negative.
Caliber offers a large variety of mortgage products, including several mortgages aimed at borrowers with bad credit or low income.
But it's been accused of unfair loan modifications that have led some borrowers to foreclosure, and customers online have complained about it taking much longer than expected to close a loan.
Details
Loan types
Conventional, Refinance, Jumbo, FHA, USDA, VA.


Minimum credit
620
Minimum down payment
3%
Origination fee
N/A
Other fees
Expect fees to include appraisal fees, title charges, closing fees and state taxes.

Ask your loan consultant for the specific fees associated with your pending loan, and keep an eye out for additional fees in your loan documentation.
Pros
Caters to borrowers with bad credit.
Ideal for first-time homebuyers.
Support for military members.
Variety of loans.
Potentially fast turnaround time.
Cons
No online application.
Doesn't publish mortgage rates.
Limited customer service hours.
No live chat.
Caliber has been accredited with the Better Business Bureau since 2014, and has an A- rating as of September 2019. Customers have given the company 1.5/5 stars on both the BBB and Consumer Affairs.

While some customers have had great experiences with their loan officers, others complain about poor customer service, billing errors leading to lost money and a disorganized and slow loan application process.
What types of loans does Caliber offer?
Caliber offers several mortgage types, including:
Conventional. Caliber offers fixed-rate terms ranging from 10 to 30 years, as well as 3/1, 5/1, 7/1, 10/1 and 5/5 ARMs.
Jumbo. Caliber offers jumbo loans up to $2.5 million, or $3 million if you qualify for one of its Elite Access jumbo loans. Its Premier Access jumbo loans allow homebuyers with up to a 50% debt-to-income ratio, and
FHA. Designed for low- to moderate-income borrowers, FHA loans are backed by the Federal Housing Administration and available with as little as 3.5% down to qualifying homebuyers. Aside from traditional FHA loans, Caliber also offers FHA 203k renovation loans and FHA Streamline Refinance loans.
VA. VA loans are available with $0 down to qualifying military service members, veterans and some spouses. Caliber also offers VA Streamline Refinance loans.
USDA. USDA loans are available for $0 down to homebuyers who meet federally designated income requirements and purchase a home in an eligible rural area. You can use the USDA website to check if your home qualifies.
Refinance. Aside from its VA and FHA refinance loans, Caliber also offers Relief Refinance and DU Refi Plus loans.
Other loans offered by Caliber
At the time of writing, Caliber has 20 different types of mortgages available. You can visit their website to get more information on their other mortgage types, including:
Renovation. Aside from its FHA renovation loans, Caliber also offers HomeStyle Renovation mortgages.
Low-income. Caliber participates in both the Fannie Mae HomeReady and Freddie Mac Home Possible loan programs for borrowers who may not qualify for a conventional loan.
Poor credit. Caliber offers Homeowner's Access loans for borrowers who have been late on mortgage payments in the past and Fresh Start Program loans for borrowers with a recent foreclosure, short sale, deed in lieu of foreclosure or bankruptcy.
Investment. Caliber offers investment loans up to $2 million for up to 10 properties.
Self-employed. Caliber's Professional Elite loans are available without W-2s for borrowers who can supply personal or business income statements.
Caliber's fees
What fees you need to pay will depend on which mortgage type you choose. Caliber displays a full list of its fees online, which include:
Appraisal fee
Title search fee
Prepayment penalty
Origination fee
ARM conversion fee
CEMA refinancing fee
Caliber's special programs
The lender opens up opportunities for borrowers who with a low income or poor credit to qualify for a conventional loan. Its Homeowner's Access Loan is ideal for people who have bankruptcies, late mortgage payments and short sales to their name. Caliber Home Loans accepts a minimum credit score of 620 and a debt-to-income up to 60%. Similarly, the Fresh Start program may be able to help those with lending histories working against them.
Requirements
The eligibility requirements vary, so you'll have to chat to a loan officer. Generally, you'll need a credit score of 580 for FHA and VA loans, and 620 for conventional loans. Most lenders look for a debt-to-income ratio of 43%, though some will accept lower.
Documentation
You may need to provide:
Recent pay stubs
Bank statements
Retirement and investment account statements
Tax returns
W-2 forms
Homeowner's insurance information
List of credit cards, plus car, student or home loans
Pros and cons of Caliber
Pros
Focusing on one product has its benefits, including:
Caters to borrowers with bad credit. Its Fresh Start program is geared towards borrowers with poor credit or low income.
Ideal for first-time homebuyers. Caliber Home Loans participates in low down payment programs and offers loans with flexible credit minimums.
Support for military members. There's a separate website for military members seeking VA loans. Caliber Home Loans claims it's created an educational curriculum to help its loan consultants to meet the needs of military borrowers.
Variety of loans. Along with offering conventional, government-backed and refinancing loans, Caliber Home Loans offers foreign national and investment loans.
Potentially fast turnaround time. Caliber Home Loans says it can close on a mortgage within 10 days, though customers online claim that the process takes much longer.
Cons
Downsides to getting a mortgage with this lender include:
No online application. While the website is sophisticated, you can't apply or prequalify for a loan online. You can only initiate the process before it's handed to a loan officer.
Doesn't publish mortgage rates. You'll need to do some digging to find interest rates, which can make it difficult to compare Caliber Home Loans to other lenders.
Limited customer service hours. Agents are only available on weekdays, during business hours.
No live chat. Unlike many mortgage lenders, Caliber Home Loans offers no real-time help online.
How to get a home loan with Caliber Home Loans
While you can fill in an online form to kick-start your application, it will ultimately be handled by a loan officer. To speed up the process, contact a loan officer directly.
Go to the Caliber Home Loans website. Click Find a Loan Consultant.
Select your State, and a list of loan officers will pop up on the right of the map. Click one that's close to you.
You'll be directed to their office page, which features the officers' names and Contact Details.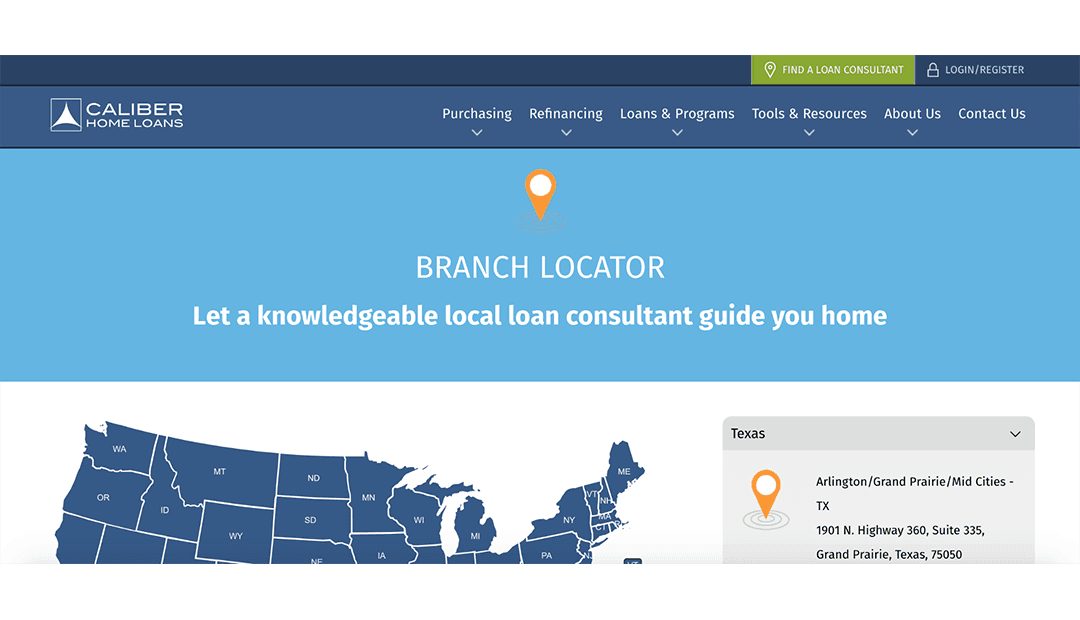 What is Caliber Home Loans?
Founded in 2008, Caliber Home Loans just does home loans, which allows the lender to offer more mortgage types than most other lenders.
But while the lender has an A- rating with the BBB, customer reviews are mostly negative. While some customers report having a great loan officer and smooth process, many more complain that the lender is difficult to deal with. Frustrating customer service, an unclear application process and billing mistakes are recurring issues, according to quite a few customers.
And in April 2019, Caliber agreed to a $2 million settlement with the state of Massachussetts over allegations that it violated the state's Act Preventing Unlawful and Unnecessary Foreclosures. According to the lawsuit, Caliber offered loan modifications to struggling homeowners that temporarily lowered their payments but then shot up to more than they were paying before the modification just a few years later, leading to unfair foreclosures.
Frequently asked questions
Home loans ratings
★★★★★ — Excellent
★★★★★ — Good
★★★★★ — Average
★★★★★ — Subpar
★★★★★ — Poor
We analyze top home loan providers and rate them one to five stars based on factors that are most important to you. These factors include: rates and fees, product selection and borrower experience.
Read the full methodology of how we rate home loan providers.
Expert review
Review by
katia.iervasi@finder.com
---
Katia Iervasi is a staff writer who hails from Australia and now calls New York home. Her writing and analysis has been featured on sites like Forbes, Best Company and Financial Advisor around the world. Armed with a BA in Communication and a journalistic eye for detail, she navigates insurance and finance topics for Finder, so you can splash your cash smartly (and be a pro when the subject pops up at dinner parties).
Expert review
Caliber Home Loans's strength lies in the sheer number of conventional and government-backed loan options for first homebuyers, foreign nationals, veterans and people with poor credit. While it has savvy tech and educational tools, there's no option for you to apply or prequalify for a loan online.