Finder is committed to editorial independence. While we receive compensation when you click links to partners, they do not influence our content.
Best small laundry room ideas for small spaces
Need to fit a feature-packed laundry room into a tight area? Here are some remodeling ideas.
Every modern home needs a place to do laundry, but quite often the space left over for one is minimal. Despite this, the laundry area is a space that's guaranteed to see regular use, possibly every day, so it's essential that it's as practical and user-friendly as possible.
To ensure that your small laundry area is functional and easy to use, it's critical that you make the most of every inch of the limited space available. And if you're looking for clever design and storage solutions for your small laundry area, you've come to the right place.
Space saving small laundry room ideas
There is no shortage of clever, innovative design ideas and products available to help you make the most of the limited space available and create a practical laundry. Let's take a look at some of the key features and fittings you can choose from to turn even the smallest of areas into a user-friendly space to do laundry.
Appliances
At the very least you'll need a washing machine, but most homes also rely on a dryer. The best way to fit these two into your small area is to invest in a combo washer/dryer. Guaranteed to save space, it's compact all-in-one size is about that of a standard washing machine — not stacked like other common washer/dryer combos.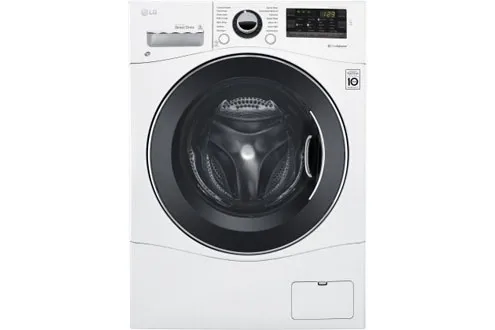 LG WM3488HW 24" Washer/Dryer Combo
from Amazon
With 2.3 cu. ft. capacity and stainless steel drum in white
View details
If you'd prefer to go for a separate washer and dryer, choose appliances that are big enough for your needs but still sufficiently compact that they don't use all the space you have. Using wall-mounting racks to install one on top of the other is also a great way to make use of the vertical space available – just make sure they're both front-loader machines.
Storage and bench space
In a small laundry area, clever storage solutions are crucial. You need adequate space to store all the essential laundry supplies, from detergent and fabric softener to towels, brooms and anything else.
The good news is that there is an enormous array of clever internal hardware available to give you somewhere to put all your odds and ends. There are vertical sliding organizers, hanging baskets, clever wall organizers with hooks and so much more. If you've got enough room to include a storage cabinet, make sure it has storage below and bench space on top.
Remember to look up and take advantage of the available vertical space, but keep in mind that open shelves can also prevent the space feeling overly cramped. Specialty storage shops and other home supplies stores are your friend when furnishing a laundry room and you will be amazed at the innovative solutions they offer.
You may also want to include ample bench space to help you complete all your day-to-day laundry tasks. This may include a station for folding clothes, a fold-out ironing board, concealed clothes hamper, pull-down drying racks, drop-down workspaces and so much more.
Lighting
The right lighting is a crucial consideration for your laundry room. Tucking the laundry away in a cupboard might be convenient, but if it's not set up right you could end up doing all your washing and drying in a dark, uninviting space.
To keep the space well lit, install task lighting above the work areas so you can see exactly what you are doing. Some homeowners also like the convenience of automatic lights that switch on whenever the laundry is opened.
Concealment
Another important factor worth considering is how to incorporate it into the surrounding space. Many laundry areas are simply hidden behind bi-fold doors to make them look like any other cupboard off a hallway or extra pantry space in the kitchen. This helps them blend in with the rest of your home so that they don't stand out like a sore thumb – in fact, it's quite easy to forget that the laundry space is even there.
However, keep in mind that washing machines and dryers can make quite a racket when in full swing, so you might want to use solid doors and possibly some extra insulation to help keep the noise intrusion to a minimum.
Laundry sink
While not all laundry rooms include a sink, this is a very useful inclusion and you'll definitely notice its absence if you go without. There are specially designed slimline tubs available if space is at an absolute premium, but you should also look for a tub that allows you to include a decent amount of storage space.
How much will it cost to renovate a laundry room?
Cost is a critical factor in any renovation project, and it's no different when creating a small laundry area. We've already looked at the average cost for renovating a laundry room, but to give you an idea, a standard laundry renovation costs approximately $4,300 while a luxury upgrade will cost north of $16,000.
Of course, the total cost will vary widely depending on the size of your space, where it is located and what you want to include. Our laundry renovation guide features a comprehensive rundown of all the costs involved in individual laundry features, from tiling to appliances, but remember that your laundry may have unique features that affect the price, such as custom-made cabinetry or innovative storage solutions.
And if you want an all-in-one washer/dryer, expect to pay anywhere from $1,000 for a small unit to $3,000 for a top-of-the-line model.
Finance your renovation with a small personal loan
Tips and tricks for renovating small laundry areas
There's plenty more you can do to make your small laundry area a more practical, usable space, such as:
Elevate your washing machine. Bending down to load and empty a front-loader washing machine or dryer can be hard on your back. Consider elevating the machines slightly to make this chore easier, and also to open up some handy storage space underneath.
Choose your location. The location for your laundry room is crucial. You want it to be somewhere it can be used without causing too much of a disruption – for example, trying to do the washing for an entire family in a small laundry area could block off an entire hallway or part of the kitchen. You also want the laundry space to be situated in a spot where there is easy access to the clothesline if you use one.
Use what you've got. Where possible, locate your laundry space in or near your bathroom or kitchen so you can take advantage of the plumbing connections already in place. This can minimize stress and plumbing costs.
White-out. To enhance the feeling of space, use a white or neutral color scheme. This will help your laundry space feel larger than it actually is.
Fold away. Fold-out technology can help you fit a whole lot more into your small space. Ironing boards, work benches, drying racks and more can all fold down for easy use, and then fold back up and out of the way when not required.
Bottom line
These types of laundry area storage ideas are an excellent way to include all the essential functions of a laundry room without taking up any more floor space than is absolutely necessary. Learn more about remodeling in our home renovation guide.
More guides on Finder