Finder is committed to editorial independence. While we receive compensation when you click links to partners, they do not influence our opinions or reviews. Learn how we make money.
Jewelry financing
They say a diamond is forever — here are 5 ways to pay for it.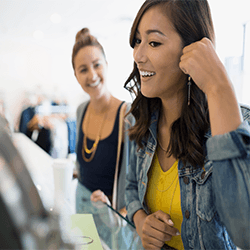 If you're ready to add to your collection or looking to buy an investment piece, knowing your financing options might get you better rates than those offered by a retail credit card.
How can I finance jewelry?
These five financing options are a few ways people pay for pricier pieces:
In-store financing. Some jewelry stores like Helzberg offer retail credit cards or in-store financing to break up the cost of expensive pieces into more manageable installments. This is often the fastest way to finance jewelry, but it may not get you the best rate.
Pay later programs. Depending on the jewelry store, you might be able to use a pay later program like Affirm or Afterpay. Affirm works similar to a credit card, where you purchase the piece of jewelry immediately and then pay it back in monthly installments — usually over one year. Interest rates range from 0% to 30% depending on your credit history. With Afterpay, you don't pay any interest. It simply spreads out the cost of your purchase over several weeks.
Personal loans. If you've already shopped around and know the estimated cost of your jewelry, you can request a personal loan. Top lenders like LightStream offer low starting rates, and you may not need to guarantee the loan with the jewelry you're buying.
Credit cards. If you can afford to make large payments each month, you might want to look into a credit card with a 0% APR intro period — some last as long as 21 months. Just make sure you can have it paid off before the intro period ends. Otherwise, you'll be stuck with an APR that's usually much higher than those that come with personal loans.
Payment plans. Some retailers might offer payment plans, though this isn't the most common option. You generally have to make a down payment on your piece, followed by equal installments spread out over anywhere from six to 24 months. With some stores, you may only receive your piece of jewelry after you've made the last payment, though this isn't always the case.
Compare jewelry financing offers
Must read: Be wary of financing companies that offer no credit check
Some financing companies offer small loans or rent-to-own agreements without checking your credit. While this may seem like a convenient option, be cautious: The interest and fees these companies charge can double or even triple the cost of the piece of jewelry you're buying.
If this is the only type of financing you can qualify for, you might want to hold off and take steps to build your credit and save up instead.
How much does jewelry financing cost?
Interest and fees are the two main factors that impact the overall cost of financing a piece of jewelry:
Interest. You can find 0% APR intro periods from many retailers and credit cards, but watch out: Some offers might require you to pay off your entire balance within the promo period or else you'll be charged interest for that time — all at a high credit card rate. If you choose a personal loan instead, you'll make monthly payments over three to six years, typically at an APR less than 10%.
Fees. Each lender charges fees differently. Keep track of origination fees, prepayment penalties and late fees to ensure you're not overspending on your loan or credit card payment.
3 situations when financing jewelry might be a good idea
If you can handle the large monthly payments, here are a few times financing an expensive piece of jewelry might be worthwhile:
You're looking for a long-term investment. Some items may maintain their value over time, making them a solid investment piece in a long-term financial plan. Authenticated gold and diamonds from top designers tend to hold their value best.
You found a really good deal on a piece of jewelry. Provided your return on investment covers the cost of financing, you can turn around and sell it for a profit.
You want to improve your credit mix. If your credit report includes multiple credit cards and closed loan accounts, financing jewelry with a personal loan can add diversity to your credit profile.
Bottom line
Financing jewelry is a relatively straightforward process. By comparing personal loans, you may be able to find an option that beats a retailer's credit card.
Frequently asked questions
More guides on Finder