Finder makes money from featured partners, but editorial opinions are our own.

Advertiser disclosure
How to write a check
Avoid a bounced payment by following this easy step-by-step guide.
Credit cards, debit cards and online bill paying have taken over the financial world, and paper checks aren't necessarily nearly as often as they once were. However, there are a still a few instances where you might need to write a check, such as for rent, gifts or bill payments. Here's a quick step-by-step guide on how to write one.
How to write a check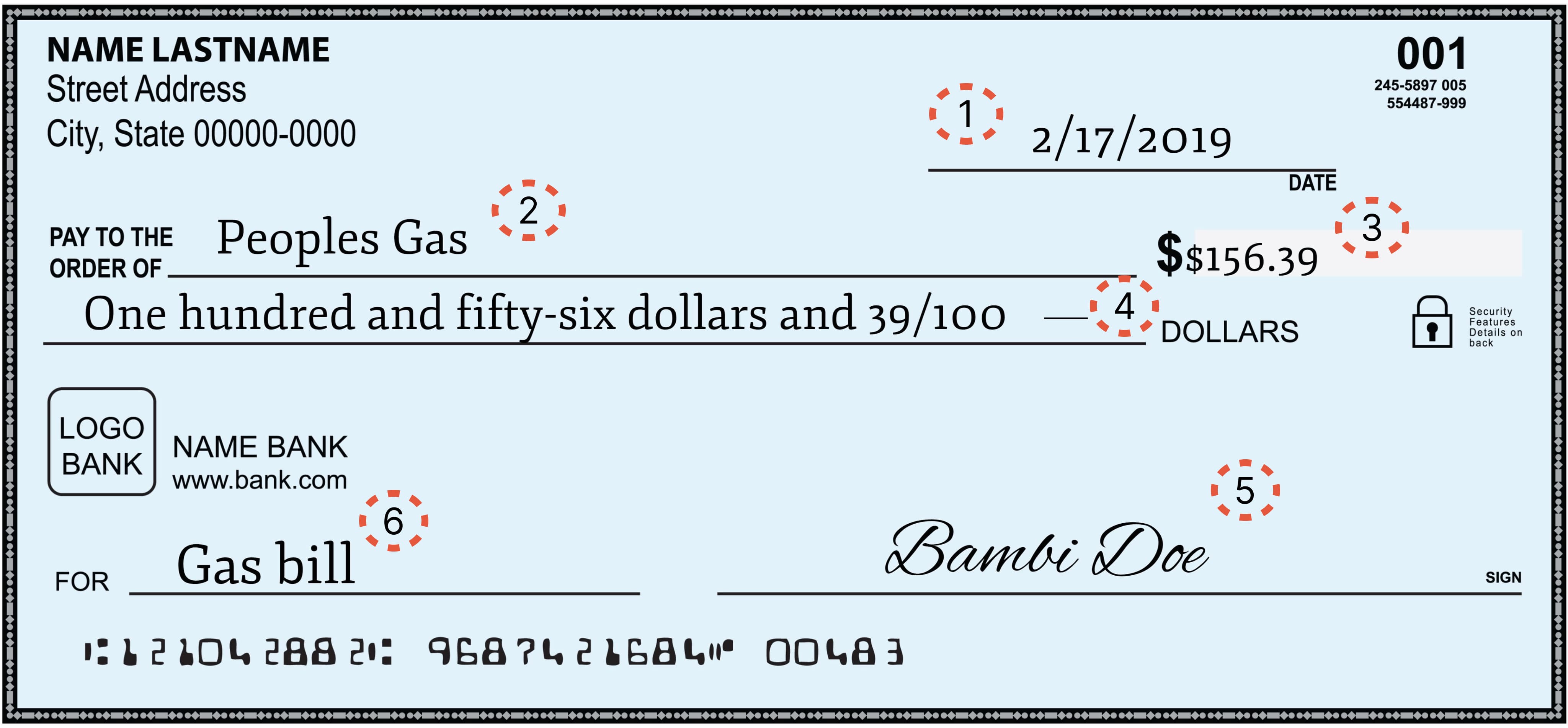 Write the date in the top right corner, next to a box or line that says "Date". Always write the same date that you signed the check on.
Write the recipient on the line next to "Pay to the order of." If it's a person, write their first and last name. If it's a company, make sure you have their company name correct for payments, only using acronyms if asked to. You can also write cash here, and that means anyone can take the check to the bank and get the cash from your account.
Write the amount. Next to the dollar sign ($) write, in numerals, the amount of money you want taken out of your account. Including the amount of pennies, even if that amount is zero.
Write the amount (again). Spell out the dollar amount with letters on the line under the recipient, including the cents as a fraction. It's a good idea to draw a line afterward so no one can add to your check.
Sign the check. In the bottom right corner there is a space for your signature. If you don't sign there, the check won't be valid.
Fill out the memo section (optional). You can write what the check is for, like utilities or rent. This isn't required, but it can help you keep track of your finances.
Tear off the check. If you're using a checkbook, tear off the top check. The top copy is what you give your recipient. The second, lighter copy is called a carbon copy

— it's for you to keep.
How to void a check
If you wrote a check that you don't want anyone to cash, there are three ways to void it. But you'll want to act as quickly as possible because your bank can't do anything once it's cashed.
Write VOID across the check. If you still have the check in your possession and you simply wrote in the wrong information, write the word VOID across the check as clearly and as largely as you can, making sure it covers the entire check.
Void it online. Depending on your bank, you may be able to log into your account and cancel the check there. If not, look for a live chat function on your bank's website where you can request a stop payment order with a customer service representative. Be prepared to give your account number, check number and the exact amount you wrote the check out for.
Void it by calling the bank. If you can't or don't want to cancel the check online, you can call your bank to request a stop payment order. You'll need to give the representative your account number, check number and the exact amount of the check, so have this information on hand before you call.
Be prepared to pay a fee if the bank has to authorize a stop payment request. Fees vary by bank but they're are usually around $30.
How to write a check out to cash
Checks are generally safer than cash because only the payee can cash the check. But when you write a check out to cash, anyone can receive the funds — whether you want them to or not. For this reason, it's usually not advisable to write a check out to cash.
But if you find yourself in a pinch and need to write a check out to cash, here's how you do it: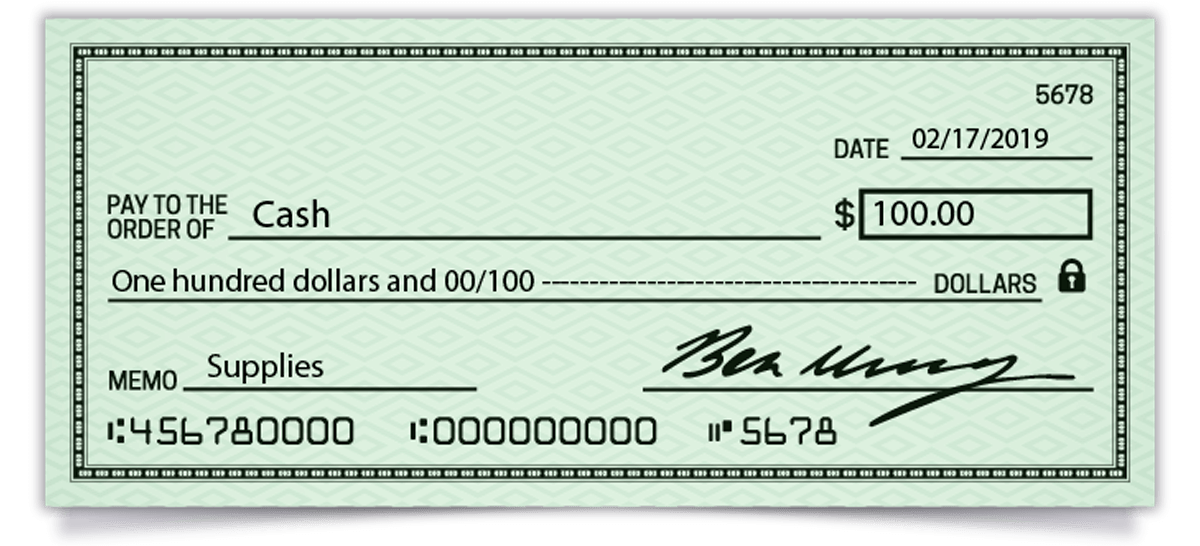 Fill in today's date in the top right corner of the check.
Write Cash in the Pay To The Order Of section.
Fill in the dollar amount next to the $ symbol.
Write out the dollar amount in words on the blank line under the Pay To The Order Of section.
Add a memo in the For section if you want to note why you're taking out cash.
Sign your name on the blank line in the bottom right corner of the check.
Writing a check to yourself
If you want to move money from one account to another, you can write a check to yourself by putting your own name in the "Pay to the order of" field. You'll also need to sign the back of the check before you can deposit it.
Do I have to write a check?
Paper checks have largely fallen to the wayside when it comes to making purchases these days. But you may find them still in use for these instances:
Rent
Wedding gifts
Utility payments
Closing costs
Payroll checks
When drawbacks outweigh the benefits
Checks come with a few notable drawbacks that leave them inconvenient choices for any purchase that doesn't require one.
They cost money. Most banks require you to shell out some cash to receive a new allotment of checks from your bank.
They take longer to clear. Compared to credit cards or debit cards, checks take much longer to clear in your bank. Most checks will clear in two to three business days, though checks that look suspicious or come from an unfamiliar or overseas bank may take longer. This makes it more difficult to get an up-to-date view of your bank account.
Harder to track. Unlike credit cards or debit cards, banks don't automatically keep track of the details of your check transaction. You'll need to purchase duplicate checks that come with a carbon copy paper or write down info like who the check is for and its purpose on your own.
Less secure than other payment methods. Checks carry a lot of personal information on them, including your name, address, bank routing and account number that someone can steal.
Potential to expire. Banks don't have to honor checks that are older than six months old.
Compare accounts with free checks
Narrow down top bank accounts that offer free checks. For a closer comparison, tick the Compare box to see accounts side by side.
Alternatives to checks
Most merchants and consumers have moved on to the numerous new methods of digital payments that have become available over the last few years. Here are some of the more popular options.
Zelle. Many banks accounts now feature Zelle integration, which is an app that allows easy bank transfers between two users. But keep in mind that Zelle is US only and lacks fraud protection.
Mobile payments. Peer-to-peer transaction apps like Venmo, Cash app and PayPal have increased in popularity. Venmo allows you to make digital payments and split the cost of bills among multiple users, which is handy for rent and similar payments. It also offers a debit card, which lets you use your Venmo balance without dipping into your linked checking account.
Bill pay. Most checking accounts have a "bill pay" feature that lets you set up automatic bill payments through your checking account without needing to write a check.
Bottom line
The easiest way to make payments is usually online. But if you need to go old school, writing a check is simpler than it looks. And some banks will even print out a check for you at the teller if you don't have a checkbook handy.