Finder is committed to editorial independence. While we receive compensation when you click links to partners, they do not influence our opinions or reviews. Learn how we make money.
Audi RS 5 car insurance rates
What to expect when insuring your luxury sports car.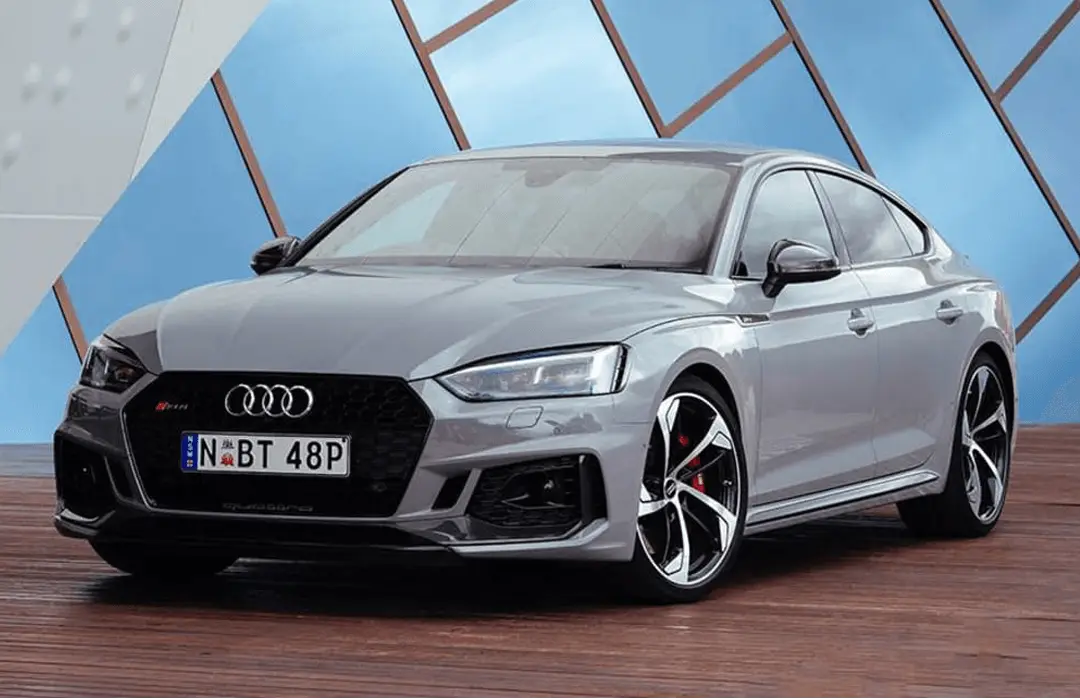 Compare car insurance quotes
Enter your ZIP code below and click Compare to see the cheapest rates in your area.
The 2018 Audi RS 5 is currently rolling out across the US. Thanks to Audi's consumer demand, it's generally easy to find coverage. But as a luxury sports car, it isn't the cheapest model to insure. The average cost of insuring an Audi is around $200 a month — or $2,400 a year.
The rate you pay depends on your provider, driving info, level of coverage and state. For instance, in Maine, you can expect to pay less, while car insurance is typically more expensive in New Jersey, Minnesota and Georgia.
Discover coverage that's broader than competitors, valuable discounts up to 30% off and perks like shrinking deductibles that reward no claims.
Broad coverage, including for custom car parts or ridesharing
Transparent pricing tools that help you buy within budget
Accident forgiveness on small claims or for staying claim-free
Stack a variety of discounts for multiple cars, autopay or homeownership
Compare insurance for your Audi RS 5
Audi RS 5 car insurance rates
| Model | Monthly insurance rate | Base car price |
| --- | --- | --- |
| A3 | $191.00 | $31,200 |
| A4 | $191.00 | $34,900 |
| A4 ALL ROAD | $132.00 | $44,000 |
| A5 | $127.00 | $41,200 |
| A6 | $136.00 | $47,600 |
| A7 | $124.00 | $68,800 |
| A8 | $191.00 | $82,500 |
| Q3 | $191.00 | $31,800 |
| Q5 | $138.00 | $40,900 |
| Q7 | $197.00 | $49,000 |
| R8 | $197.00 | $162,900 |
| RS7 | $191 | $110,700 |
| S3 | $132 | $42,900 |
| S5 | $98 | $53,100 |
| S6 | $132 | $70,900 |
| S7 | $191 | $79,900 |
| S8 | $191.00 | $115,900 |
| SQ5 | $132.00 | $53,300 |
| TT | $128.00 | $43,500 |
| TTS | $125.00 | $52,500 |
How to compare insurance for the Audi RS 5
Of all types of insurance, car insurance is the most flexible. As a customer, you're free to switch providers and adjust your policy, level of coverage and extras.
When you're shopping around for car insurance for your Audi RS 5, consider:
Price. To get the most value for your money, decide how much coverage you want, and then use that number to compare the premiums among providers.
Coverage types. Because the Audi RS 5 is a high-end car, you'll likely want to purchase more than the state's minimum liability requirements to cover damages in an accident.
Extras. Most providers allow you to add to your policy extras like accident forgiveness, roadside assistance and vanishing deductibles.
Restrictions. While Audis are generally easy to insure, some providers don't cover teens driving luxury sports cars like the RS 5. Others may impose restrictions on ridesharing or driving overseas. Find out about these now to avoid any gaps in coverage or denied claims in the future.
Warranty. Audi's New Vehicle Limited Warranty covers your car for four years or 50,000 miles, whichever comes first. You'll also get four years of Audi's 24/7 roadside assistance, avoiding the need for extra roadside coverage on your policy.
What special programs does Audi offer for the RS 5?
In the military? Audi's Military Sales and Expatriate Program offers discounts for active-duty military, civilian and Department of Defense employees stationed outside of the US.
The Audi Owner Loyalty Offer also pays $1,000 toward the purchase or lease of any new 2017 or 2018 Audi model, including the RS 5.
What factors affect car insurance for the Audi RS 5?
Your premium is a product of your provider, as well as your driving history, where you live, the car you drive and how often you drive it. Insurance carriers put their own emphasis on things like mileage, body styling and engine power.
For the Audi RS 5, your car insurance rate is affected by:
Body type. The RS 5 is a luxury midsize sports car. It's a coupe, which means it has a fixed roof and two doors. With these specs, it's a relatively expensive car to insure.
Fuel option. The Audi RS 5 runs on premium gasoline and has a turbocharged engine, which can increase insurance prices.
Type of car. Thanks to the cost of repairs, this sports car's typically pricier to insure.
Theft. The RS 5 is not a commonly stolen vehicle. In general, Audis have low theft rates, which could bring down the price of insurance.
Repairs. As a luxury sports car, it can be costly to replace the interior or repair body damage. Though the car is made overseas, you'll find approved repair shops across the US, and Audi has a good warranty program for maintenance issues.
Safety features. The RS 5 is equipped with sophisticated safety features, including multiple airbags, a rearview camera, a power central locking system and an antilock braking system. These features reduce the risk of damage to occupants and the vehicle in an accident, which cuts the cost of insurance.
Driver factors and insurance costs
When calculating your premium, your provider looks at your age, gender, marital status and driving history. If your driving record is free of major traffic violations in the past three to five years, you'll likely get a cheaper rate.
Your insurer will also assess your credit history and potential drivers. If you have poor credit or your car will be driven by teenagers or people with a less-than-stellar driving record, you may be hit with a higher rate.
It all comes down to risk: Generally, the riskier you are to insure, the pricier your policy.
Does the Audi RS 5 qualify for discounts?
Yes. Your provider may apply these discounts to your policy, which can slash the cost of your insurance by 5% to 30%:
New car discount
Antitheft discount
Passive restraint discount
Automatic lights and wipers discount
You might also be eligible for driver discounts, depending on your provider.
Reliability and safety ratings for the Audi RS 5
The 2018 Audi RS 5 is just now hitting US dealerships, so it hasn't undergone crash testing yet by the National Highway Traffic Safety Administration (NHTSA) or the Insurance Institute for Highway Safety.
Almost all 2018 Audi models that have been rated by the NHTSA earned a five-star overall safety rating.
The RS 5 is equipped with sophisticated safety features like dual-stage, knee and head-curtain airbags, plus front and rear parking sensors, a rearview camera, a power central locking system, a tire pressure monitoring system and an antilock braking system with brake assist and electronic brake pressure distribution. If you invest in extra safety features, like antitheft devices, your insurance carrier may cut down the cost of your premium.
The RS 5 has not had any recalls. And so far, there are no consumer complaints on file with the NHTSA.
Let's look at fuel. The coupe's tank size is 15.3 gallons. The average annual fuel cost for the RS 5 is $2,450 per year, which reflects the current fuel prices and 45% highway and 55% city driving over 15,000 annual miles. According to Fuel Economy, it costs $52 to fill the tank, and you can expect to pay $4,500 more in fuel costs over five years compared with the average new vehicle.
What you don't know about Audi
In 1939, Audi was the first company to conduct crash tests, prompting other brands to follow suit. Back in the day, they demonstrated the safety of their cars by rolling them down a hill. Primitive, but effective!
Audi means "to listen" in Latin — and you'll need to strain to hear a peep out of the RS 5. While the sports car is fast, able to accelerate from 0 to 60 mph in 3.7 seconds, it's incredibly smooth. Car reviewers across the board can't believe how quiet it is.
Compare Audi RS 5 competitors
Looking for other car brands? Compare car makes and models that are similar to the Audi RS 5.
Bottom line
The Audi RS 5 is a luxury sports car. And insurers know that means there's a very good chance you're going to drive it often — and fast.
This model tends to be expensive to insure, but you may be able to cut costs with loyalty, defensive driving or safety discounts. Audi's warranty and maintenance program is pretty good, so you shouldn't expect to shell out too much to maintain your car, especially within the first four years.
To save money, compare car insurance providers before signing off on coverage for your RS 5.
Get the cheapest quotes
Compare car insurance companies near you.
Your information is secure.
Frequently asked questions about the Audi RS 5