Finder is committed to editorial independence. While we receive compensation when you click links to partners, they do not influence our opinions or reviews. Learn how we make money.
Audi A6 insurance rates
Average Audi A6 insurance rates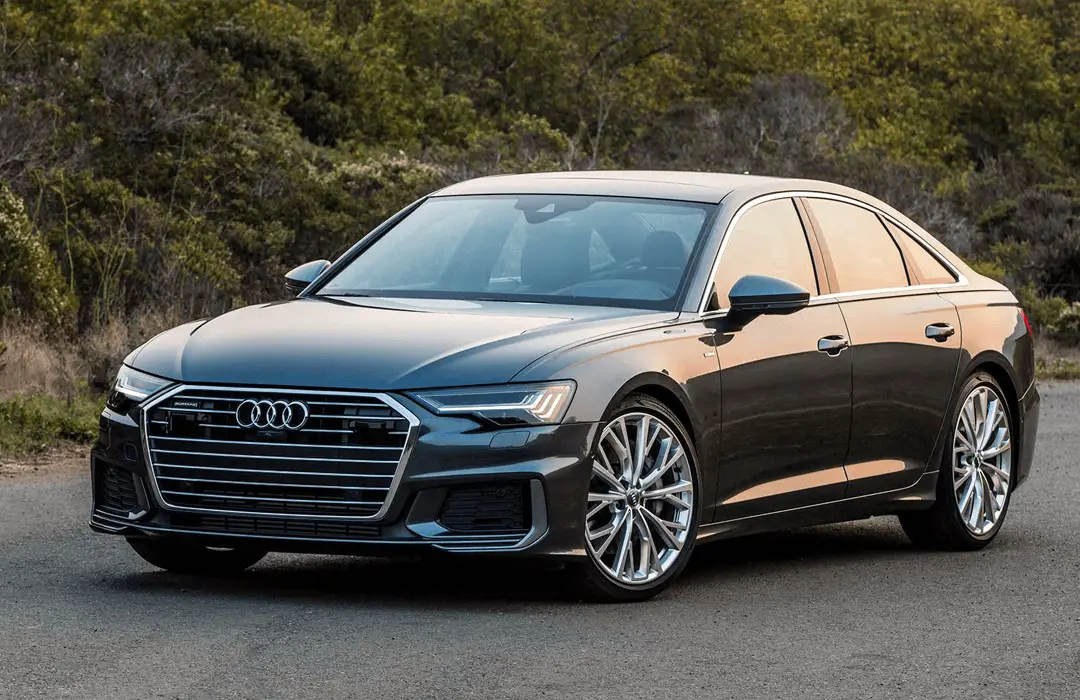 Compare car insurance quotes
Enter your ZIP code below and click Compare to see the cheapest rates in your area.
The average monthly insurance cost for an Audi A6 is $136 — or $1,632 a year. However, your actual rate may vary depending on your driving record, annual mileage, location, and other factors. For example, our estimate puts the cost of Audi A6 auto insurance at about $300 higher than the national average of $1,318. If you were to live in Ohio, you might pay closer to its average of $926 or as high as $2,201 in Georgia. With so many variables at play, it's essential that you compare your options before choosing a provider.
Discover coverage that's broader than competitors, valuable discounts up to 30% off and perks like shrinking deductibles that reward no claims.
Broad coverage, including for custom car parts or ridesharing
Transparent pricing tools that help you buy within budget
Accident forgiveness on small claims or for staying claim-free
Stack a variety of discounts for multiple cars, autopay or homeownership
Compare insurance for your Audi A6
Audi A6 car insurance rates
A 2017 Audi A6 starts at a base price of $47,600. With the average insurance rate at $1,632 per year, the annual insurance cost–to–base car price ratio is 3.4%.
| Model | Monthly insurance rate | Base car price |
| --- | --- | --- |
| A3 | $191.00 | $31,200 |
| A4 | $191.00 | $34,900 |
| A4 ALL ROAD | $132.00 | $44,000 |
| A5 | $127.00 | $41,200 |
| A6 | $136.00 | $47,600 |
| A7 | $124.00 | $68,800 |
| A8 | $191.00 | $82,500 |
| Q3 | $191.00 | $31,800 |
| Q5 | $138.00 | $40,900 |
| Q7 | $197.00 | $49,000 |
| R8 | $197.00 | $162,900 |
| RS7 | $191 | $110,700 |
| S3 | $132 | $42,900 |
| S5 | $98 | $53,100 |
| S6 | $132 | $70,900 |
| S7 | $191 | $79,900 |
| S8 | $191.00 | $115,900 |
| SQ5 | $132.00 | $53,300 |
| TT | $128.00 | $43,500 |
| TTS | $125.00 | $52,500 |
How to compare insurance for the Audi A6
While price is an important consideration when shopping for auto insurance, there are a number of other factors that should be taking into account. Knowing what to look for when comparing policies can help you get the best value on the coverage you need.
Price. Once you've determined how much coverage you need, use that sample policy to get quotes from different providers to find the best price.
Deductible. Your deductible amount can affect your monthly premiums. Generally, a lower deductible will cost more on a monthly basis, whereas a higher deductible might bring down your monthly premium.
Minimum coverage. All states (Except New Hampshire and Virginia) have a mandatory minimum amount of auto insurance coverage. Before purchasing a policy, ensure that it will meet your state minimums.
Additional coverage. Many providers offer additional coverage options for medical payments personal injury, and more. If you're looking for additional coverage, make sure to choose a provider that offers the options you need.
Extras. Things like accident forgiveness, roadside assistance and a number of other extras may be available at an additional cost.
Restrictions. Be sure to check with your provider regarding any restrictions on your coverage. If you plan on driving to Canada or Mexico, find out if your coverage extends outside the US.
Manufacturer offer or loyalty discount. Find out if Audi has any partnerships with insurance providers. If this is the case, you may be eligible for special offers or loyalty programs.
Warranty. Find out what's covered by your manufacturer or extended warranty to avoid paying for overlapping coverage.
What factors affect car insurance rates for Audi A6?
While your driving history, location and other variables are all taken into account, the vehicle you drive has a substantial impact on the price of auto insurance. Knowing what vehicle-specific factors affect Audi A6 car insurance rates can make it easier to compare your options.
Body type. The A6 is a four-door sedan, generally designed for commuting, errands, and daily driving. This poses a lower risk of collisions since it probably won't be driven off-road or at excessive speeds.
Type of car. The A6's classification as a luxury midsize car may make for higher rates as luxury vehicles generally cost more to produce, repair, and replace.
Theft. Sedans are the most commonly stolen type of vehicle. While the A6 itself isn't necessarily a popular target, being classified as a sedan may lead to higher insurance premiums.
Repairs. While it shouldn't be difficult to get a hold of replacement parts or service providers, luxury vehicles are often expensive to repair. This could increase the cost of auto insurance.
Safety ratings. Like many other Audi vehicles, the A6 comes standard with a number of safety features and strong safety ratings. This could bring down the price of auto insurance.
How do trim packages and extra build options affect insurance cost?
Insurance providers calculate your premiums based on a number of factors including your risk of getting into a collision and the cost of repairs in the event that you do. As you know, vehicle-specific factors influence the price of auto insurance. However, the trim and packages you choose can also make an impact. Some options can alter the performance of your vehicle, which may affect your insurance rates. Using the 2018 Audi A6 2.0 TFSI as a baseline, here's how some of the options may affect the price you pay for insurance:
Trim & Engine
Premium 3.0 TFSI. The 3.0 TFSI version includes a larger, supercharged engine, which increases power and could cost more to insure.
Sport 2.0 or 3.0 TFSI Most features in the sport package won't impact performance, so your premiums should remain the same. However, the 3.0 TFSI sport package includes the larger engine, which could increase the cost of insurance.
Premium Plus 2.0 TFSI This option includes everything from the sport package plus LED headlights, side and rear sensors and more. These driver assistance features may lead to lower premiums.
Premium Plus 3.0 TFSI While this package includes features that increase visibility and control, the larger engine could make your A6 more expensive to insure.
Prestige 3.0 TFSI Prestige includes everything in Premium Plus, along with a parking system, top view camera system and more. The increase in visibility can decrease the chance of an accident which could lead to lower rates, but the larger engine may cost more to insure.
Transmission & drivetrain
7-speed S-Tronic with front-wheel drive. The standard transmission and drivetrain. This shouldn't have an effect on the price you pay for insurance.
8-speed Tiptronic with all-wheel drive. This option provides more control and traction, which may lead to lower premiums.
Packages and options
19″ Sport Package. This package adds larger wheels with all-season tires and sport suspension. The improved handling could lead to better insurance rates.
Rear-passenger airbags. Adding this feature could make your A6 safer and less susceptible to damage and could therefore reduce your premiums.
Wheel locks. This affordable option makes it much less likely that your wheels will be stolen. You may receive auto insurance discounts for having them installed.
Audi A6 money-saving safety features
You could save money on car insurance for your Audi A6 if it comes equipped with these safety features.
Airbags
Daytime running lights
Anti-lock brakes
Anti-theft device
Surround camera system
Parking sensors
Rear back-up sensors
LED fog lights
Electronic stability control
Seatbelt pretensioners
Does the Audi A6 qualify for auto insurance discounts?
Your vehicle may be eligible for various auto insurance discounts depending on which provider you choose. However, the exact discounts you receive may vary depending on location, provider, options, and other factors. Here are a few that should apply to the Audi A6:
New car discount
Anti-lock brake discount
Anti-theft discount
Passive restraint discount (Airbags, motorized seat belts, etc.)
Emergency roadside assistance discount
How reliable is the Audi A6?
According to U.S. News and J.D. Power, the 2018 Audi A6 holds a subpar 2.5/5 star rating for reliability. However, previous models, includin the 2017 A6 in particular, did better than average with a score of 3.5 stars. Other sources place the 2017 and 2018 Audi A6 at above average reliability compared to other models in its class.
The first Audi A6 was released in 1994 and has undergone multiple reworks to arrive at the modern versions seen today. There have been multiple recalls over the decades it has been in production, here are some of the most relevant ones:
2017: A limited number of vehicles were recalled for frontal and head airbags not deploying properly.
2012-2015: A number of 2012-2015 A6 models were affected by coolant pump issues that could cause an engine fire. These models are also part of recalls due to fuel leaks and passenger airbags not deploying properly.
There are very few common problems with modern versions of the Audi A6. While the 2000 and 2004 models tend to have some engine and transmission issues, more recent models seem to be quite reliable.
How safe is the Audi A6?
The 2017 A6 received some impressive safety ratings from the IIHS, making it the 2017 top safety pick. It holds great ratings for crashworthiness and collision mitigation, including nearly perfect crash test scores from the NHTSA. U.S. News and J.D. Power give the 2018 A6 a perfect 10/10 score for safety.
Audi A6 maintenance
The Audi A6 is a luxury sedan that's designed for comfort and convenience to make daily driving hassle-free. Its design requires little upkeep, but routine maintenance can help extend the life of the vehicle and ensure it performs at full capacity. Here's what you can expect in terms of oil changes, mileage, and service appointments.
Audi recommends an oil change every 10,000 miles or 12 months, whichever comes first. Oil changes could cost anywhere between $50 and $150 depending on where you bring it for service.
According to the 2017 Audi maintenance schedule, your A6 should be brought in for minor maintenance at 10,000 miles and every 20,000 miles after that. Standard maintenance should be done after the first 20,000 miles and every 20,000 after the initial service appointment.
The 2017 Audi A6 2.0 TFSI gets an average of 26 miles per gallon, with 22 in the city and 31 on the highway.
The 2017 Audi A6 3.0 TFSI gets an average of 23 miles per gallon, with 20 in the city and 29 on the highway.
Audi encourages owners to bring their A6 to a dealer for service, but won't void your warranty if you bring it elsewhere. However, if your vehicle is part of a recall, it needs to be brought to an official Audi dealer.
The 2017 Audi A6 comes with a four-year/50,000-mile warranty and four years of 24/7 roadside assistance.
Is an extended warranty worth it for the Audi A6?
The Audi A6 comes with a four-year, 50-000 mile warranty. The Audi Certified Plus Limited warranty is available after your initial warranty expires. If purchased, this extended warranty provides coverage for two more years or up to 50,000 additional miles, to a maximum of 100,000 in total. If you drive your A6 frequently or plan on selling it in the future, the extended warranty can provide peace of mind and could even increase resale value.
About the Audi A6
The Audi A6 has been in production since 1994. The Audi A6 is ranked number two for luxury midsize cars, by the U.S. News & World Report. The 2017 model received a five star overall rating from the National Highway Traffic Safety Administration and is ranked as a top safety pick by the Insurance Institute for Highway Safety.
Insurance companies determine the insurance cost for an Audi A6 based on safety ratings, theft rates, replacement costs and overall damage susceptibility. Insurance rates can change based on your driving history and location. If you're considering an Audi A6, grab quotes from several insurance companies to find the lowest premium possible before you commit. Do your research to see if you qualify for insurance discounts.
Compare Audi competitors
Audi offers a wide range of coupes, sedans, SUVs, and even sports cars. Explore other models or find out what Audi competitors have to offer.
Compare all car makes & models
Bottom line
The Audi A6 is classified as a luxury sedan that comes standard with a number of safety and convenience features. Its body style and collision prevention technology may help you save on auto insurance, but the trim and packages you choose may have an impact on your actual rates. Regardless of which model you choose, you should compare your options to find the best auto insurance for your Audi A6.
Get the cheapest quotes
Compare car insurance companies near you.
Your information is secure.
Frequently asked questions about the Audi A6
More guides on Finder