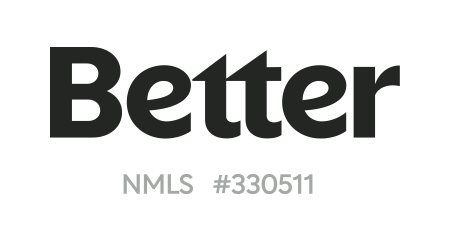 Choose this lender for low closing costs

Choose something else if you want to pick your loan servicer

A good option for borrowers looking for a conventional or FHA loan
Consider this lender for its competitive rates.

Choose another lender if you need a home equity loan or HELOC.
Neither of these seems the right fit?
Pros
Matching technology
Better price guarantee
21-day closing commitment
Informative website
Fast service
More flexibility
Prepayment is OK
Complete your application online
Cons
Not available in all states
Limited loan types
No branch locations
Application fee
Some loans aren't available
No physical locations
Customer reviews
As of August 2021, Better has a 3.96 out of 5 rating with the Better Business Bureau (BBB) and a 4.4 out of 5 rating on Zillow from hundreds of customers. Better has been accredited with the BBB since 2018 and has a B rating with 146 complaints registered over the last three years. Several BBB complaints are related to Better's $550 appraisal fee, which is required to lock in the interest rate. Customer reviews — both positive and negative — tend to focus on how automated the loan process is, with several reviewers comparing it to an assembly line. When everything runs smoothly, loans are completed on time and the process is simple. But when there's an issue, some users complain that it's hard to get any personalized help.
Rocket Mortgage, previously known as Quicken Loans, also gets pretty high marks from customers. As of December 2021, the company earns a 4.48 out of a 5-star rating on Zillow from over 7,880 reviewers. Satisfied customers mention helpful, attentive and personalized service from loan officers, along with lower-than-expected interest rates and fees. Borrowers also liked Rocket Mortgage's MyQL to track their loan's progress. However, some customers were surprised about unauthorized credit inquiries, and others say that loan advisors were pushy when trying to close a loan. While Rocket Mortgage appears to offer good service, it has fairly numerous complaints on the Better Business Bureau website.