Finder is committed to editorial independence. While we receive compensation when you click links to partners, they do not influence our opinions or reviews. Learn how we make money.
Compare Popular Direct banking products: Savings and CDs
Offers strong APYs across products but requires high opening deposits.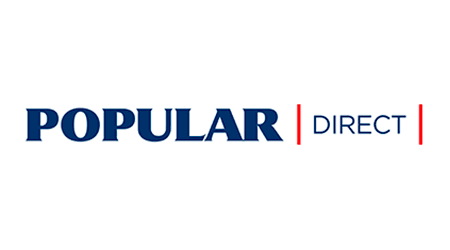 Popular Direct Bank features two high-yield banking products and 24/7 customer service. But you'll need at least $5,000 to open an account.
What banking products does Popular Direct Bank offer?
Personal banking
Popular Direct Select Savings account. Earn a strong 0.75% APY on your total account balance, but you'll need $5,000 to get started.
Popular Direct CDs. Requires a $10,000 opening deposit, but APYs range from 1.75% to 2.30% depending on the term.
How does it compare with other banks and services?
Popular Direct Bank is the online-only arm of Popular Bank
— which has been in business for over 122 years
. It services the US, Puerto Rico and the Caribbean. All of Popular Direct's accounts are FDIC-insured and come with online and mobile banking.
Savings accounts
Pros
High APY. You'll earn 0.75% APY on your total account balance.
Free digital statements. If you enroll in e-statements, you can access the last five years of bank statements for free.
Daily compounding. Grow your money faster with interest that compounds daily.
Cons
High opening deposit. You'll need $5,000 to open a savings account.
One account option. Popular Direct only offers one savings account, so it may not be ideal if you can't swing the large opening deposit.
Potential fees. There's a $4 monthly fee if your savings account dips below $500.
CDs
Pros
Impressive APYs. You'll earn anywhere from 1.25% to 1.70% APY depending on which term you choose.
Flexible terms. Popular Direct has CD terms that range from three months to five years, making it easy to find a term that's right for you.
Online application. Open any CD from the comfort of your home without having to visit a local branch.
Cons
High minimum deposit. Every Popular Direct CD requires a minimum $10,000 deposit.
Steep early withdrawal penalties. You'll pay a penalty equal to 89 to 730 days of simple interest if you need to access your money early.
Can't withdraw interest early. Some banks let you withdraw your CD's interest before maturity, but Popular Direct isn't one of them.
Overall banking
Pros
High APYs. Thanks to its low overhead, Popular Direct offers competitive interest rates on all its banking products.
24/7 support. Contact customer service by phone, email or mail at any time.
Transparency. Popular Direct's rates, deposit requirements and fees are clearly laid out on its website, so you know what to expect.
Cons
No checking accounts. Popular Direct Bank only offers savings accounts and CDs. For checking account options, you'll need to look at Popular Bank.
High deposit minimums. Popular Direct's high account minimums may be inaccessible for some people.
No branches or ATMs. With no ATM card or branch locations, you must rely on bank transfers to withdraw funds.
What happened to Popular Direct Bank's account freeze?
In 2018, Popular Direct Bank implemented a 60-day freeze that prevented new account owners from accessing funds for the first two months of opening a Popular Direct Bank Select savings account.
As of January 2, 2019, there's no longer a 60-day freeze, but new customers can only make ACH transfers from one external bank account during the first 70 days of account opening.
Compare Popular Direct to the competition
Popular Direct Bank customer service
Contact Popular Direct Bank 24/7 by:
Phone: 800-274-5696
Email: populardirect@bpop.com
US Mail:

Attn: Popular Direct Products
Bottom line
Popular Direct Bank has strong APYs for savers with large balances. But if you want a lower minimum deposit or a checking account,
compare other options
first.
Frequently asked questions
Read more on this topic