Finder is committed to editorial independence. While we receive compensation when you click links to partners, they do not influence our opinions or reviews. Learn how we make money.
Compare M&T Bank products: Savings, Checking, and CDs
A broad selection of personal and business banking options — but watch out for monthly fees.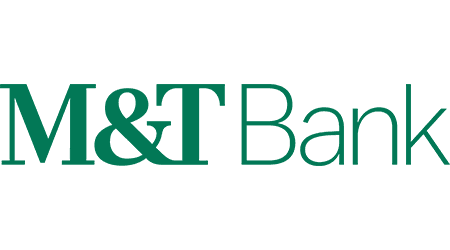 M&T Bank offers a wide range of checking, savings and CD account options for individuals and businesses alike. But watch out for low interest rates, limited branch locations and monthly fees.
What banking products does M&T Bank offer?
You'll find a wide variety of accounts at M&T Bank:
Compare M&T bank accounts
M&T branch locations
M&T Bank has branch locations spread across the east coast:
How does M&T Bank compare to other banks and services?
M&T Bank is headquartered in Buffalo, New York and has 1,600 ATMs and over 750 locations in 10 states. It manages over $120 billion in assets and is ranked as the 462nd largest bank, according to Fortune 500.
Checking accounts
Pros
Low opening deposits. You only need $25 to open most M&T Bank checking accounts.
Earn interest. M&T Bank has several interest-bearing checking account options for personal and business use.
Variety. With 12 checking account options, you have the ability to choose an account that suits your needs.
Cons
Monthly maintenance fees. Monthly maintenance fees range from $0 to $24.95 for personal accounts and up to $50 for business accounts. Some business fees aren't waivable.
ATM fees. Unless you have easy access to one of M&T Bank's 1,500 ATMs, you'll pay for non-network ATM fees.
Savings accounts
Pros
Relationship perks. M&T Bank waives the monthly fee when you link your savings to an M&T Bank checking account or meet certain minimum daily balance requirements.
Serves as overdraft protection. Link your savings account to your M&T Bank checking account and money will automatically transfer to checking if your balance dips below $0.
Cons
Low rates. Even M&T Bank's promotional APYs are lower than the competition.
Expensive excessive withdrawals. You'll pay $12.50 each time you make more than six outgoing transactions a month, which is high considering most banks charge around $5.
CDs
Pros
Flexible terms. Terms start out at 32 days and go up to six years.
Accessible interest. Have your interest deposited back into your CD each month so it can keep growing. Or, have it mailed to you or sent to your M&T checking or savings account.
Cons
Low rates. M&T Bank's interest rates are much lower than other banks.
Opening deposit. M&T CDs require a $1,000 deposit to get started, which is average for most banks.
Must be opened in-person. Some banks let you open a CD online, but M&T Bank requires you to visit a local branch.
Overall banking
Pros
Business and commercial options. M&T Bank has a variety of checking, savings and money market options for business and commercial use.
Resources. M&T Bank has a well-rounded resource center where you can get tips and tricks for managing your money.
Cons
In-person banking. You'll have to visit an M&T branch location to open a CD or an M&T Starter Savings account, or change your name and address with a debit card order.
Limited branch locations & ATMs. M&T Bank has 1,600 ATMs and over 750 locations across the East Coast.
M&T Bank customer service
There are three ways to get in touch with M&T Bank:
Call 800-790-9130 weekdays from 8 a.m. to 9 p.m. ET and weekends from 9 a.m. to 5 p.m. ET.
Email custserv@mtb.com.
Visit a branch location near you.
Compare M&T Bank to the competition
Thinking M&T Bank isn't for you? Compare accounts from other top-rated institutions:
Bottom line
If you're an individual or business looking for a wide range of banking products, M&T Bank may fit your needs. But if a high-yield, fee-free account is what you're after, shop around for other options.
Frequently asked questions
Read more on this topic