Finder is committed to editorial independence. While we receive compensation when you click links to partners, they do not influence our opinions or reviews. Learn how we make money.
Axos Bank products: Savings and Checking
Manage your cash completely in the digital realm.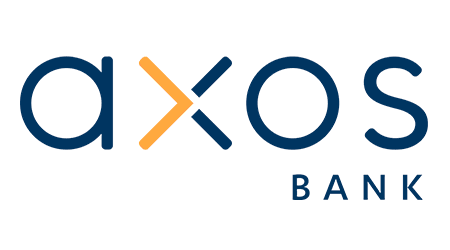 Formerly Bank of the Internet, Axos Bank has been championing innovation since its conception on July 4th, 2000, eschewing traditional banking in favor of low overhead costs and almost nonexistent account fees. But you'll need to be comfortable communicating entirely online if you don't live near one of its six office locations.
Compare Axos Bank products
Axos has options to help a wide variety of customers navigate their finances.
Personal
Its personal checking and savings accounts come with a host of online money management tools like free deposit, online bill pay and a No-Hassle Switch Kit that can help transition you from your current bank.
Business
Axos Bank offers a suite of small business products and borrowing options for bigger commercial companies.
Commercial accounts
Analyzed Business Checking. It's offered for small business use too, but Axos recommends you pair it with Treasury Management services to cover all your accounting needs. It comes with an ECR instead of an APY. There's no minimum balance requirement, but you'll have to pay a non-waivable $15 monthly maintenance fee. Deposit $100 to get started.
Certificate of Deposit Account Registry Service (CDARS). Meant for businesses that want CD-level returns on hefty investments. Opening an account requires a deposit of $100,000. Get partnered with a banking professional and expect finite term lengths that vary by case. Deposits are FDIC-insured up to $50 million.
Other products
Mortgages. Get a loan to purchase or refinance a home or take out a loan based on equity. There's no lender fee.
Personal loans. Expect fixed monthly payments with no collateral required. Get approved in two days for loan amounts ranging from $5,000 to $30,000.
Auto loans. Borrow from $10,000 to 90,000 to finance your car. Rates start at around 4.45% and there's no penalty if you choose to pay it off early.
Commercial loans. Finance new equipment or get cash to build your next real estate endeavor. Expect flexible negotiations and "common sense underwriting."
How does it compare to other banks or services?
Axos Bank was launched as a digital company in 2000 and still holds true to its initial values — a lean business model offering technology-based financial services. It has six offices around the country, mostly on the west coast, but plans to expand soon.
It doesn't rank on the FDIC's list of Top 50 Bank Holding Companies by Total Domestic Deposits, but it's not as established as giants like Bank of America or Wells Fargo. It doesn't have a network of Axos-brand ATMs, but reimburses nearly all domestic withdrawal fees to make up for that.
Checking accounts
Pros
No monthly fees. All personal checking accounts are fee-free and only two business accounts have monthly fees that range from $10 to $15.
Low minimum opening deposits. Open a personal account with as little as $0 or a business account with as little as $100.
Solid ATM reimbursement policy. Most of its checking accounts offer unlimited reimbursement for non-domestic ATM withdrawals, which helps make up for its lack of ATM network.
Several account options. This digital bank offers five personal checking accounts and three business checking accounts.
Cons
No cash deposits. Because Axos is fully online, it doesn't accept cash deposits.
Withdraw limits. Those with a First Checking account can't withdraw more than $100 at an ATM each day.
Foreign currency conversion rate. You can technically use your debit card any place that accepts Visas overseas, but you'll pay extra for the currency conversion.
Fee for Second Chance Checking account. If you don't qualify for a regular Axos checking account due to a bad banking record, you'll pay $8.95 a month for a second chance account. Or, $6.95 if you set up direct deposit.
Savings accounts
Pros
Low opening deposit for personal accounts. Open any Axos personal savings account with as little as $0.
No monthly fees. Personal savings accounts have no monthly fees or minimum balance requirements to earn interest.
Free debit card. Request your free debit card and get access to convenient cash withdrawals at ATMs nationwide.
Cons
APYs are less competitive. You can likely get higher APY savings rates online elsewhere, like in Goldman Sachs' Marcus account or Ally's online savings account.
High opening deposits for business accounts. Opening deposits range from $1,000 to $25,000 and most accounts have monthly fees.
Excessive transaction fee. If you make more than six outgoing transactions a month, Axos charges a $10 fee each time. This fee may be temporarily waived. Check with Axos.
CDs
Pros
No monthly fees. You won't pay anything to set up or maintain an account.
Competitive APYs. Rates start out at 0.55% for a three-month CD and top out at 2% for a five year CD. The longer your term, the more you'll earn.
Partial withdrawals allowed. Unlike other CDs, you can withdraw part of your account balance and leave the rest in your CD until maturity.
Cons
$1,000 opening deposit. You'll need to set aside at least $1,000 to open an Axos Bank CD.
Early withdrawal fees. If you withdraw your money before maturity, you'll pay a penalty equal to 45 to 730 days' interest depending on the term. Unlike most CDs, you'll pay this penalty whether you've accrued that much interest or not, which means you could lose some of your initial deposit.
Overall banking
Pros
Few to no fees. In part due to its low overhead costs, users can expect few extraneous charges across all account types.
Easy transfer. Axos Bank will send you a checklist for moving your money over to one of its accounts — it's called the No-Hassle Switch Kit.
Second chance options. Consumers with negative marks on their Chexsystem report can rebuild their history with a second chance checking or savings account.
Cons
Limited in-person help. If you like face-to-face support, you may want to look elsewhere since Axos is focused on its online and mobile experience.
No cash deposits. Axos is a digital bank, so it doesn't accept cash deposits of any kind. If you routinely deposit cash, this may not be the bank for you.
Average APYs. Although its APYs are competitive, you can find higher rates at other digital banks.
Axos reviews and complaints
Axos Bank has been accredited by the BBB since 2011, where it has an A- rating. There aren't any complaints recorded against it in the Consumer Financial Protection Bureau, though it is a member of the FDIC.
Across the web, customer frustrations indicate operational errors and random account closures. Two poor reviews on Trustpilot report problems with credit card customer service.
Axos customer service
Connect with Axos's customer care through:
Phone: Reach Axos Bank's customer service at 888-502-2967.
Fax. Send documents to 858-350-0443.
Snail mail. You can send a note to:Axos Bank
P.O. Box 509127
San Diego, CA 92150
Bottom line
If Axos's low-fee, digital setup appeals to you, it might be a good place to store your cash. But if you're hoping for better access to brick-and-mortar service, shop around to find a better fit.
Frequently asked questions.
Read more on this topic