Finder is committed to editorial independence. While we receive compensation when you click links to partners, they do not influence our opinions or reviews. Learn how we make money.
America First Credit Union banking products: Savings, Checking, and CDs
Offers high APYs, some free accounts and plenty of variety — but has a small service area.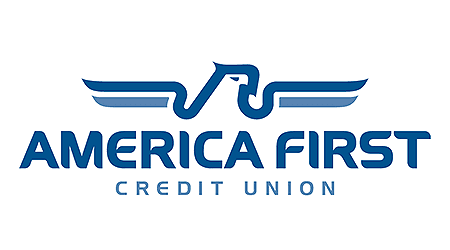 America First Credit Union is a Salt Lake City-based credit union servicing select counties from five states. It offers a comprehensive list of accounts, including those with high APYs and no monthly fees. But some accounts have unavoidable monthly fees and require members to visit a branch to get started.
Am I eligible?
To qualify for an America First Credit Union membership, you must live, work, worship, volunteer, or attend school in select counties from one of the following five states:
What banking products does America First Credit Union offer?
How does America First Credit Union compare to other banks and services?
Founded in 1939, America First is the 9th largest credit union in the US. It manages over $11.7 billion in assets and has over 1 million members. This credit union is part of the CO-OP ATM network, which gives members free access to over 30,000 ATMs nationwide. It has 131 full-service branches spread throughout Arizona, Idaho, Nevada, Oregon and Utah. All deposits are NCUA-insured for up to $250,000.
Checking accounts
Pros
Large ATM network. Withdraw cash for free at over 30,000 CO-OP ATMs nationwide.
Earns interest. All of America First's personal checking accounts earn interest when you meet certain balance requirements.
Several business options. Business owners can choose from four checking accounts with varying transaction limits and minimum balance requirements.
Cons
High deposits for some accounts. If you plan on opening a Money Market Checking account, you'll need to set aside at least $10,000 to get started.
Unavoidable monthly fees. Expect to pay $8 a month for a Premier Business Checking account and $50 a month for a High-Yield Business checking account.
Other fees. America First charges $25 for overdrafts, $30 for outgoing international wire transfers and $1.50 for non-network ATMs.
Savings accounts
Pros
Strong APYs for student account. Students earn 1.55% APY on the first $500 in their account, 1.50% APY on the second $500 in their account and 0.1% on the remaining balance.
Some low opening deposits. You can open Share Savings and Student Savings accounts with as little as $1.
Specialized accounts. With America First, you can open a Dedicated Savings account to save for specific goals, a Wedding Savings account to stash away money for your big day or a Youth Savings account to help your little one develop good money management habits.
Cons
Low APYs. Unless you're a student, rates start at 0.1% APY for a Share Savings account and go as high as 0.9% for a money market account. But you'll have to stash away at least $250,000 to earn 0.9% APY.
High opening deposits for money markets. You'll need at least $10,000 to open a money market account, which is much higher than deposits required by other banks.
Withdrawal limit. If you make more than six outgoing transactions a month, America First will charge you a fee or close your account. But you'll want to check with them to see if this policy is temporarily suspended.
CDs
Pros
Competitive APYs. You'll earn anywhere from 1.10% to 1.9% APY depending on your term length and CD type. Terms start at three-months and go up to five years.
Several CD types. Open a regular CD if you want to lock in the highest rate, a bump CD if you want to increase your rate before maturity, a flexible CD if you want penalty-free access to your money or a laddered CD if you want to open multiple CDs at once.
Low opening deposits. You only need $500 to open a CD with America First, which is much lower than other banks that require as much as $10,000.
Cons
Early withdrawal penalties. You'll pay a penalty equal to 60 to 180 days interest if you need to withdraw money outside of your CD's grace period.
Maximum limit. America First members can't keep more than $100,000 in Flexible CDs at any given time.
Overall banking
Pros
Identity theft protection. America First members get access to free identity theft protection tools and services.
Card Guard mobile security. This feature lets you control how, when and where your America First Visa cards are used, straight from the mobile app.
Convenient customer service. Easily reach a customer service representative by phone, email or at a local branch.
Cons
Unwaivable fees. Unlike most banks, America First Credit Union doesn't waive monthly fees.
Small service area. This credit union only services select counties in these five states: Arizona, Idaho, Nevada, Oregon and Utah.
Compare America First Credit Union to the competiton
America First Credit Union customer service
There are several ways to get in touch with America First Credit Union customer service:
Call 800-999-3961 weekdays from 8 a.m. to 8 p.m. MT and Saturdays from 8 a.m. to 7 p.m. MT.
Email support@americafirst.com
Visit a local branch
Bottom line
American First Credit Union services select counties from five states. It offers strong APYs that range from 0.1% to 2.4% and free basic checking and savings accounts. But its service area is small and some accounts have unwaivable monthly fees.
If you're looking for an account with a broader service area or more free accounts, explore your options.
Frequently asked questions
Read more on this topic