Finder is committed to editorial independence. While we receive compensation when you click links to partners, they do not influence our opinions or reviews. Learn how we make money.
Getting a mortgage with 5% down
Buy your dream home sooner without saving for a high down payment.
Saving a 20% down payment just isn't realistic for many homebuyers. Luckily there are plenty of mortgages you can get with just a 5% or lower down payment. You may have to pay private mortgage insurance (PMI), but a 95% mortgage can get you into the property market faster.

Can I get a mortgage with a 5% down payment?
It is possible to buy a property without saving up a 20% down payment. But most lenders require at least 5% down. In other words, they will lend you 95% of a property's costs, but that 5% needs to be money you've saved. This is often defined as money that's been sitting in your account for at least six months. But there are ways around this:
Retirement savings. Most retirement savings accounts will allow you to borrow or even withdraw money from your account for the purpose of purchasing a home if you are a first-time home buyer.
Parental guarantor. If your parents own a property, they can use it as security to guarantee your mortgage. You have the option of saving 5% yourself and getting your parents to guarantee the other 15% of the down payment. This way you can avoid PMI. Some lenders will allow your guarantor to cover the full 20% of the down payment

— j

ust keep in mind that your guarantor will have to pay the portion of the mortgage they've guaranteed if you can't repay it.
Selling shares or other assets. You can sell off an investment and use the cash as a down payment, but you may need to keep it in your account for six months to satisfy the savings rule.
Cash gift or inheritance. If you're fortunate enough to receive a cash gift or inheritance, you could use this as your down payment, but again, watch out for the genuine savings rule. Some lenders may accept a 10% down payment made of a gift or inheritance, but you need to do your research.
What programs offer 5% or lower down payments?
If you can't come up with a 5% down payment, don't give up on buying a home. There are programs available for home buyers with less than 5% to put down on a home.
FHA loan. This is usually the most popular option for low down payment mortgages. With an FHA loan, you can put as little as 3.5% down.
VA loan. If you're a veteran or current service member, you might be eligible for a loan with no money down at all.
USDA loan. Like a VA loan, home buyers can purchase a house with no money down. The one big catch is that you have to be willing to purchase a home in eligible rural areas.
HomeReady mortgage. Backed by Fannie Mae, if you meet certain requirements, you can purchase a home with a 3% down payment. This program is intended to hep low and middle income buyers purchase a home.
Conventional 97. This program, also backed by Fannie Mae, is another option if you only have a 3% down payment.
What's the catch?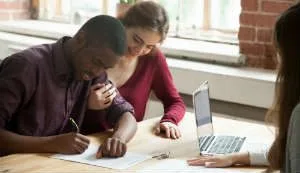 Most home loans require a 20% down payment. But some products have a minimum down payment of as low as 3%. This means you can forget the 20% and buy your property with a smaller down payment.
There's only one catch. Getting a loan with less than 20% down means you'll have to pay private mortgage insurance (PMI). This is an extra cost that protects your lender, not you, in case you can't repay your debt. It's a cost that add up to thousands of dollars, especially if you're borrowing 95% of a property's value.
Before considering getting a loan with a 5% down payment, calculate how much PMI will add to your costs. Keep in mind that while PMI costs can be rolled into your mortgage payments (meaning you can borrow this sum along with the money needed to buy a property), it will affect how much you can borrow.
Is there anything else I need to be aware of?
Aside from PMI costs you should be aware that some 95% mortgages come with higher fees or a less competitive interest rate. But because the mortgage market is so competitive, you can find many loans that keep fees and interest rates low, even when lending you most of a property's value. The table above is filled with such products, but be sure to read the fine print on fees and features when comparing.
A smaller down payment means paying more in interest
Getting a loan with such a small down payment inevitably means paying more in interest over time. The difference in interest you'll pay over the life of the loan can be significant. Here's an example:
Property cost: $600,000
20% down payment = $120,000 (loan amount of $480,000)
Interest rate: 3.65%
Loan term: 30 years
Monthly payments: $2,195.81
Total interest payable: $310,490.12
Property cost: $600,000
5% down payment = $30,000 (loan amount of $570,000)
Interest rate: 3.65%
Loan term: 30 years
Monthly payments: $2,607.52
Total interest payable: $368,707.02
How do I apply for a low down payment mortgage?
Using the table above you can sort through loans with 5% down payments and read reviews of the various products and lenders. Look at the fees, flexibility and features the loans come with to get a better idea of which ones work for you.
When you've found a product you're interested in, hit the green button and you'll be taken to either a website or a form where you can add your details and get in touch with a mortgage expert. They'll guide you through the application process.
To make the process easier you'll need to meet the following requirements:
Be at least 18 years of age.
Be a permanent US resident or citizen.
Have a good credit history.
Have a good employment history.
Once you meet the above criteria, you're ready to proceed with your application. It's important to ensure you have the following information and documents ready:
Proof of identification.
Employment details.
Financial details.
Bottom line
If you want a mortgage with the lowest interest rates and the most features, your best bet is to save up a 20% down payment. Unfortunately, that's just not realistic for everyone. Luckily, if you have good credit and are willing to pay a little extra for mortgage insurance, you can get a home with only 5% down.
FAQs
Image: Shutterstock