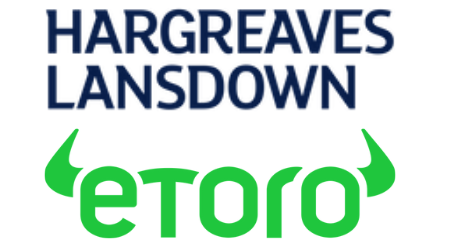 Hargreaves Lansdown vs eToro
Find out what we thought when we compared two of the biggest investment platforms in the UK.
Hargreaves Lansdown and eToro are both share trading platforms — with both providers, you can invest in stocks and exchange traded funds (ETFs) on a huge range of stock exchanges. eToro is a commission free platform, while Hargreaves Lansdown charges a fairly hefty commission per trade. In exchange for a higher commission, investors do get some additional tools, research and features. We've pitted these platforms against one another to find out which of the two come out on top.
Hargreaves Lansdown vs eToro: Vital stats
Both Hargreaves Lansdown and eToro score 5 stars out of 5 in our trading app analysis, which looked at more than 80 (and counting) features and fees of trading platforms. Hargreaves Lansdown was a winner in the Finder Customer Satisfaction Awards 2023.
One major benefit of Hargreaves Lansdown over eToro is that it offers an individual savings account, which means that you can invest up to £20,000 in the 2023/2024 without having to pay tax on your profits. Your allowance is reset each year. eToro doesn't offer an ISA at the moment.
eToro has a better costs rating than Hargreaves Lansdown as it offers commission free trading, but it does have some additional fees.
Both providers are covered by the Financial Services Compensation Scheme (FSCS), which means that your deposits are protected by up to £85,000 if your platform were to go bust.
Round 1: Stock exchanges
Round 2: Financial instruments
Both Hargreaves Lansdown and eToro offer shares and exchange-traded funds (ETFs). Hargreaves Lansdown also offers bonds and funds, which eToro does not have. eToro also lets you invest in fractional shares, which can get you access to pricier shares if you're only investing small amounts. Hargreaves Lansdown does not offer fractional shares.
Winner: Hargreaves Lansdown
Round 3: Fees
eToro is commission free, which is a pretty big bonus. Hargreaves Lansdown charges £11.95 per trade, or £5.95 if you trade regularly. Both providers charge foreign exchange fees — eToro charges 0.5% and Hargreaves Lansdown charges 1%.
eToro does have additional fees, such as for withdrawals and inactivity, which you won't find with Hargreaves Lansdown.
Round 4: Mobile and web features
These providers both offer most of the features you'd expect from a share trading platform, including mobile apps and share price notifications. Both Hargreaves Lansdown and eToro have desktop trading and great charting tools.
eToro has a community and a lot of social features, including an excellent social trading feature.
Round 5: Learning resources
Learning resources allow beginner investors to learn the ropes as they invest. One of the best ways to learn is to use a demo account, which both Hargreaves Lansdown and eToro offer. Both of them also have investment guides and videos to help you learn about investing.
Our verdict: Is Hargreaves Lansdown better than eToro?
This is a close one, but we'd say that eToro just about takes home the win. Our experts thought that fees are a key consideration when choosing a platform. There are still some downsides to eToro, like its lack of ISA and extra fees, like inactivity fees and withdrawal fees.
If you're still not sure, you can read our full reviews of both Hargreaves Lansdown and eToro to find out more.