A group of buy now, pay later (BNPL) platforms have recently burst onto the scene in the UK, but how do you know which to choose?
To help you narrow it down, this page compares 2 of the UK's biggest names in the BNPL sphere – Klarna and Clearpay.
Clearpay
Sister to Aussie brand Afterpay, Clearpay has been making waves in the UK. Aimed at millennial spenders who prefer debit to credit, Clearpay is designed to offer flexible payments without the risk of getting into debt. The company assigns spending limits based on a customer's previous spending history on the app and, importantly, charges no interest.
Split it. Clearpay easily splits your final shopping total into 4 equal amounts, which you pay back at 2-week intervals.
Popular retailers: boohoo, Nasty Gal, PrettyLittleThing
---
Klarna
Klarna was founded in Sweden in 2005 and is currently the most downloaded BNPL app in the UK. Data from Sensor Tower, explained in Finder's BNPL report Instant hit: The rapid rise of buy now, pay later, showed that the Klarna app had been downloaded 986,000 times between January and July 2020 – that's 688,000 more downloads than Clearpay's app in the same time period. Klarna offers 3 different payment options:
Pay in 30 days. Receive an invoice for your full order total with up to 30 days to pay the full amount.
Financing. Split your payments into monthly instalments that you pay over time. (Requires a full credit check and charges interest of up to 18.9% APR.)
Pay in 3. Spread the cost of your purchase equally over 3 months with no interest. Payments are due at the time of ordering, and then 30 and 60 days later.
---
---
Compare: Clearpay or Klarna
What do the companies have to say?
Clearpay
Klarna
How did the platforms perform in 2020?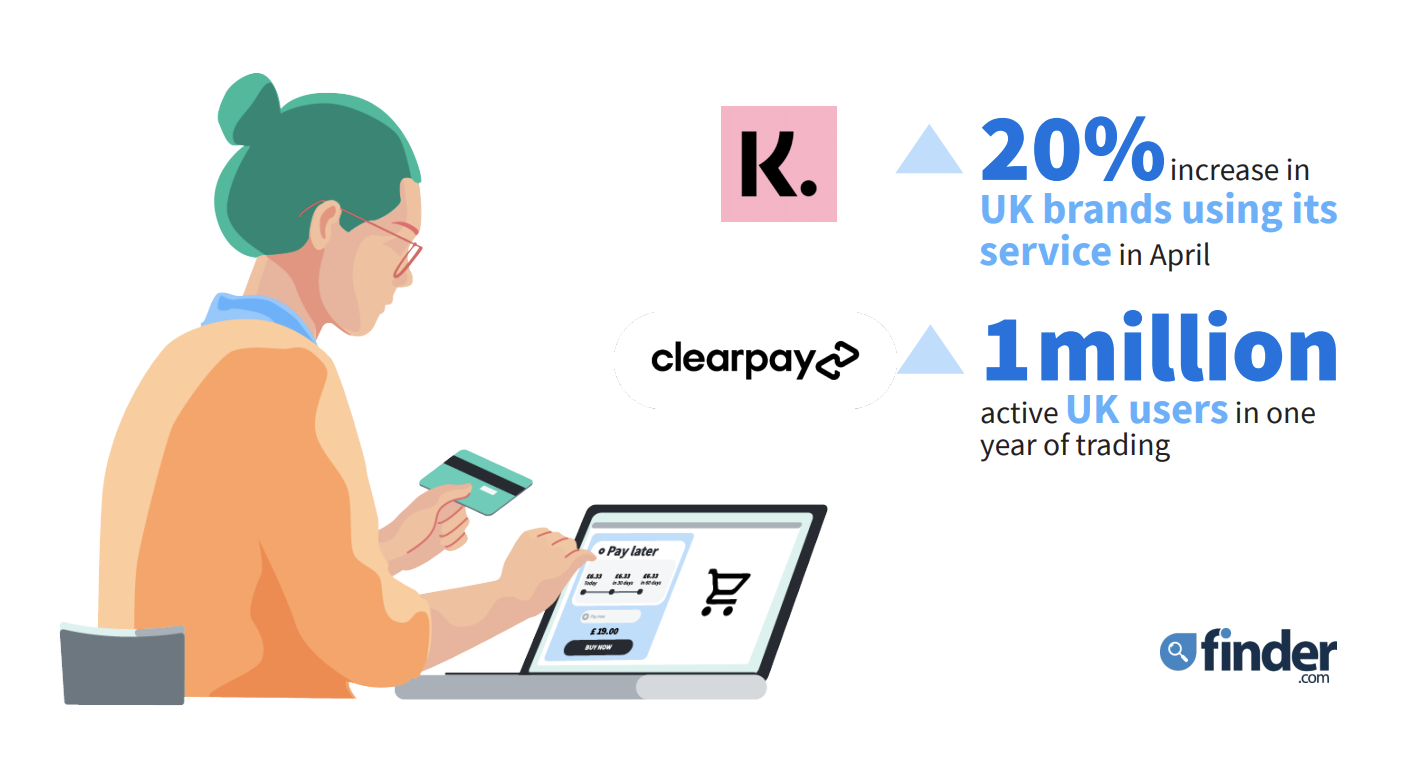 How does buy now, pay later work?
This depends on the service you choose. With most BNPL platforms, you shop online at your favourite retailers and bag items as normal. The only difference comes when you get to checkout. Here, it's just a case of selecting a BNPL service as your payment option, such as Clearpay or Klarna. Some retailers don't yet offer BNPL, but most of the big brands do.
When you've chosen your service, you can select your payment terms. These vary from delaying the payment (by say, 30 days) or splitting the payment into as many as 6 smaller chunks, which can be paid off automatically from your bank account weekly, bi-weekly or monthly.
Do Clearpay and Klarna carry out credit checks?
Clearpay doesn't run a credit check on you when you make an account. Instead, to make sure customers are likely to be able to make repayments, it may conduct a pre-authorisation on your nominated card, up to the amount of your first instalment.
Klarna carries out a soft credit check and affordability assessment for its Pay in 3 and Pay in 30 days plans. These don't show up on your credit rating and won't be visible to other lenders. If you choose Klarna's Financing option, this is more like a traditional credit card, so you will be subject to a full credit check, which could negatively impact your credit rating.
What if I'm late making a payment?
As soon as you miss a payment, Clearpay will immediately stop you from making any further purchases. For orders under £24, you'll be charged 1 late fee capped at £6. For orders over £24, you'll also be charged an initial late fee of £6 and a further fee of £6 if the payment is not made within 7 days. For orders over £24, Clearpay's late fees are capped and will never go higher than 25% of the order value or £36, whichever is less. Whatever happens, Clearpay has said this won't affect your credit score. However, with the recent news that all 3 major CRAs will be including BNPL data on your credit reports from Spring 2022, it is likely that Clearpay will change its position on this.
With Klarna's "Pay Later" plans, all instalments are interest-free and you will never be charged a late fee, even if you miss a payment. If you've chosen the Pay in 3 credit option and find that you can't make your first payment, Klarna will get in touch and then try 2 more times to take the money. If you still can't pay, it will roll over into your next instalment. Again, you'll be informed if the next payment fails, giving you time to add money to your account. After 2 more attempts, Klarna will then roll the payment over into your third and final instalment. If you still can't pay, Klarna will contact you to see if you can use another payment method or refer you to a debt collection agency.
For Klarna's Pay in 30 days service, if the debt remains unpaid after several months, the account will be classed as in arrears and then passed to a debt collection agency.
Which service is more popular?
The graph below shows Google Trends data for search interest of both Klarna and Clearpay from July 2020 compared to the previous year. As you can see, there's really not much in it…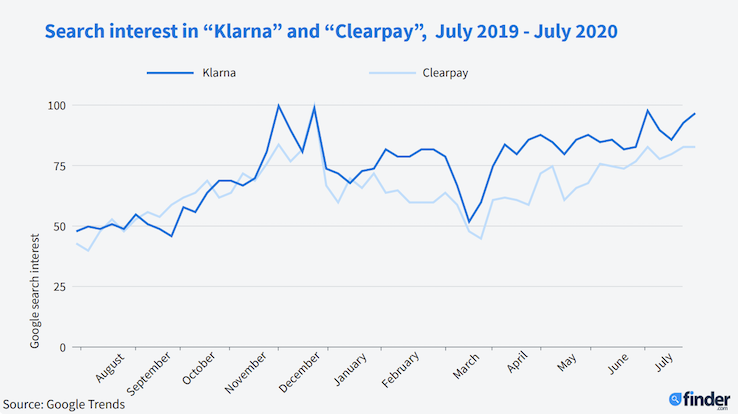 Warning: Late repayments can cause you serious money problems. For help, contact MoneyHelper.
Why use a buy now, pay later service?
BNPL has quite a lot going for it. For starters, it can help shoppers manage large, expensive purchases by allowing the amount to be split across multiple instalments. This spreads the cost over multiple paydays, without the added interest that would apply to typical longer-term payment options.
Using a BNPL service is also a useful option if you need to order 1 item in several sizes. Shoppers can often try before they buy – return the items that aren't the right size and only pay for what they keep.
Our verdict: Are Klarna and Clearpay any good?
Choosing between Klarna and Clearpay comes down to the payment plan that works best for you. If you want a platform that allows you to try on items you've bought online before you're charged for them, Klarna's Pay in 30 solution is probably your best bet.
For those who are paid weekly, rather than monthly, perhaps Clearpay's 4 instalment option is the plan for you, allowing you to spread the cost of your item(s) over a longer time period, compared to Klarna's 3 instalment option.
But it's also worth bearing in mind the platform's late fees. Clearpay charges a late fee if you miss a payment, whereas Klarna doesn't at all. Yes, Klarna's option could be a good way of stopping you from getting into debt, but if you fail to repay your instalments, you won't be able to continue using the service.
Regardless, it's vital that you only sign up for BNPL services if you're sure you can repay the money you borrow, and definitely after you've read the small print.
Sensor Tower, July 2020
Google Trends, July 2020
Popular BNPL news and reviews