Chip savings app review
The Chip savings app will connect to your current account and stash money away for you automatically.
Your money is held in an instant-access account
You won't earn interest on your savings in a general Chip account
Connect Chip to your current account and the app will use AI-powered algorithms to calculate how much you can afford to put away, without having an impact on your day-to-day life. You can leave it going in the background, and make some serious savings without (hopefully) feeling the pinch.
Compare savings accounts from Chip
Who is Chip for?
Chip is designed for people who may struggle to put money to aside if left to their own devices – and their own bad budgeting habits! By using artificial intelligence (AI) to work out how much you can easily afford to save, Chip will move small amounts of money from your current account into a Chip account at regular intervals (which you can control). The idea is that you won't notice a dent in your everyday disposable income, but before you know it, you've created a little savings pot for yourself.
Chip is managed through an app and offers 4 different types of savings accounts: Instant Access Account, Prize Savings Account, Easy Access Account and 90-Day Notice Account. Deposits are covered by the Financial Services Compensation Scheme (FSCS) and accounts are either provided by other banks or powered by ClearBank. The standard Chip plan has no monthly cost or subscription fees. However, there are charges for using its automatic savings features, more on this below.
How does Chip work?
Using Chip is simple, you can view and manage your savings all from its mobile app. This is how is works:
Connect Chip to your current account. Chip will have "read-only" access to your current account via Open Banking (and your details are protected by 256-bit grade encryption – the standard for banks).
Have your spending analysed. Chip uses artificial intelligence-powered algorithms to analyse your spending behaviour, and calculates how much you can afford to save based on your banking transaction data.
Start building up savings. Chip autosaves money from your current account into your Chip account once every few days. If for some reason there is not enough money in your current account, then the autosave won't go ahead – although there is the option to give Chip permission to continue autosaving while you're in your overdraft (but Chip will remind you that you're liable for any overdraft charges resulting from this).
Check on your spending. Chip uses analytics to compare how your spending compares to the previous month. You can also check your savings balance at any point.
Withdraw your money at any time. The total savings, or specific amounts, can be withdrawn at any time, with no restrictions. How long it takes for you to receive your withdrawal will depend on which account you withdraw from.
Control your savings. You can cancel any transaction before it goes ahead and you can pause Chip altogether at any time. You can also ask Chip to adjust your automatic save level depending on how conservative you want the AI to be when predicting how much you can save.
Recurring saves. If you want to control exactly how much you save, you can set up a recurring save where you specify the frequency and amount.
Banks that you can connect to with Chip
Bank of Scotland
Barclays
Danske Bank
First Direct
HSBC
Halifax
Lloyds Bank
M&S Bank
Monzo
Nationwide
NatWest
RBS
Revolut
Santander
Starling
TSB
Ulster Bank
If your bank is not on this list – for example Metro Bank or The Co-operative Bank – then you won't currently be able to connect to Chip.
How to set up a Chip account
Here at Finder, we set up a Chip account to document the process and see how long it took. Within 5 minutes we had a fully verified account and were ready to start saving.
Download Chip.
Verify your identity providing your name, date of birth and your address.
Provide your debit card details from your current account.
You card will be charged a £1.01 fee to validate your account (this will be refunded within 3 days).
Allow and grant Chip permission to connect to your own bank's website or app automatically through the Open Banking protocol.
You're all set!
What is the Chip Prize Savings Account?
Chip's Prize Savings Account offers the chance to win prizes rather than earn interest. It's an easy-access account which will enter you into a prize draw to win over £10k in prizes.
Every deposit of £10 will give you 1 entry into the draw, assuming you have at least £100 deposited at the end of the month.
The prizes range from £10,000 to £10:
1 grand prize of £10,000
250 prizes of £10 each
If you win a prize, you will be able to access it when you withdraw all the funds from your account. The draw will take place within 5 working days after entries close and the winners' accounts will be credited within 7 working days after the draw.
What is the Chip Instant Access Account?
Chip's Instant Access Account is designed to move with the Bank of England base rate. It pays a monthly return on deposits from £1 to £250,000.
The important thing to understand about the account is that it does not offer an interest rate. The monthly return is paid as a bonus, and this is not protected by the FSCS. This is because Chip is not a bank, so it cannot pay interest. It also gives Chip the opportunity to be more flexible with the return it offers.
The money you deposit is held by ClearBank, so is covered by the FSCS up to £85,000. However, the £85,000 limit is per bank. So if you also have funds in Chip's Prize Savings Account, also provided by ClearBank, these will also count towards the FSCS limit.
How the app looks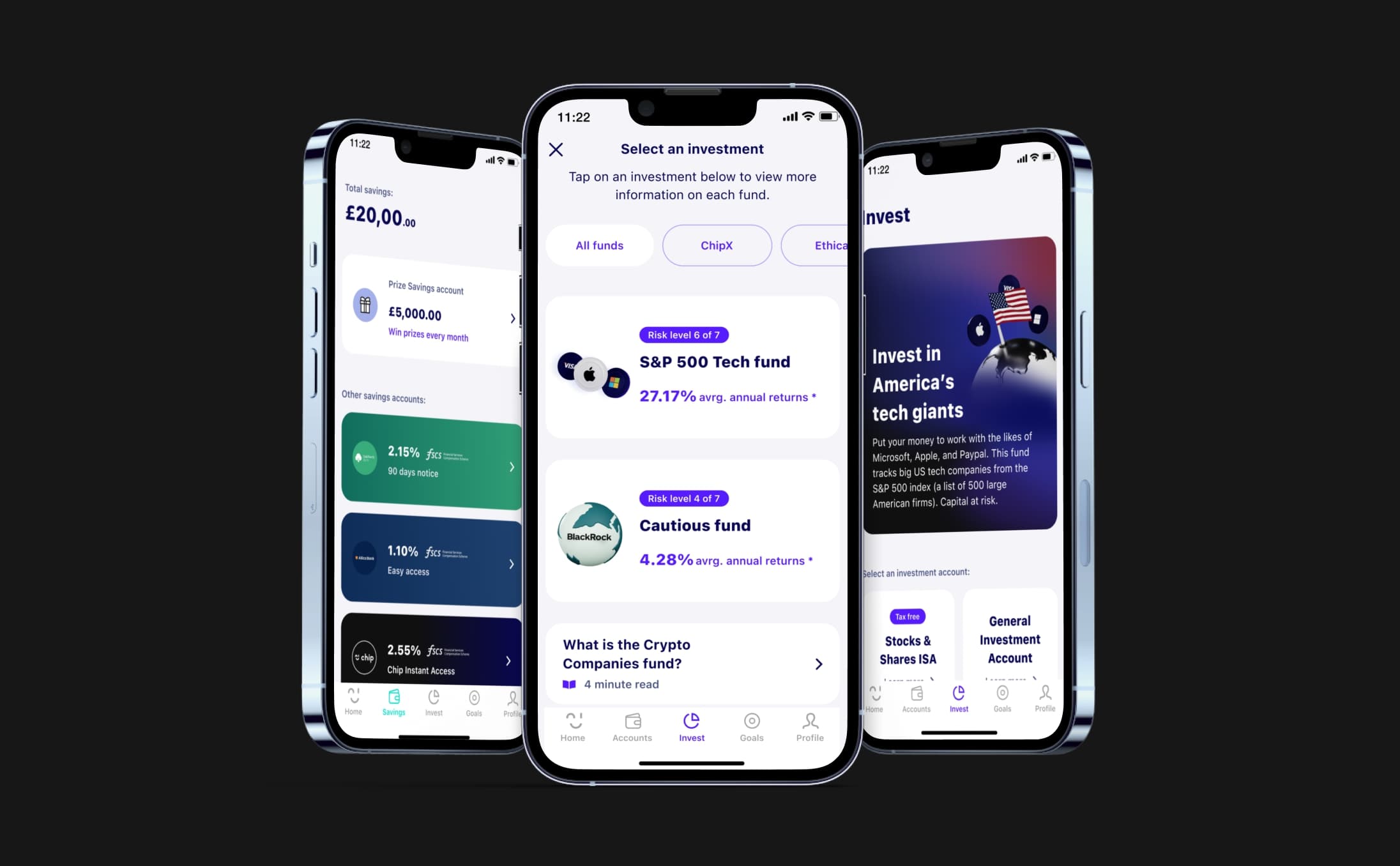 What is ChipX?
ChipX is a premium membership plan, launched at the end of June 2021, which offers all of Chip's auto-saving features, all the features of the basic plan and gives customers access to BlackRock investment funds, alongside a stocks and shares ISA. These funds are designed along a range of themes, including ethical funds and emerging market funds. ChipX membership costs £4.99 every 28 days (paid annually at £65.06) or £5.99 if paid in instalments every 28 days.
BlackRock will also charge a fund management fee to ChipX members who invest their money in one or more of the available BlackRock funds through the platform.
Is Chip safe?
Chip is not a bank, but it is authorised by the Financial Conduct Authority (FCA) to provide payment services in the UK, which includes "e-money wallets". Customer money held in a main Chip account is stored as e-money and is therefore not covered by the Financial Services Compensation Scheme (FSCS), which protects deposits of up to £85,000. But these funds are kept in a ring-fenced account at a major UK bank, which means customer money is stored separately from Chip's own finances, and is protected should the company go bust.
When it comes to data, Chip has a data control licence. This means it is legally obliged to act in full compliance with the Data Protection Act. Your online banking login details are protected using 256-bit encryption and Chip does not store your data.
How much does Chip cost?
Chip's Basic plan is free and gives you access to features like daily interest and savings goals.
However, if you want to use its Recurring Savings or Auto-Saving features these come with additional charges:
Recurring Saves. £0.25 per save
Auto-Saving. £0.45 per save
Customer reviews for Chip
On customer reviews platform Trustpilot, Chip as a company has 3.8 out of 5 stars and a rating of "Great", based on more than 1,067 reviews (Last checked: December 2022).
The Chip app has 3.5 out of 5 stars based on more than 3,800 reviews on the Google Play store. On the App Store, Chip also has 4.5 out of 5 stars, based on more than 13.4k reviews.
Alternatives to Chip
If you have not enjoyed what you have read so far about Chip then there are a number of alternative apps. Below we have highlighted some and the features.
Plum – Standalone automated savings app
Plum is a standalone automated savings app that works similarly to Chip. It makes calculated withdrawals every few days based on your previous spending.
It offersinterest on its easy access savings account provided by Investec Bank. You can also put your savings into an investment fund.
Plum gives you a lot of freedom to tinker with its algorithm. You can set it to "Ambitious" or "Beast Mode" if you want to save more, or "Shy" to save less. You can set Plum to round up your purchases and save the change, or even to save whenever it rains in the UK.
Just like with Chip, you can withdraw your funds at any time.
Moneybox – Savings rounded up to your nearest pound
Moneybox is another standalone savings app.
The main difference compared to Chip is that Moneybox rounds up all of your spending to the nearest pound. So, if you buy a coffee for £2.40, Moneybox will transfer 60p into your savings.
There isn't as much flexibility here to choose how much money goes into savings, compared to Chip. However, the simplicity and certainty of this automation has made Moneybox very popular with UK consumers. More than 450,000 people are using Moneybox to help them save more regularly.
You have a lot of choice on what type of account you can transfer your savings into. You can choose a stocks and shares ISA, cash lifetime ISA, personal pension, general investment account or junior ISA.
Tandem – Mobile-only bank with automated savings
Tandem is a mobile-only bank that includes the opportunity to make automated savings.
You'll earn a decent rate of interest on money kept in its instant-access savings account. You can also withdraw or pause the automated saving whenever you like.
There are some "rules" that you can tweak depending on how much you want to save, but there isn't as much flexibility as Chip.
Monzo – Managing money, rounding up and easy savings
Monzo is another online-only bank, and it gives you a lot of options for managing your money, including the ability to round up your purchases and transfer the money into a savings account. Monzo has partnered with various savings providers, meaning you have a choice of ISA or traditional savings accounts to deposit your money into.
Pros and cons of Chip
While there are many benefits of a Chip account, money moving automatically may be more suited to some than others. It's important to consider whether the benefits suit you personally.
Pros
Your money is held in an instant-access account.
Chip enables you to gradually build up savings hassle-free.
You have control over the automatic transactions. Deposits can be decreased, increased or cancelled before they go ahead.
Live chat customer support 8am-8pm Monday to Friday.
Deposits FSCS protected.
Cons
It isn't possible to set up a standing order.
Withdrawals times depend on which savings account you withdraw from.
Additional charges apply to Recurring Saves and Auto-Saves on the Basic plan.
Our verdict
If budgeting and saving effectively is a bit of a sore point for you, Chip can be a quick and potentially free solution – you won't have to think about how much to put aside or when, because the app will do it for you. Ah, the joys of tech.
With Chip, you can set saving goals and achieve them without going through the trouble of doing the maths. Chip is a great app to improve your saving habits and put aside some money, be it to go on a well-deserved holiday or put together the deposit for a house. It is also continuing to innovate and add to its services with new accounts like its Prize Savings Account and Instant Access Account. Just watch out for those additional charges if you do take advantage of its automatic savings features and are on the Basic free plan.
Frequently asked questions
We show offers we can track - that's not every product on the market...yet. Unless we've said otherwise, products are in no particular order. The terms "best", "top", "cheap" (and variations of these) aren't ratings, though we always explain what's great about a product when we highlight it. This is subject to our
terms of use
. When you make major financial decisions, consider getting independent financial advice. Always consider your own circumstances when you compare products so you get what's right for you.