Chip app review
A savings account you can forget about!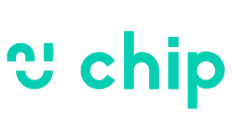 Connect Chip to your current account and the app will use AI-powered algorithms to calculate how much you can afford to put away, without having an impact on your day-to-day life. You can leave it going in the background, and make some serious savings without (hopefully) feeling the pinch.
Read on to find out more about Chip and how it might help you with your finances.
What is Chip?
Designed to take the stress and hassle out of saving, Chip is a smartphone app which will automatically move small amounts of cash from your current account to your Chip account.
This means you put money away without feeling it and you can save towards larger financial goals. Sounds good to us!
Video interview: chief marketing officer reveals Chip's plans to become a lender
How does Chip work?
Using Chip is simple, you can view and manage your savings all from their smartphone app:
Connect Chip to your current account. Chip will have read-only access to your current account, (your details are protected by 256-bit grade encryption – the standard for banks)
Start building up savings. Chip puts money away, automatically, every few days. It uses algorithms, based on your spending behaviour, to calculate how much you can afford to save.
Check on your spending. Chip will use analytics to compare how your spending compares to the previous month. You can also check your savings balance at any time.
Withdraw your money anytime. The total savings, or specific amounts, can be withdrawn any time, with no restrictions. If you withdraw your money before 5pm on a working day, you'll get it on the very same day.
Control your savings. You can cancel any transaction before it goes ahead and you can pause Chip altogether at any time. You can also ask Chip to increase or decrease the amount it stashes away.
Is Chip safe?
Chip moves your money to your Chip account. This account is in your name and hosted at
Barclays Bank
in an E-wallet. This isn't as confusing as it sounds. Basically, your money is as safe as if it was with Barclays.
When it comes to data, Chip has a data control licence. This means it is legally obliged to act in full compliance with the Data Protection Act. Your online banking login details are protected using 256-bit encryption and Chip does not store your data.
What are Chip's fees and limits?
There are no fees for opening or holding a Chip account.
Chip charges a £1 fee if it sets aside more than £100 for you during a 28-day period, meaning your maximum charge over one year could be £13. You can check in the app how close you are to your £100 limit during any given period.
If Chip causes you to go overdrawn they will deposit £10 into your account to cover fees.
The daily deposit limit is £100 per day, six times per month.
Minimum transfer is £1.
Chip is currently available only in the UK and connects with: NatWest, Halifax, Lloyds, Nationwide, Barclays, HSBC, First Direct, Santander, TSB, RBS, Metro Bank and Co-operative Bank.
Pros and cons of Chip
While there are many benefits of the Chip account, money moving automatically may be more suited to some than others. It's important to consider whether the benefits suit you personally:
Pros
Your money is held in an instant-access account.
Chip enables you to gradually build up savings hassle free.
You have control over the automatic transactions. Deposits can be decreased, increased or cancelled before they go ahead.
Live chat customer support 8-5 Monday to Friday.
Cons
It isn't possible to set up a standing order.
You won't earn interest on your savings.
Larger lump sums cannot be deposited into the account. Deposits are limited to £600 per month.
The verdict
If budgeting and saving effectively is a bit of a sore point for you, Chip can be a quick and free solution: you won't have to think about how much to put aside or when, because the app will do it for you. Ah, the joys of tech.
The real drawback is that you won't earn any interest on your savings – even though you can always move them to a more traditional savings account every few months, it isn't ideal. Also, Chip's doesn't offer much in terms of budgeting features (for example, you can't categorise your transactions).
With Chip, you can set saving goals and achieve them without going through the trouble of doing the maths. While it doesn't offer much else, it is a great app to improve your saving habits and put aside some money, be it to go on a well-deserved holiday or put together the deposit for a house.
Compare Chip against its competitors
Frequently asked questions
Back to top
More guides on Finder