Finder is committed to editorial independence. While we receive compensation when you click links to partners, they do not influence our content.
How to fill out the student loan income-driven repayment form
Steps to apply for an income-driven repayment plan online or by mail.
If you're just out of school or hoping to have your loans forgiven by working a low-paying public service job, standard repayments can be unaffordable. That's where an income-driven repayment (IDR) plan can help. We walk you through the steps to take to apply and help you choose the right repayment plan for your individual circumstances.
What do I need to do before I apply?
Take a good look at your options and consider which one would work best for you before you start your application. If you have a variety of different federal loans — including any parent loans — you might need to take out a Direct Consolidation Loan before you can qualify.
Talk to your servicer
Once you have an idea of what your options are, reach out to your servicer. It'll be able to give you more details about what that plan would look like for you — or point you in the right direction if you're struggling to make a decision.
If you have multiple servicers, talk to each of them to make sure the plan you choose makes sense for your financial situation and student debt load.
Have these documents and information on hand
If you're applying online, you need to complete your application in one session, so being prepared can help ensure things go smoothly. Once you've narrowed down your choices, get together the following documents and information.
Your personal information. You'll be required to enter your name, contact information and Social Security number on your application.
Your spouse's personal information. You'll need to include your spouse's Social Security number and birthday if you're married to someone who also has federal loans.
Information on your income. The Department of Education wants to know if you or your spouse has lost a job or gotten a raise since you filed your last tax return.
Documentation of your and your spouse's taxable income. You each need to submit copies of pay stubs or a letter from your employer showing how much you make and how often you're paid. If your pay stub doesn't mention how often you're paid, write it on the document before including it. In this case, taxable income is any money you make from your job, unemployment benefits, tips, alimony, dividend income and income that you make off of interest. It does not include benefits like child support, federal or local public assistance, or Supplemental Security Income.
Your federal tax return. You'll need to submit a copy of your most recent tax return along with your application. If you're married and don't file a joint tax return, you'll also need a copy of your spouse's tax return.
How to fill out an income-driven repayment (IDR) plan request form
You have two options for applying for an IDR plan: applying online or in person. Applying online is often the easiest — it doesn't require as much documentation because you can allow it to access your tax records. The downside is you need to complete your application in one go so you need to have all of your information on hand.
Applying online
To start your application online you:
Go to the Federal Student Aid website and click Log In to log on with your FSA ID and password.
Go back to the FSA main page, click on Repayment & Consolidation in the main navigation bar.
Click Apply for an Income-Driven Repayment Plan.
Scroll down and click Start Application under the heading New Applicants.
Follow the directions to complete the form. You can't access this form unless you log in with your FSA ID.
Read over the form carefully before hitting Submit.
If you file a joint tax return with a spouse, your spouse will need to cosign your application, which they can do separately. After you submit your application, you should get instructions on how to submit any additional documentation if required.
Applying by mail
If you're wary about submitting so much personal information online, you can apply by filling out an application by hand. You can download a PDF in English or Spanish on the Federal Student Aid website. Once you have the application, follow these instructions:
Section 1: Borrower information
Fill out your name, address, phone number, email and Social Security number in this section. If your information has changed since you last contacted the Department of Education — say you moved, got a new phone number or changed your name — check the box at the top of the section.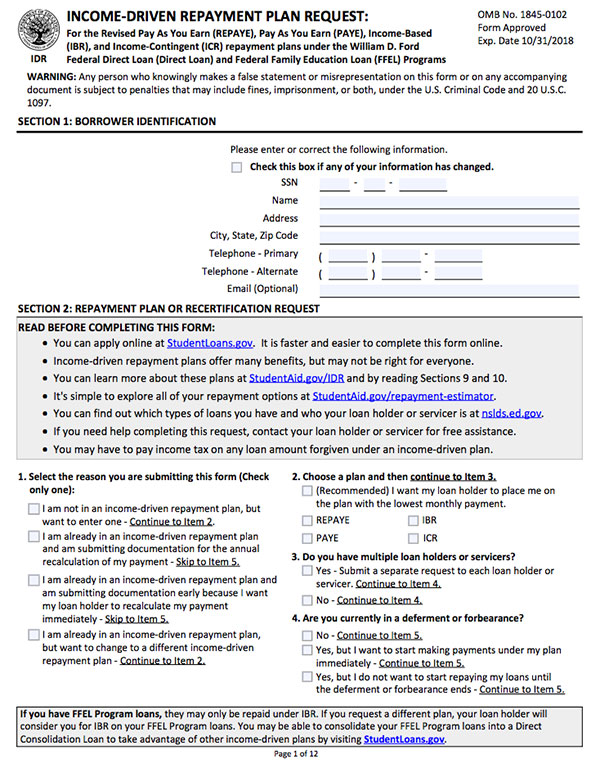 Section 2: Repayment plan or recertification request
Select a reason for submitting your application: Applying for an IDR plan, submitting documentation for recertification, submitting documentation early to have your payments recalculated or changing to a different IDR plan.
Then, choose a plan and answer questions about how many servicers you have and if your loans are in deferment or forbearance.
If you have multiple servicers, you need to send copies of your application to each servicer.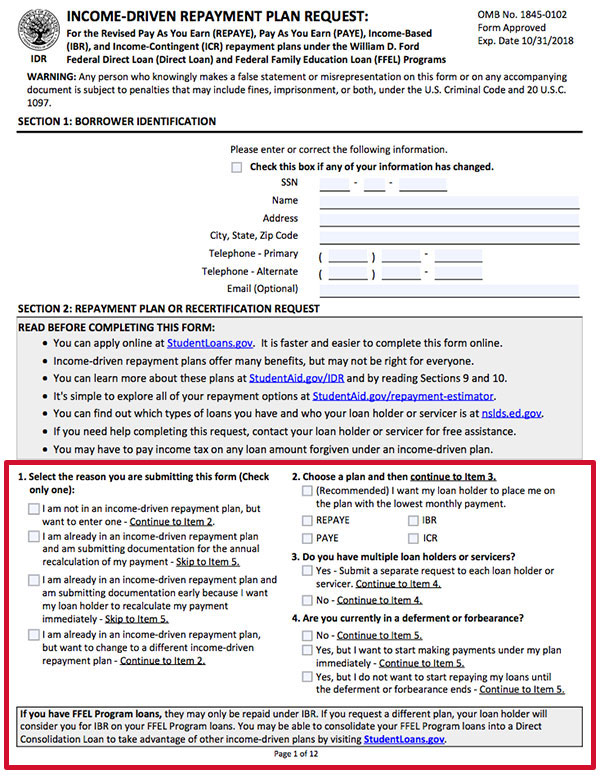 Section 3: Family size information
Write the number of children in your family that get at least half of their financial support from you. If you or your spouse are pregnant, include that child.
Then, write the number of people that receive half of their financial support from you aside from children or your spouse.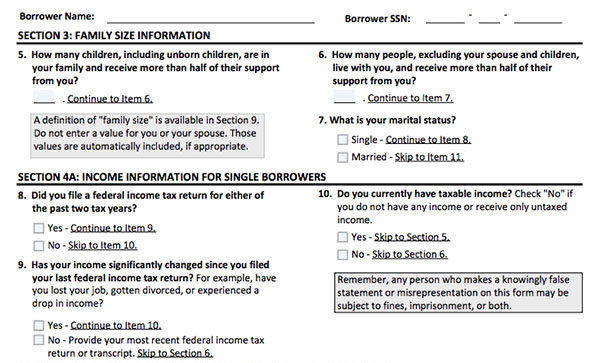 Section 4: Marital status information
This section is designed to guide you to the next section you need to complete. If you're single, you can skip ahead to Section 4B after checking off that you're single. If you're married and your spouse has federal loans, enter their name, birthday and Social Security number.
Couples that don't file joint tax returns can continue on to section 4B. Couples that file joint tax returns can skip ahead to section 4D.
Section 5: Instructions for documenting current income
You can ignore this section if you or your spouse's income hasn't changed significantly since you filed your last tax return. Everyone else should carefully read the guidelines for providing documentation for your taxable income. All documents must be no more than 90 days old by the time you sign and date your application.
Section 6: Borrower requests, understandings, authorization and certification
Read this section carefully. If you want to switch to another plan from the IBR plan and would like one month of reduced payment forbearance to help you move to a new plan, check the box next to I request and enter the payment you would like to make during the month — it must be at least $5.
If not, read the understandings, authorization and certification before signing and dating the document. If you're married, your spouse is also required to sign and date the form.
Once you've completed your form, review all of the information to make sure it's accurate. Fill in your name and Social Security number at the top of each page you filled out. Then, send it along with your additional documents to your loan servicer. If you have multiple loan servicers, you must complete, sign and send a form to each.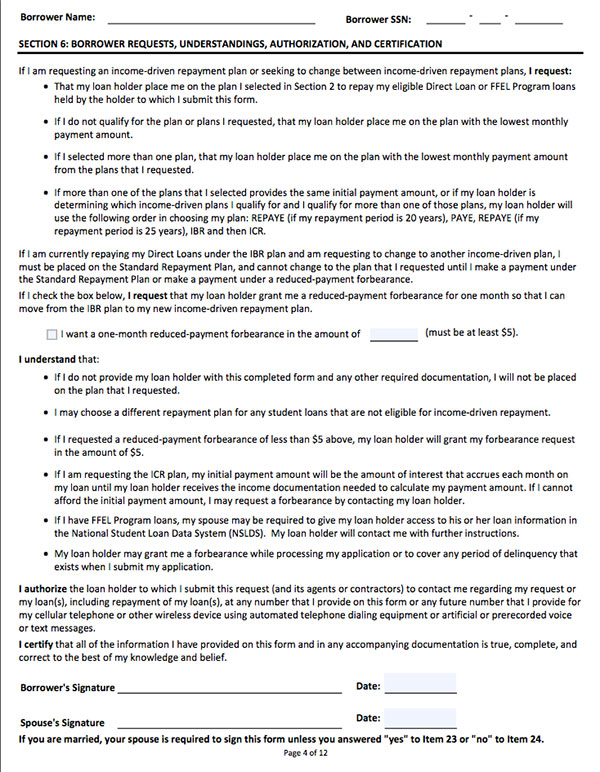 What happens after I apply?
Your loan servicer will let you know if you've been approved. If you get the green light, you'll start making income-based repayments according to the plan you chose.
To stay eligible for an IDR plan, you need to submit this document each year to recertify your payments. If you're on a PAYE or IBR plan, you may need to apply for another IDR plan if your income starts to exceed the amount that you owe. Talk to your loan servicer before you make any changes to your plan to make sure it's the right move.
Background info on income-driven repayment plans
An IDR plan is a type of repayment plan offered on federal student loans. Instead of making payments based on how much you owe, repayments are based on how much money you bring home each month. If you still haven't paid off your loans after 20 or 25 years of repayment, the Department of Education forgives your student debt.
IDR plans can be a great choice for borrowers who are just starting out in their careers, work in low-paying fields or have a high student debt load. The Department of Education also recommends that borrowers thinking of applying for Public Service Loan Forgiveness enroll in an IDR plan while they're paying off their loans.
You have four different options when it comes to IDR plans. Click on the plan below to learn how it works and who qualifies.
Income-driven repayment plans — explained
Interested in refinancing? Compare your options
Frequently asked questions