Finder makes money from featured partners, but editorial opinions are our own.

Advertiser disclosure
What's a good credit score?
Know the sweet spot on your credit rating to get the best interest rates from lenders.
A good credit score falls within the range of 670 up to 739. A credit score within this range can make the difference between getting the best interest rates on a new car, home or credit card — and getting high rates and lackluster terms.
A good credit score gives you greater opportunities with the best companies and to pay less overall for your purchases. And keeping close track of your credit score with the help of a credit rating analyst like FICO Score or VantageScore can help you make the best financial decisions to increase your creditworthiness.
Credit score categories
Credit score categories consist of poor, fair, good, very good and excellent. The difference between each credit score tier determines what sort of credit card or loan is available to you, as well as the terms and rates of the product you seek to buy.
Our handy graphic shows these credit score categories. A good credit score typically falls between 670 to 739. Consumers with a good credit score will have access to lower interest rates and APRs.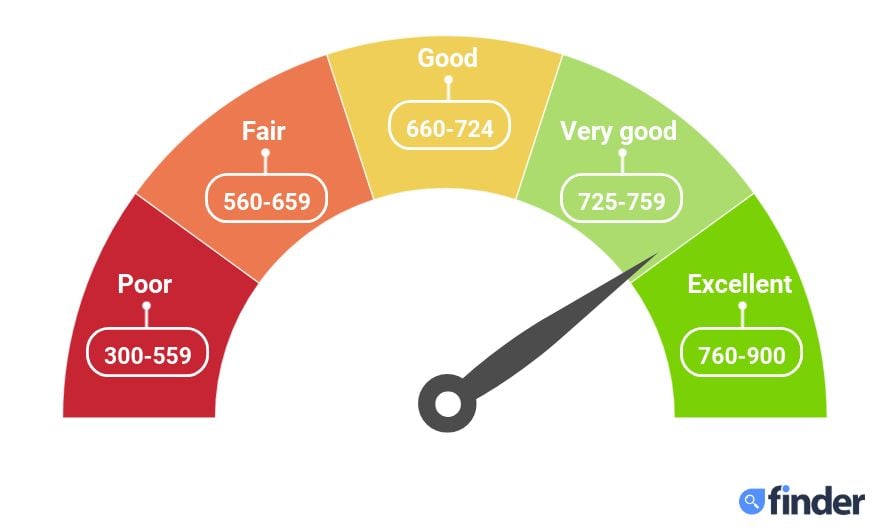 What's a good FICO Score?
A good credit score, according to FICO, also falls in the 670 to 739 range. The lowest score anyone can receive is 300, with the top score at 850.
Generally, your FICO Score and your credit score refer to the same thing — but FICO offers a specific brand of credit score. It also offers insurance scores and bankruptcy scores based on your credit report.
Lenders may use FICO Score to determine your creditworthiness — or the estimated risk that you'll fall 90 days or more behind on your payments within the next two years. FICO generates your credit score using complex algorithms gathered from your credit report with the three national credit bureaus: Equifax, Experian and TransUnion.
What is a good VantageScore?
VantageScore considers a good credit rating as any number that falls between 661 to 780. Like FICO Score, VantageScore also uses data analytics from the three bureaus to offer consumers equitable access to borrowing and lending. VantageScore differs from FICO Score, using a scale ranging from 300 to 750.
Scores calculated from FICO Score and VantageScore are the two most widely used among lenders. Aside from lenders, landlords and financial institutions may also use them to determine your creditworthiness.
What can a good credit score do for me?
A good credit score generally indicates that you diligently manage your finances and opens you up to more products and future savings. For instance, if your FICO Score or VantageScore score falls between 670 and 739, a lender will see you as more likely to make payments consistently.
As a consumer classified with "good credit," you're less of a credit risk and are more likely to get approved for a loan or credit. You're also more likely to get lower interest rates and APRs with a good credit score, saving you on the overall cost of your loan.
Benefits of having a good credit score
Aside from better rates and APRs, the ways a good to excellent credit score can benefit you include:
Better financial products. A good credit score could get you approved for a credit card with great perks — such as higher limits and lower fees — and flexibility when it comes to terms.
Higher approval rate. A positive track record in handling credit will ultimately lead to better chances of credit approval.
Rewards. Credit card users with good scores are often eligible for spending-based incentives that could include points, bonus miles and cash back.
Cheaper car insurance. Insurance companies claim there's a correlation between drivers with poor credit scores and the increased chances of filing a claim — a good credit score could lower your premiums.
Securing employment. Some employers will check your credit to see if you're trustworthy to handle money — especially if you're working with cash or financial accounts.
No security deposits. Utility services often charge people with mediocre credit scores security deposits for utilities to safeguard against potential missed payments.
Renting a home. Landlords will often pull your credit report to make an informed decision about whether you'll make rent payments on time.

What factors affect your credit score?
According to VantageScore and a FICO Score — the two most widely used scores among lenders — the same factors weigh in when determining your credit score, including:
Your payment history, including late and on-time payments, collection actions and judgments against you. This history makes up 35% of your total score.
Your credit utilization ratio, which is calculated by dividing your balance on existing credit cards by your available credit limits. Your level of debt makes up 30% of your credit score.
The age of credit history — or how long you've had credit. This factor makes up 15% of your credit score.
The number of credit applications you've recently submitted. Hits on your credit file make up 10% of your score.
How many installment loans, auto loans, credit cards, mortgages and other types of credit you have. Worth 10% of your score.
What do lenders consider a good credit score?
Every credit scoring model differs from each other, and different industries use specific models when determining a consumer's creditworthiness. Every person can have dozens of credit scores, so when you apply for credit, lenders will look at one or more of your credit scores that make up your credit report.
For example, FICO has at least 16 credit versions lenders can access when making decisions about credit card, mortgages and car loans. For mortgages, lenders will generally request your credit score from all three credit bureaus, plus a FICO score based on each report. Here's a breakdown of what that looks like:
FICO®

Score 2, or Experian/Fair Isaac Risk Model version 2
FICO®

Score 4, or TransUnion FICO®

Risk Score 04
FICO®

Score 5, or Equifax Beacon 5
Among these score versions, if your score lands in the "good" range between 670 and 739, you can be assured all of your scores that make up these credit reports are also within the "good" range.
Compare providers to get your credit score
Narrow down top credit score providers by starting price, trial period and more to find the best for your budget and financial goals.
Bottom line
Keep your credit score between 670 and 739 to help you get great rates and terms on a credit card, loan or mortgage. Understand what factors affect your credit score the most to regulate your spending to increase your score. And understand how the three credit bureaus compile your score so you can make the best financial decisions to reach your goals.