What's a good credit score?
A better than average credit score can save you loads of money by getting you lower interest rates.
Your credit score is much more than a numerical expression of your creditworthiness. It's the difference between getting the best interest rates on a new car, home or credit card — and getting the worst.
A good credit score empowers you to shop with the best companies and pay less overall for your purchases.
A good credit score range
A good credit score is between 670 to 739.
Scores can fall into the categories of poor, fair, good and excellent. The difference between each credit score tier can result in what sort of credit card or loan is available to you, as well as the terms and rates of whichever product you apply for.
Why does your credit score matter?
Credit scores are important because a higher score generally indicates that you can wisely manage your finances. For instance, if your FICO Score is between 670 and 739, a lender will see you as less likely to become delinquent on your payments. Their research has confirmed that within this group, only 8% of consumers will become delinquent in the future.
Being categorized as someone with "good credit" makes you less of a credit risk, meaning you're more likely to get approved for a loan or credit and pay less because of a better interest rate.
Benefits of a good credit score
When you have a good credit score, your door to financial possibilities opens up a little bit wider. Here's how you can benefit:
Better interest rates. Flexing your healthy credit score shows lenders that you're putting in the work to maintain your creditworthiness and will usually land you competitive interest rates.
Better financial products. Financial products are often broken down into tiers to accommodate all different types of consumers. A good credit score could get you approved for a credit card with great perks — such as higher limits and lower fees — and flexibility when it comes to terms.
Higher approval rate. As your score improves, lenders will view you as a borrower with a positive track record when it comes to handling credit which will ultimately lead to better chances of being approved for credit.
Rewards. Credit card users with a good score are often eligible for spending based incentives that could include points, bonus miles and cash back.
Cheaper car insurance. It's true. Car insurance companies claim there's a correlation between drivers with poor credit scores and the increased chances of a claim being filed. That mean a good credit score could save you money on your premiums.
Securing employment. Some employers will check your credit to see if you can be trusted to handle money — especially if you'll be working with cash or the financial accounts of others. Poor credit may signal to a potential employer that financial stress could lead you to be an irresponsible employee.
No security deposits. Utility services often charge people with mediocre credit scores security deposits for utilities because they assume that payments could be missed due to their past credit activity.
Renting. To make an informed decision of whether or not you'll be able to make rent payments on time, landlords will often pull your credit report to see how you've handled finances in the past.

Do you have a good credit score?
What is the range of credit scores?
By knowing your credit score rating, you'll know which financial products suit your situation so you don't end up wasting your time applying for credit cards or personal loans that are outside of your means.
| Credit Score | Rating |
| --- | --- |
| 740-850 | Very good |
| 670-739 | Good |
| 580-669 | Fair |
| 300-579 | Poor |
How is my credit score determined?
A VantageScore and a FICO Score — the two most widely used scores — both weigh the same factors when determining your credit score, including:
The age of credit history — or how long you've had credit.
How many credit applications you've recently submitted.
Your payment history, including late and on-time payments, collection actions and judgments against you.
Your credit utilization ratio, which is calculated by dividing your balance on existing credit cards by your available credit limits.
How many installment loans, auto loans, credit cards, mortgages and other types of credit you have.
Is there a "best" credit score?
In short, no. The three major reporting agencies — Equifax, Experian and TransUnion — vary in how they rate the quality of a credit score. But scores run between 300 and 850, with 670 to 739 generally considered a "good" rating. A score in that range will usually get you the best interest rates on credit cards, personal loans, mortgages and auto loans.
The average credit score in the U.S. is currently between 600 and 750.
3 reasons your credit score is fair instead of good
There might be a few self-introduced obstacles in the way when trying to roll the ball that is your credit score uphill. Luckily, these roadblocks can be remedied, making it a little bit easier to achieve a "good" credit score. Here's what might be holding you back:
Too much debt can be a major factor in keeping your score down.
Applying for multiple lines of credit in a short period of time can result in too many credit inquiries.
Letting errors on your credit report go undisputed can be damaging your score without you even knowing it.
Taking corrective action against these three credit damaging culprits could see your score start to improve and land in the "good credit" zone.
Does my credit score differ between lenders?
Lenders and even the bureaus use many different proprietary algorithms to weigh the information in your credit history, but two scores are most widely adopted.
FICO Score. This score is often used by lenders. Anything above 670 is a "good" score, and 740 and above is "excellent."
VantageScore. This score is also used by the three main credit bureaus. Its scoring method is similar to that of FICO in that scores range between 300 and 850. If you have a VantageScore of 700, then your credit is "good," but 750 is "excellent."
How do I get my credit score?

How could a good credit score help you buy a new car?
Let's say you want to buy a new car but your credit score is only 580. This score is considered "poor," and without a cosigner it will be difficult to get that gorgeous automobile you've been eyeing. Lenders consider a score of 580 as high risk or subprime.
What's a subprime loan?
Subprime refers to loans offered to borrowers with poor credit who do not qualify for prime rate loans. Subprime rates are higher and cost the borrower more.
There are many auto dealers who work specifically with this group of "high-risk" consumers, and they will sell you a car. In many cases, you'll have to settle for a less desirable vehicle, and you will pay much more than what most people are paying in interest — sometimes interest as high as 18%.
In addition, you may be asked to put more money down on the car. The dealership wants to collect as much in cash as possible at the beginning of your financial relationship with them in case you default on your loan.
Case study: 's experience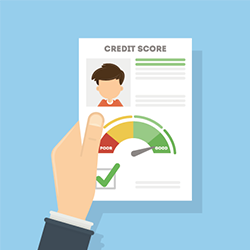 Financing a car with a credit score of 580 vs. 720
Imagine that you find a great older car that runs well for $8,600, but the car salesman tells you that your credit score is 580 and you'll have to pay 15% in interest on your purchase.
580 credit score: Monthly payment on $7,600 loan at 15% interest
| | |
| --- | --- |
| Loan amount | $8,600 |
| Interest rate | 15% |
| Down payment | $1,000 |
| Loan term | 48 months |
| Monthly payment | $212 |
After four years at 15% interest, you will have paid $10,153 for your $7,600 loan (or $8,600 less your $1,000 down payment). That's $2,553 in interest over the life of the loan.
With an improved credit score, you're eligible for a lower interest rate. For example, here's the same transaction with a "very good" credit score of 740.
740 credit score: Monthly payment on $7,600 loan at 3.29% interest
| | |
| --- | --- |
| Loan amount | $8,600 |
| Interest rate | 3.29% |
| Down payment | $1,000 |
| Loan term | 48 months |
| Monthly payment | $169 |
Here, after four years at 3.29% interest, you will have paid $8,121 for your $7,600 loan — or $521 in interest over the life of the loan.
With poor credit, you'll pay $43 more per month for the same car — more than $2,000 in interest over four years. This is simply the cost of having a lower credit score. When you apply those same interest rates to a $300,000 house, you'll be stunned at the differences in what you must pay.
See what your car loan options are
Better treatment in the showroom
Walking into a car dealership with a 740 credit rating will get you the royal treatment. On the other hand, walk into that same dealership with a credit score of 540, and you may be treated differently. The dealer might tell you they are be able to sell you a car, but with your credit, they'll charge 14% interest instead of 4%.
Though it's unfair, people with good credit typically are dealt with differently when making a big purchase. This includes homes, cars, furniture and appliances. Life can seem better if you have good credit. So what can you do to boost your credit score?
Compare providers to get your credit score
What's the bottom line?
When it comes to credit, tread carefully. If you're in college or even high school, don't make frivolous purchases on the spur of the moment. It can take 3 to 10 years for a negative item to fall off of your credit report.
It's often a good idea to sit down before shopping and write out your expenses and income. Once you have a budget worked out, you can decide on a payment that comfortably fits into your finances to keep your credit score on the up and up.
Remember: Into every life a little rain must fall. Take into account life events that could affect your ability to pay your bills on time. You could lose your job. A sickness or injury could mean taking off several weeks from work. And divorce often adversely affects your finances. Through each of these difficulties, you have options to maintain your credit score if you are prepared.