Relay Financial business banking review: Online banking for teams
Fee

$0 per month

Minimum deposit to open

$0
Our verdict
A business bank account for small businesses, large teams and when you're on a budget.
Relay is a fintech company that offers FDIC-insured business banking services through its bank partner, Thread Bank. Its business accounts are well-suited for many business types with large teams. There's no minimum opening deposit, bounced check, foreign transaction or ATM fees. Relay stands out for its ability to create up to 20 customizable checking accounts, which you can use to categorize finances and organize accounts based on teams. You can assign up to 50 virtual or physical debit cards to team members while maintaining control over daily spending and ATM withdrawals. Relay also offers a savings account with a 1% to 3% APY, depending on your balance — but you'll need at least $1 million to earn the highest APY available. If you want bill auto-pay or accounts payable, you'll need the paid plan, which costs $30 per month, but you'll also get free outgoing wire transfers.
Best for: Large businesses with multiple team members who access company funds regularly.
Pros
No monthly fees for basic plan

No overdraft, foreign, ATM or bounced check fees

Create up to 20 sub-checking accounts

Assign up to 50 Visa debit cards to team members
Cons
Auto bill pay requires paid plan

Best APY requires a $1 million savings balance

No paper checks

Check deposits held for 6 to 7 business days
Who is Relay best for?
A Relay business banking account is best for large or growing businesses that need a comprehensive platform. It offers serious flexibility with company finances by giving team members access to their own physical or virtual debit card. And with its minimal fees, it's a solid choice for many small business owners.
If you don't need the automated bill pay tools, you can stick with Relay's free account.
How much does Relay cost?
Plan
Cost
Features
Relay's basic plan
$0

No overdraft fees
No minimum balance requirements
Create up to 20 sub-checking accounts
Create two savings accounts
Issue up to 50 physical or virtual Visa debit cards to team members
Payments via ACH, check and wire transfers
Deposit and withdraw cash with Allpoint ATMs

Relay Pro
$30
Everything with Relay, plus:

Free 14-day trial
Accounts payable
Same-day ACH delivery time
Free outgoing domestic and international wires
Auto-import bills from bookkeeping software
Bill pay dashboard
Create custom approval rules for bill payments
Consolidate payments to same vendor
What we like about Relay Business
Relay is legitimate, but it's not a bank — it's a fintech company with banking services provided by Thread Bank and Evolve Bank & Trust, Members FDIC.
So, while Relay itself isn't a bank, deposit accounts are insured. In fact, it offers high deposit insurance of up to $2.5 million. This makes sense, because Relay offers its business savings account with up to 3% APY for balances of at least $1 million — so if you can swing that balance requirement, the funds are covered.
Overall, Relay has more perks than downsides and doesn't charge a lot of fees. You won't pay a monthly fee unless you upgrade to the Pro version. There are no fees for foreign transactions, overdrafts, bounced checks or out-of-network ATMs. And you can start using Relay for free thanks to its basic plan, which comes with no monthly maintenance fees and no minimum opening deposit requirements.
Affordable wire transfers and quick ACH
All incoming wire transfers with Relay are free — with both the paid and free plans.
The free Relay plan charges for outgoing wires, but the fee is very low, only costing $5 for domestic and $10 for international, respectively. Many other banks charge upwards of $20 to $50 per outgoing wire, especially for international wires. But if you choose to send an international wire in the receipt's local currency, there may be a small 1% exchange rate fee.
If you go with the paid Relay Pro plan, all incoming and outgoing domestic and international wire transfers are free. Plus, the Pro plan also offers same-day ACH transfers.
Team management
Relay lets you create up to 20 checking accounts to categorize finances or give individual teams their own account. You can issue up to 50 Visa debit cards — virtual and physical — with the ability to limit daily spending and ATM withdrawals. Account owners can also limit how much money each individual team member can spend from your company account.
Software integration and automation
Relay integrates your account with accounting and back-office software, which include Gusto, QuickBooks, Plaid, Xero and Yodlee. You can also deposit ACH transfers, wire transfers, checks, cash and payments from software such as PayPal, Stripe and Square.
The paid plan Relay Pro lets you automatically import transactions from your accounting software, set up automated rules to approve bills and set up workflows to pay multiple bills or vendors with one transaction.
Where it falls short
While both the free and paid Relay plans offer account holders the ability to create up to 20 checking accounts, sole proprietorships can only create up to 10 checking accounts.
Another downside is that the automated bill payment and accounts payable features are only available with Relay's Pro account, which costs $30 per month, though it may be worth it if you'll use its automation feature.
Like many online banking platforms, you won't get paper checks with Relay. But you can use the app to send electronic checks or deposit checks via the app.
High balance required for best APY
Relay's business savings account offers up to 3% APY. While that's a solid APY well above the national average of 0.46%(1), earning it requires a high balance. The savings account APYs are tiered, requiring at least $1 million to earn the highest rate, and 1% APY on balances below $50,000.
| Balance requirement | APY |
| --- | --- |
| Less than $50,000 | Up to 1% |
| $50,000 to $249,999 | Up to 1.5% APY |
| $250,000 to $999,999 | Up to 2% APY |
| $1,000,000+ | Up to 3% APY |
If Relay's online platform and high balance for APY isn't your cup of tea, check out other business accounts.
Relay's fees and access
Type of fee
Fee details
Monthly service
Opening deposit
$0
ATMs

Domestic: $0 with Allpoint, no out-of-network ATM fees charged by Relay
International: 1% ISA fee charged by Visa

Debit card fees

Cash withdrawals: $0 with Allpoint
Foreign transactions: 0%

Overdraft or nonsufficient funds
$0
Wire transfers

Incoming

Domestic: $0
International: $0

Outgoing

Domestic: $5 with Relay, $0 with Pro
International: $10 with Relay, $0 with Pro, and may be charged up to 1% currency exchange fee

Other fees

Paper statements: N/A
Account closure: $0
Bounced checks: $0
Account minimums: $0
Cash deposits: $0 with Allpoint
Compare Relay banking to other business accounts
Narrow down top business accounts by opening deposits, APYs and fees. Tick the Compare box on up to four providers to see features side by side.
What you need to open a Relay account
Relay is available to businesses and business owners from sole proprietors to companies with 100+ employees, including sole proprietors, LLCs, general partnerships and corporations. Relay accepts US entities with account holders holding US and non-US citizenship. To qualify, you must have an operating presence in the US.
The registration and qualifications vary depending on your business type. However, beneficial owners who own at least 25% of the business will need the following documents:
Government-issued ID
Social Security Number or a Passport Number
Personal address of beneficial owner
Position / title of beneficial owner
Personal and business phone numbers
Email address
Customer experience
Relay is highly rated — which is extremely uncommon for fintechs and banks. It lacks the large volume of complaints that we typically see with competitors.
On Trustpilot, the reception is largely positive, with over 1,000 reviews and a stellar 4.6-star rating. The vast majority of reviews are positive, with many customers citing friendly customer service experiences and quick issue resolution. Many reviews also praise the affordable wire transfers, easy-to-use online tools, low fees and the ability to create multiple checking accounts for free.
Although it earns a poor F rating on the Better Business Bureau (BBB) and is not accredited, there have only been a handful of complaints in the last three years. It's common to see thousands of complaints for banking services.
The few complaints and negative reviews are mostly grievances around frozen transfers and transactions due to being flagged for fraud. A few other customers noted that deposits might be held for a week for processing, which can hold up payments.
Frequently asked questions
Can I use Zelle with Relay?
No, Relay is not currently integrated with Zelle. However, Relay business accounts can integrate with Gusto, QuickBooks, Plaid, Xero and Yodlee.
How long does it take to open an account with Relay?
Relay has a typical turnaround time of one to two business days for account approval or denial. The speed of your application process depends on how quickly you can submit the required documentation to verify your identity and business.
How do I withdraw money from my Relay account?
Relay is an online fintech, so it doesn't have any physical branches where you can withdraw cash. However, you can use Allpoint ATMs for free, and Relay doesn't charge for cash withdrawals or deposits with Allpoint ATMs or other domestic ATMs. If you use a domestic out-of-network ATM, you may be charged operator fees — but Relay won't charge you a thing.
Relay is a financial technology company, not an FDIC-insured bank. Banking services and FDIC insurance are provided through Thread Bank and Evolve Bank & Trust; Members FDIC.The Relay Visa® Debit Card is issued by Thread Bank pursuant to a license from Visa U.S.A. Inc. and may be used everywhere Visa® debit cards are accepted.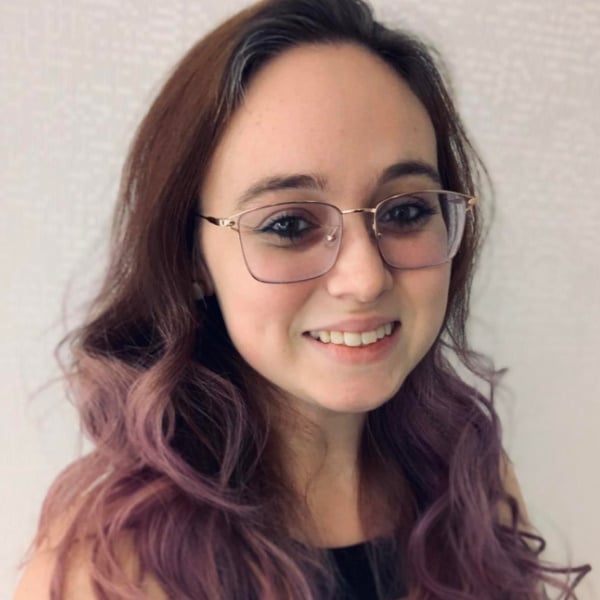 Bethany Finder
Writer, Banking and Loans
You are about to post a question on finder.com:
Do not enter personal information (eg. surname, phone number, bank details) as your question will be made public

finder.com

is a financial comparison and information service, not a bank or product provider
We cannot provide you with personal advice or recommendations
Your answer might already be waiting – check previous questions below to see if yours has already been asked
Accept and continue