Finder is committed to editorial independence. While we receive compensation when you click links to partners, they do not influence our opinions or reviews. Learn how we make money.
Personal loan rates for September 2020
Compare APRs from top providers and learn what affects the rate you get.
Personal loan rates usually come with fixed rates from 4% to 36%. Generally, you need to have excellent credit to get that kind of a deal — some experts identify 760 or higher as the sweet spot. Your income, debts and other aspects of your finances can also influence your rate.
Each has its own way of calculating the rate you qualify for. Comparing offers from multiple lenders can help you find the best deal available to you.
10 best personal loan rates in September 2020
| Lender | Minimum APR | Maximum APR | |
| --- | --- | --- | --- |
| LightStream | Varies | Varies | |
| MyPersonalLoans.com | 3.09% | 35.99% | |
| Lending Tree | 3.99% | Varies | |
| Wells Fargo | 5.74% | 20.24% | Read review |
| SoFi | 5.99% | 18.83% | |
| M&T Bank | 6.24% | 12.99% | Read review |
| PenFed Credit Union | 6.49% | 17.99% | Read review |
| U.S. Bank | 6.49% | 16.99% | Read review |
| Santander Bank | 6.99% | 16.99% | Read review |
| Marcus by Goldman Sachs | 6.99% | 19.99% | |
How we picked these providers
Most borrowers won't qualify for the lowest advertised rate. So we considered the full range of rates lender offers when coming up with this list.
We also didn't excluded offers that are only available to a select few borrowers such as community bank, local credit union or invitation-only loans. And we limited the number of connection services — many share the same lowest rates because they work with similar partners.
WATCH: How to get the best rate on a loan
Personal loan interest rates
Personal loan interest rates depend on a wide range of factors, including your credit score and the type of financing you get.
Rates by credit score
Your credit score is often a deciding factor when it comes to the rate you receive. Here's the range of rates you might expect based on your personal credit score range. As this table shows, even borrowers with good credit — a score of 670 to 739 — often don't get the lowest available rates.
| Credit score range | Average rate |
| --- | --- |
| 720 and up | 7.63% |
| 680 – 719 | 11.88% |
| 660 – 679 | 18.53% |
| 640 – 659 | 26.15% |
| 620 – 639 | 38.64% |
| 580 – 619 | 65.70% |
| 560 – 579 | 105.39% |
| 560 and under | 113.62% |
Source: LendingTree consumer data, Q4 2019
If personal loans stop at 36%, why are some average rates above that amount? This likely reflects the fact that fair and bad credit borrowers can struggle to qualify for a personal loan at all. In many cases, they may be turning toward short-term loans like payday and installment loans. These can come with rates that top 300%.
Rates by financing type
Lenders tend to price different types of financing differently. Here's how personal loan rates compare to credit cards and car loans from banks in the beginning of 2020.
| Type of financing | Average rates at a bank |
| --- | --- |
| Personal loan | 9.5% |
| Car loan | 5.14% |
| Credit card | 14.52% |
Source: Federal Reserve Consumer Credit Statistics, June 2020
Car loans are often less expensive because the lender uses the vehicle as collateral, which offsets some of the risk. If you want to lower your personal rate, consider backing a loan with collateral, like a savings account.
What is a good interest rate?
An interest rate under 12% could be considered a good interest rate — those are the types of rates that people with good credit qualify for. But what counts as a "good rate" really depends on a the range of rates available to you, based on the type of loan you're looking for.
One way to find out which lender offers a good rate for the loan amount and term you're looking for is to prequalify with multiple lenders and compare offers.
How do lenders set interest rates?
Lenders look at a range of factors when deciding on the interest rate to give a borrower. Generally, the rate is based on how risky
Loan term. Typically, the longer you take to repay a loan, the higher the rate.
Loan amount. The lowest rates are often available on the highest loan amounts.
Credit score. You typically need a credit score of at least 760 to qualify for the lowest rates out there.
Collateral. If you're able to back your loan with an asset, like a CD, car or valuables, you can often score a lower rate.
Each lender has its own special formula for setting interest rates. Some might also include your educational history, spending habits and the length of your credit history when coming up with your rate.
What is APR?
APR, or annual percentage rate, is the total cost of your loan per year based on your loan balance. It includes both interest and fees. This makes it a more reliable indicator of your loan cost than the interest rate alone. But since many personal loans don't come with any fees, lenders sometimes use interest and APR interchangeably.
Compare more personal loan rates
What is a personal loan?
A personal loan is a type of financing that you can use to pay almost any personal expense — as long as it's legal. Usually you can borrow between $2,000 and $50,000 and repay it in monthly installments over two to five years. Often personal loans are unsecured, meaning they don't require collateral.
Should I get a personal loan?
It depends on what you need it for. It can be helpful to think of a personal loan as an investment. If you don't have the time to save up money or get an experience that's worth the cost, it might be worth it.
Consider taking out a personal loan if …
You have credit card debt. Consolidating your credit card debt with a personal loan can often help you save on interest, since personal loans typically have lower rates.
You need to cover a cost that can't wait. If you're moving for a new job or need to pay for a medical procedure, a personal loan can help cover those expenses.
You want to invest in home improvements. Improving your home can help increase the value, which will come in handy if you're hoping to turn a profit when you to sell.
Look into your other options if …
You could easily save instead. If it's not time sensitive, saving is always less expensive than taking out a personal loan.
You have poor credit or a low income. You likely won't qualify for a competitive rate and could have trouble getting a loan at all if you have a low credit score, income or both.
You don't have a steady job. Even if you make six figures, it can be hard to qualify for a personal loan if you don't have a regular job or at least get a regular paycheck each month.
Where can I get a personal loan?
There are several different types of lenders that offer personal loans. Each have different benefits and drawbacks and might not be right for every borrower
Banks. Banks typically offer the lowest rates available and tend to have discounts for current customers. But often you need good or excellent credit, high income and low debts to qualify.
Credit unions. As nonprofits that are run by their members, credit unions can afford to offer lower rates despite having fewer funds than banks. They also tend to have lower credit requirements than banks.
Online lenders. Typically faster than banks and credit unions, online lenders tend to rely on factors other than your credit score when determining your rate. But while they're easier to qualify with, they're also usually more expensive.
Peer-to-peer lenders. This type of online lender relies on funding from private investors. As a borrower, they effectively work like any other online lender, but with a longer turnaround and higher fees.
Connection services. A connection service is a platform that typically allows you to prequalify with multiple lenders at once. This makes it easier to compare lenders if you're not sure where to start your search for a loan.
How to apply for a personal loan
While the application process varies depending on the lender, you can usually follow these steos to get approved.
Compare lenders. Make a list of lenders you might want to apply with. Look for those that offer the loan amount you want, competitive rates and requirements you can meet.
Fill out preapproval forms. You can prequalify with most lenders by filling out a short form on their website. This usually takes a few minutes and relies on basic information about yourself, your credit and your income.
Wait to get your preapproval offers. Some lenders might give you a quote right away — especially online lenders. Banks and credit unions are often slower and might take a day or two to give you your offer.
Compare offers. Weigh the offers you're given and follow instructions to complete the application for the one you like the most.
5 tips to score the lowest rate
From applying with a creditworthy coapplicant to joining a credit union, here are a few ways to up your odds of getting approved for the lowest rate possible.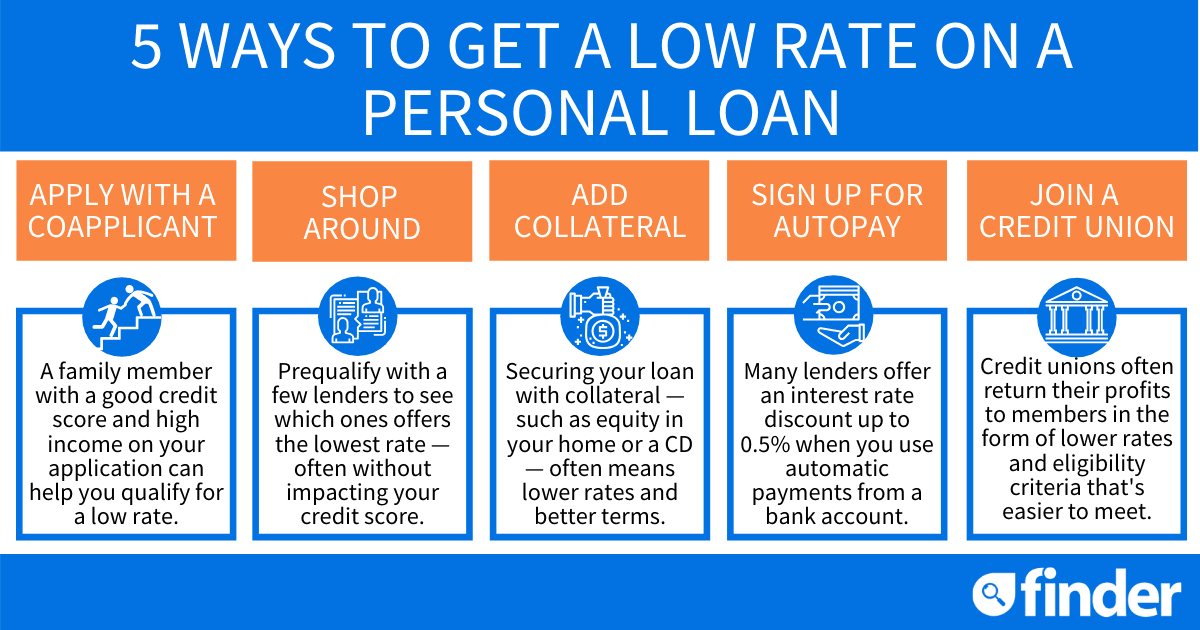 Bottom line
The key to getting a competitive rate on a personal loan is comparing lenders. While almost every lender considers your credit score, each has their own method of evaluating your application that could result in a higher or lower rate.
Read our guide to personal loans to learn more about how borrowing works.
Frequently asked questions