IOTA (MIOTA) price prediction
Get an expert outlook with our IOTA (MIOTA) price prediction, forecast & analysis report.
$0.28
IOTA (Internet of Things Application) is designed to provide an infrastructure to facilitate transactions between devices on the "Internet of Things". Based on a Directed Acyclic Graph (DAG) known as the Tangle, IOTA aims to provide free and fast transactions throughout the network.
The IOTA cryptocurrency is the native token of the IOTA platform. Its most commonly used ticker name on cryptocurrency exchanges is MIOTA, which refers to one million IOTA.
If you're thinking of buying IOTA, it's important to first consider the factors that could impact the future price of this digital currency. Read on to find out what those factors are and how they could drive the value of IOTA up or down in coming months.
Learn more Where to buy IOTA (MIOTA)
Disclaimer: This page is not financial advice or an endorsement of digital assets, providers or services. Digital assets are volatile and risky, and past performance is no guarantee of future results. Potential regulations or policies can affect their availability and services provided. Talk with a financial professional before making a decision. Finder or the author may own cryptocurrency discussed on this page.
Quick facts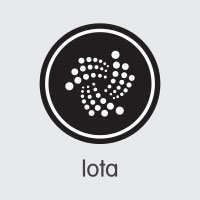 | | |
| --- | --- |
| Name | IOTA |
| Symbol | MIOTA |
| Algorithm type | Curl |
| Mineable | No |
| Launch date | June 11, 2016 |
Must read: What is the Internet of Things (IoT)?
The IoT is the network of physical devices connected to the Internet via embedded computing devices. Those items and devices can then connect with one another and exchange data without human interference. Examples of devices that can be connected to the IoT include home appliances, vehicles, wearable devices and even individual components of machines.
IOTA price prediction
Cryptocurrencies are notoriously volatile and experience substantial fluctuations, making these complicated assets a risky and speculative proposition for potential buyers. There are many internal and external factors that can impact the value of any particular cryptocurrency, so it's important to carefully consider those issues before parting with any of your hard-earned money.
If you're thinking of buying IOTA, remember to consider the following:
What could drive IOTA's growth?
Commercial partnerships. IOTA has partnered with Volkswagen, Bosch, Samsung Group and a host of other big names in the corporate world. It has also partnered with the City of Taipei to give its citizens Tangle-based ID cards.
Use cases. From web payments and remittances to smart cities, supply chain management and public transport, there are many potential real-world uses for IOTA technology.
Growth potential. IOTA is designed as a platform for the Internet of Things (IoT), which is predicted to be worth $267 billion by 2020 and have 20.4 billion connected "things" by this same date. If IOTA can provide a successful alternative to the blockchain for IoT, there's certainly a sizable market that could be tapped into.
Scalability. Unlike many blockchains that are encountering issues with their slower transaction times and higher fees, the IOTA network is designed to be infinitely scalable.
Supply. The maximum supply of 2,779,530,283 MIOTA is already circulating (remember that 1 IOTA is the currency's smallest divisible portion and 1 MIOTA = 1 million IOTA). Make sure you consider the effects this could have on the supply/demand equation for this cryptocurrency in the future.
IOTA Ecosystem. In February 2018, IOTA announced the IOTA Ecosystem, a platform for developers, startups, hobbyists and initiatives around the world working on applications built on the IOTA core protocol. According to the official blog post announcing the launch, the Ecosystem will be "a hub of education, innovation, tools, collaboration and development for the IOTA distributed ledger protocol".
What could hold IOTA back?
Still in development. The technology behind the IOTA platform is still in the early stages of development. Whether or not the Tangle is ready for mainstream implementation and will be able to achieve a sufficient level of widespread adoption remains to be seen.
Competition. The ability of any new technology to achieve successful adoption will, in part, depend on how it stacks up against competitors. For example, IOTA will need to compete with platforms like Ethereum and IoT Chain for market share moving forward.
Availability. At the time of writing (2/27/18), MIOTA was only listed on a handful of cryptocurrency exchanges. Being successfully listed on a wider range of exchanges could potentially increase the currency's visibility and credibility, therefore driving demand.
Public perception of alleged security flaws. In September 2017, the MIT-affiliated Digital Currency Initiative reported that it had uncovered a vulnerability in IOTA's code. This claim was later debunked in a bombshell email leak, and at the time of writing, it appeared that IOTA was actually completely secure. However, the effect of the scandal could have a long-term impact on widespread perception of the security of the platform.
Where to buy IOTA
What's ahead on IOTA's roadmap?
One key way to determine what developments a company has in store for the future, and what impact those developments might have on a currency's value, is to take a look at its roadmap. Unfortunately, at the time of writing, IOTA's next roadmap was still being prepared.
However, some key goals for 2018 can be found in this 2018 preview published on the official IOTA blog, such as:
Growth of the IOTA Foundation. Established in 2017, the foundation aims to ensure sufficient human resources and capacity to meet the demand for IOTA. According to the blog post, "establishing proper structure and streamlined processes, as well as onboarding tens of new developers and other vital human resources, will be the No. 1 priority at the beginning of 2018".
Optimization. 2018 will see the implementation of a range of developments designed to optimize IOTA, with the goal of "reaching a production-ready state by the end of 2018 and begin the international standardization process together with the industry". IOTA will also host several virtual and physical hackathons throughout the year to encourage further development around the IOTA protocol.
New offices. IOTA has plans for seven new offices in locations around the world.
Integration with new exchanges. According to the blog post: "We are now happy to confirm that several large and small exchanges are done with the technical implementation of IOTA. From here on, it is up to the respective parties as businesses to decide when and how they plan to unveil and launch IOTA on their platforms, but we expect most to do this in the very beginning of 2018."
IOTA's competition
IOTA's price will also be influenced, potentially both positively and negatively, by the actions of its competitors. Before deciding whether or not you should buy IOTA, consider the challenges the project will face from competitors such as:
Ethereum (ETH). Blockchain platform Ethereum allows developers to build and deploy decentralized applications (dapps) and create smart contracts. Its native token, Ether (ETH), is the world's second-largest cryptocurrency by market cap at the time of writing. While the development teams behind IOTA and Ethereum have clashed on multiple occasions, Ethereum has the key advantage over IOTA of being an established player with existing infrastructure in place.
IoT Chain (ITC). Created by a Singapore startup, the Internet of Things Chain aims to develop a blockchain-based operating system that provides for the safe communication between devices on the IoT. Its native token, ITC, began trading in December 2017, and the technology behind the project is not scheduled to be fully developed until 2019.
Nano. Originally starting life as RaiBlocks, Nano combines blockchain and directed acyclic graph (DAG) technology with the aim of providing an instant, fee-free, scalable currency. While this project has a different focus than IOTA, the two currencies will compete with each other in specific areas, such as micropayments.
Beyond 2022: What does the future hold for IOTA?
Cryptocurrencies are complex and speculative, and predicting their success (or otherwise) is a high-risk guessing game. This is particularly the case with IOTA and its unique Tangle architecture. While the Tangle could be a competitor to blockchain and offer benefits in a wide range of use cases, it's not yet certain whether or not it will be able to deliver on its potential.
As with any new technology, only once it's been rigorously tested and successfully used in several real-world cases can we know for sure whether it provides a useful solution. IOTA has received criticism from some commentators, most notably MIT Media Labs, but it has worked quickly to respond to those criticisms.
Experts are predicting the IoT to be a huge growth sector – Google's acquisition of smart-home automation company Nest for $3.2 billion in 2014, not to mention IBM's $200 million investment in the Watson IoT are evidence of this. However, IOTA is still being developed and consolidating after a year of rapid growth in 2017, so while there is plenty of potential upside, it will also be very interesting to see what the next 12 months hold.
Bottom line
If you're thinking of buying IOTA, the main point to remember is that the technology backing the network is relatively new and still being developed and tested. If it works as planned, the Tangle could become a viable competitor to blockchain technology and find itself well placed to take advantage of the forecasted growth in the IoT sector.
However, IOTA's technological framework has copped criticism from some quarters, so do your own research into how it works before deciding whether or not you should buy this particular digital currency.
Disclaimer: Cryptocurrencies are speculative, complex and involve significant risks – they are highly volatile and sensitive to secondary activity. Performance is unpredictable and past performance is no guarantee of future performance. Consider your own circumstances, and obtain your own advice, before relying on this information. You should also verify the nature of any product or service (including its legal status and relevant regulatory requirements) and consult the relevant Regulators' websites before making any decision. Finder, or the author, may have holdings in the cryptocurrencies discussed.
---
Images: Shutterstock