Finder makes money from featured partners, but editorial opinions are our own.

Advertiser disclosure
How to buy Bitcoin (BTC)
Find the best way to buy BTC with a range of methods including crypto exchanges, trading apps, brokerages, Bitcoin ATMs and PayPal.
Kraken Cryptocurrency Exchange
Buy and trade 180+ cryptos.
Instant funding & advanced trading options.
Join 9M+ users around the world.
Go to site
In recent years, Bitcoin (BTC) adoption has exploded. While it was once taboo to invest in this alternative asset, more and more people around the globe are now buying and holding it, making Bitcoin more mainstream.
Whether you are a beginner or a seasoned investor looking to diversify your portfolio, this article will guide you through a range of ways to buy BTC in 2023, including using crypto exchanges, payment apps like PayPal or even Bitcoin ATMs.
Keep in mind that Bitcoin's price is highly volatile. It's gone from being worth about $3,800 in March 2020 to $69,000 in September 2021 and back to $37,000 in November 2023. This means that investors are at risk of considerable losses as well as gains, and you should exercise caution appropriately.
Today is trading for $0., which is slightly up from yesterday's trading price of $0.. 's seen an increase of 0% over the past year. It reached an all-time-high price of $0. in November 2023.
How to buy Bitcoin
The following steps are for US residents and should work with most cryptocurrency exchanges, investing apps and brokerages.
Choose a platform that sells cryptocurrency.

There are many different crypto exchanges where you can buy BTC. It's important to consider which are available where you live and then decide which exchange is best for your needs. Beginners tend to prefer exchanges that are easy to use, while advanced crypto investors often search for exchanges that have low fees and advanced charts to help time their trades.

Connect your crypto platform to a payment method.

If you're buying from any online platform, such as a crypto exchange, you can most often pay via a bank transfer or with a debit or credit card. Bitcoin ATMs accept most major credit cards. PayPal and Venmo allow you to buy directly from their app.

Decide how much Bitcoin you want to buy.

One full Bitcoin costs tens of thousands of dollars, so most buyers don't typically own a full Bitcoin. It is normal to own fractions of a Bitcoin. Decide what level of investment in BTC works for you.

Transfer your Bitcoin to a crypto wallet.

Unless your Bitcoin is stored on a crypto wallet that you can access, it is essentially not fully owned by you. How do you know Bitcoin is 100% yours? You and only you have a 12-24 word password for it.
Our crypto platform pick: Kraken
Trade 180+ crypto and traditional currencies
Instant funding & advanced trading options.
Join 9M+ users around the world.
Where to buy Bitcoin
Some of the most common places to buy Bitcoin are through exchanges or trading apps. These accept US dollars via bank transfer or card, which makes purchasing BTC convenient and relatively quick compared to other methods.
If you're unsure which exchange might be right for you, please review our list of the best crypto exchanges for 2023 to help you decide.
If you plan to buy BTC through one of the less common methods — via a Bitcoin ATM or a peer-to-peer marketplace — you'll have to learn how to self-custody your BTC first.
Most common ways to buy BTC
What's the best way to buy Bitcoin?
While it's up to you to decide how you feel most comfortable buying Bitcoin, we have provided a breakdown of the different ways and places you can buy Bitcoin.
We began by focusing on the more common ways to buy BTC before moving on to the less common ways to buy the asset.
Buying Bitcoin from a crypto exchange
Buying BTC on a crypto exchange is the most common way to invest in Bitcoin.
Exchanges such as Coinbase, Kraken, eToro, Binance.US and Crypto.com are some of the most widely used crypto exchanges. They also enable you to buy other cryptocurrencies if you want to expand your portfolio beyond BTC.
The crypto exchange you choose will depend on your investment style and requirements. Some exchanges support instant buy features, which allow you to purchase Bitcoin directly from the platform using a credit or debit card or a bank account.
Other exchanges support spot market trading — a slightly advanced way to buy BTC, and it requires placing bids and offers. Trading fees are often low when you use this method, but, as we mentioned, it can be difficult.
Holding your Bitcoin on a centralized platform like an exchange means trusting the exchange to protect your assets. Assets held on an exchange are at risk of hacks, phishing attacks and potential mismanagement by the exchange operators.
To avoid counterparty risk and have complete control over your Bitcoin, consider withdrawing your funds to a personal wallet after you have completed your purchase or trade.
Crypto exchange: what to consider
Pro: Straightforward buying and selling of BTC accessible to all experience levels.
Con: If you leave your BTC in the custody of a crypto exchange, your funds are potentially at risk because when you leave your crypto in the custody of a third party, the assets are technically just IOUs.
Buying Bitcoin from a trading app
Trading apps allow you to manage various investments, such as cryptocurrency and stocks, in one location.
If you're familiar with traditional stock and commodities trading apps such as SoFi, Webull or Robinhood, then you can quickly utilize these platforms to start trading Bitcoin. They tend to focus on ease of use and are mobile-friendly.
Although trading apps and brokerages will give you direct exposure to the price of Bitcoin, they may not give you the actual coins to control. This means you can't move your BTC off the platform to your personal wallet or another trading platform. This simplifies the experience but may be an issue for anyone who wants the full experience and security of using crypto.
Trading app: what to consider
Pro: A convenient way to gain exposure to Bitcoin on a familiar platform.
Con: Many apps claim to offer zero-fee trading but may hide an extra fee in the spread.
Buying Bitcoin from PayPal
It's really convenient to purchase Bitcoin on PayPal, considering PayPal's interface is easy to navigate. You can even use the Bitcoin on your PayPal to make purchases on millions of online stores confidently, knowing PayPal's fraud protection covers you.
Some exchanges also support PayPal as a deposit method. You can transfer funds from your PayPal account to the exchange and purchase Bitcoin directly.
PayPal charges higher fees than most traditional crypto exchanges, with purchases over $200 incurring a 1.8% fee. If you're looking to purchase large amounts of Bitcoin, PayPal may not be your best option.
Also, please keep in mind that you can't send BTC purchase on PayPal to an external crypto wallet. PayPal custodies your Bitcoin for you.
PayPal crypto: what to consider
Pro: Buy Bitcoin quickly using a familiar and easy-to-use platform.
Con: Con: PayPal charges higher fees than most traditional crypto exchanges.
Buying Bitcoin from Venmo
It's quite convenient to purchase Bitcoin on Venmo, as well. Much like PayPal, Venmo's interface is clean and user-friendly.
One of the main differences between Venmo and PayPal, though, is that Venmo is a social app through which you can broadcast your Bitcoin purchases if you'd like.
Like PayPal, Venmo charges higher fees than most crypto exchanges, as you'll pay 1.8% on Bitcoin purchases between $200 and $1,000.
Also, like PayPal, you can't send the Bitcoin you purchase on Venmo to an external crypto wallet.
Venmo crypto: what to consider
Pro: Buy Bitcoin using a convenient payment app.
Con: You can't send the Bitcoin you purchase on Venmo to another crypto wallet.
Buying Bitcoin from Cash App
Cash app is another handy app through which you can purchase Bitcoin.
Like PayPal and Venmo, Cash App makes buying Bitcoin simple. But like PayPal and Venmo, the fees for purchasing BTC are quite high — approximately 1.75%.
However, there is one major differentiator between Cash App and PayPal and Venmo — you can send your Bitcoin from your Cash App wallet to another crypto wallet.
Hence, you get the convenience of buying Bitcoin in an easy-to-use app and the option of sending it to a more secure, offline wallet if you so please.
Cash app crypto: what to consider
Pro: Cash App allows you to send your Bitcoin to another crypto wallet if you want to custody your Bitcoin yourself.
Con: Fees for buying and selling BTC on Cash App are high compared to crypto exchanges.
Buying Bitcoin from a traditional broker
You cannot buy Bitcoin directly from traditional financial brokers like Charles Schwab or Fidelity.
Instead, you can buy financial products based on Bitcoin's price, like Bitcoin futures products (e.g., the Proshares Bitcoin Strategy ETF) or shares of the Greyscale Bitcoin Trust (GBTC).
When you buy these types of Bitcoin-related financial products, you don't technically own any Bitcoin. These products are mostly used for speculative purposes.
Traditional broker: what to consider
Pro: You can gain some exposure to Bitcoin's price action via traditional investment platforms.
Con: You don't technically own any Bitcoin when you buy Bitcoin-related products.
Buying Bitcoin from a Bitcoin ATM
Buying Bitcoin using an ATM is a way to purchase the digital currency in a physical location. The process typically involves using cash or a debit card to purchase Bitcoin, which is then transferred to a digital wallet, which you must have set up before using the ATM.
The benefit of buying Bitcoin through an ATM is the convenience and immediacy of the transaction.
However, it's worth noting that the fees associated are often much higher than purchasing via an online exchange, and Bitcoin ATMs are only available in some locations. Also, newbies might feel uncomfortable setting up a Bitcoin wallet address and entering the long string of letters and numbers of the address via the ATM screen.
Bitcoin ATM: what to consider
Pro: A quick and convenient way to purchase Bitcoin using cash.
Con: High fees will dissuade Bitcoin investors who know cheaper ways to purchase the asset, and newbies might not feel comfortable inputting their digital wallet information.
Buying Bitcoin from a P2P marketplace
A (peer-to-peer) P2P crypto marketplace is a platform that allows individuals to buy and sell cryptocurrencies directly with one another through offers, a bit like eBay. An example of such a marketplace is Paxful.
The exchange or platform helps facilitate Bitcoin transactions by holding funds in escrow via smart contracts on a blockchain network. This ensures that the terms of the trade are met and that the cryptocurrency is transferred securely and transparently.
P2P marketplaces typically support a wide range of fiat currencies, including US dollars.
Low or no fees are common for P2P trades, and since order prices are fixed, you can potentially find Bitcoin below market value.
Purchasing Bitcoin through P2P exchanges regularly can be challenging, as it may be hard to consistently find a seller willing to sell you the exact amount you want each time.
P2P marketplace: what to consider
Pro: Interact directly with Bitcoin sellers and choose from hundreds of payment options.
Con: P2P exchanges typically have less liquidity than spot markets of OTC exchanges.
Buying Bitcoin from a crypto wallet interface
For those who believe in the concept of "not your keys, not your Bitcoin", using a hardware wallet to buy Bitcoin may be a good option. These wallets offer exchange services like Changelly and Simplex, which are integrated into the software apps for wallets from companies like Ledger or Trezor. These apps are easy to use and typically accept credit or debit card payments.
Hardware wallets provide a secure and private way to hold your Bitcoin, which is stored directly on the blockchain rather than being entrusted to a third-party exchange or platform.
Although the Bitcoin blockchain is more secure than exchanges and has never been hacked, your security depends on you. You are responsible for managing your private key or seed phrase, which, if lost, may result in inaccessible funds.
Crypto wallets: what to consider
Pro: You have total control over your investment, secured by the Bitcoin blockchain rather than a third party like an exchange.
Con: Learning to use a blockchain can be difficult. Transactions are irreversible, and your funds are at risk of human error.
Compare crypto platforms: exchanges, apps and brokerages
If this is your first time buying cryptocurrency, look for a platform that accepts US dollars. Once you've purchased your Bitcoin, you should be able to transfer it to another exchange later, so don't worry too much about extra features for now.
Use the table to choose a platform that meets your needs, and select the Go to site button to get started.
What is Bitcoin?
Bitcoin is the world's oldest and most valuable cryptocurrency by market capitalization — or the total amount of money invested in the asset. Created in 2009 by a pseudonymous person or persons known as Satoshi Nakamoto, Bitcoin is a decentralized and cryptographically-secured digital payment blockchain network, and the asset on it — BTC — was designed to provide an alternative to traditional fiat currencies like US dollars or euros.
Rather than dealing with a centralized authority such as a bank to process transactions, BTC holders can transfer their coins directly to one another on the peer-to-peer Bitcoin network.
The maximum coin supply of Bitcoin is limited to 21 million, but it's possible to buy a small fraction of a coin — each coin can be divided into 0.00000001 BTC.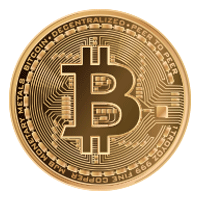 Is Bitcoin safe to invest in?
All investments have risk associated. Before you buy Bitcoin, make sure you do due diligence in research and understand these risks:
Price volatility.
Bitcoin's price is largely based on speculation, meaning it can rise or fall quickly. It's common for Bitcoin to move by 5% or more in a single day.
Exchange vulnerabilities.
Leaving your Bitcoin on a crypto platform exposes you to several counterparty risks, including scams, hacks and theft, and fiscal mismanagement, as we saw in the case of FTX in 2022. To reduce this risk, it's best to keep your Bitcoin in a non-custodial wallet.
Regulatory uncertainty.
The regulatory environment for Bitcoin and other cryptos is constantly changing. In some countries owning and trading Bitcoin is legal, and in others, it isn't. Even in countries in which it is legal to own Bitcoin or other cryptos, there can still be some jurisdictions that don't permit certain Bitcoin or crypto services and platforms. For example, only a few crypto companies are permitted to operate in New York State, so there are only certain ways to buy Bitcoin in NY.
Novel technology.
Bitcoin was created in 2009, making it relatively new as a form of technology and currency. Bitcoin doesn't yet have the same track record or performance history as some other asset classes.
Technological learning curve.
If you plan to invest in Bitcoin and custody the asset on your own, you'll have to learn how to use a non-custodial crypto wallet.
Wallet vulnerabilities.
The Bitcoin network is near-impossible to hack, but the hardware and software used to manage your funds — known as wallets — can still be vulnerable. We researched BTC wallets and shared which ones we felt were best.
Transactions can't be reversed.
Once you've submitted a transaction to the Bitcoin network, it can't be canceled or reversed. Double-check the receiving address before sending a Bitcoin payment or moving Bitcoin off an exchange. One good way to do this is to check the first and last four digits of the wallet address you are sending to before setting the transaction in motion. There is no way to refund BTC sent to the wrong address.
What to look for in a crypto platform?
There are a few key factors to keep in mind when looking for where to buy Bitcoin.
Check your exchange is FinCEN registered.
If you choose to buy Bitcoin via a crypto exchange, it's good practice to use a locally registered exchange. It's more likely to accept US dollars and local payment methods like SWIFT, which helps avoid foreign exchange fees. Choosing a US-based exchange also means the exchange is likely to be registered with the Financial Crimes Enforcement Network (FinCEN), which means it has to comply with local laws in the US.
Why you should use a FinCEN-registered cryptocurrency exchange
Crypto exchanges founded and based in the US are required to register with the Financial Crimes Enforcement Network (FinCEN), a division of the US Department of the Treasury. This bureau safeguards the US financial system by working to prevent money laundering, terrorist-financing activity and other financial crimes.
FinCEN-registered exchanges contribute to a more secure financial system in the US and provide you with better consumer protections compared to exchanges based in other countries.
Other reasons for using a FinCEN-registered exchange may include the following:
They are subject to state-level regulation and laws.
They are more likely to offer US-based customer support.
They typically cover local payment methods such as ACH bank transfers and support transactions in US dollars (USD).
Set up 2-factor authentication.
Whether you use an exchange or a financial app, look at the platform's security features, like 2-factor authentication and PGP-encrypted emails. Cold storage of user funds is considered an industry standard, but insurance funds are less common and indicative of good security practices.
Learn whether the exchange has insurance fund.
A small number of exchanges now offer insurance on users' funds. Two of these exchanges are Coinbase and Gemini. Beware that policies vary significantly between exchanges, so research this thoroughly if insurance is important to you.
Decide where you will custody your Bitcoin.
Where is your Bitcoin stored? If you plan to keep it on the platform you purchased it on, you may want to learn more about their storage practices and how they manage customer funds. Certain platforms like PayPal and Venmo don't allow you to custody your own Bitcoin. These apps hold your Bitcoin in their custody. Others like Coinbase or Binance.US allow you to move the funds you purchase via the exchange into a crypto wallet. But when you do this, the responsibility to manage your assets responsibly falls entirely on you. If you lose the private keys to your Bitcoin, that Bitcoin is lost forever.
Where could 's price be heading?
Bitcoin's price is expected to rise to US$30,463 by year-end 2023, according to the average prediction from Finder's panel of fintech specialists.
The panellists also predict BTC will hit US$87,125 by 2025 and US$220,708 by 2030.
All the content may be republished with a link to this page
Press enquiries
Bottom line
Before purchasing Bitcoin, compare a range of crypto exchanges and brokerages available in the US. Look at their features, fees, security and overall reputation to decide which platform best suits your needs. Consider an exchange registered with FinCEN for added peace of mind.
Remember that owning and using Bitcoin is not without its risks. Consider investing in Bitcoin as part of a wider investment strategy, and talk to a financial advisor if you have any questions about cryptocurrency investing.
Once you've purchased Bitcoin, think about your short- and long-term goals. This will help you decide whether to keep it on an exchange or move it to a non-custodial wallet.
Frequently asked questions
How to buy other cryptos
Whether products shown are available to you is subject to individual provider sole approval and discretion in accordance with the eligibility criteria and T&Cs on the provider website.
Are you visiting from outside the US?