Ask an expert: How should I invest my $5,000?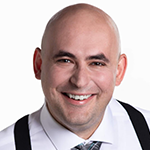 Dennis Shirshikov
Financial Analyst, Fit Small Business
With $5,000, most individuals begin to strategize how to earn some interest on their investments.

It's too early to consider long-term investments like stocks, bonds, and even certificates of deposit. However, most banks and savings accounts will offer some interest on this amount of money.

It isn't the same return, yet $5,000 is usually enough to cover a few month's worth of expenses.

Consequently, the absolute priority with $5,000 is to ensure there is a liquidated rainy day fund with little to no exposure to market conditions.