Finder is committed to editorial independence. While we receive compensation when you click links to partners, they do not influence our opinions or reviews. Learn how we make money.
Kia Stinger car insurance rates
What to expect when insuring this shiny sports sedan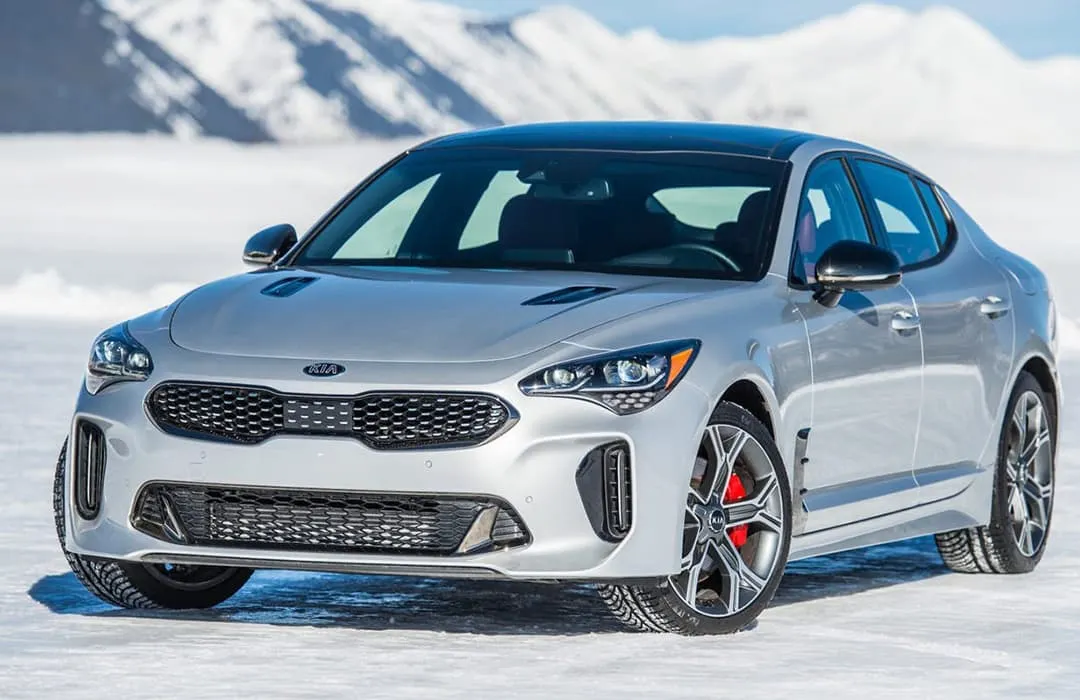 Compare car insurance quotes
Enter your ZIP code below and click Compare to see the cheapest rates in your area.
The average cost of insuring a Kia is $187 a month, or $2,240 a year. Your premium will vary depending on your provider, driving record, where you live, how often you drive and the level of coverage you're looking for. It's also based on the year, model and trim of your car.
When you're comparing coverage, search for the specific rates for your state. Expect to pay less in states like Ohio, Maine, Iowa and New Hampshire, and more in Michigan, West Virginia, Georgia and Washington, DC, where car insurance is notoriously expensive across all makes and models.
Discover coverage that's broader than competitors, valuable discounts up to 30% off and perks like shrinking deductibles that reward no claims.
Broad coverage, including for custom car parts or ridesharing
Transparent pricing tools that help you buy within budget
Accident forgiveness on small claims or for staying claim-free
Stack a variety of discounts for multiple cars, autopay or homeownership
Compare insurance for your Kia Stinger
Kia Stinger car insurance rates
| Model | Monthly insurance rate | Base car price |
| --- | --- | --- |
| Cadenza | $220.00 | $31,990 |
| Forte | $180.00 | $16,600 |
| K900 | $220.00 | $49,900 |
| Optima | $181.00 | $22,200 |
| Rio | $187.00 | $14,165 |
| SEdona | $190.00 | $26,900 |
| Sorento | $165.00 | $25,600 |
| Soul | $176.00 | $16,100 |
| Soul Ev | $174.00 | $32,250 |
| Sportage | $174.00 | $23,200 |
How to compare insurance for the Kia Stinger
Your premium reflects your insurance company, driving history, where you live and the way you drive. For a Kia Stinger, the insurance rate is affected by these factors:
Body type. The Kia Stinger is a four-door sports sedan hatchback, and comes in rear-wheel and all-wheel drive editions. With these specs, it's likely less expensive to insure than a two-door sports car, but more than the average sedan.
Type of car. The Kia Stinger is classified as a compact executive car, which is typically not too expensive to insure.
Fuel option. The car runs on premium gas and comes with your choice of a 2.0L or 3.3L turbocharged engine. The more powerful the engine, the more you'll pay.
Theft rates. In general, Kia cars have low theft rates. When insurers aren't too worried about your car getting stolen, they won't raise your rate.
Repairs. The cost of repairs is relative to the Stinger's status as a luxury small car. Repair services are readily available, and Kia has a generous warranty program for repairs and maintenance issues.
Safety features. The car is equipped with safety features like multiple airbags, parking sensors, a rearview camera and UVO eServices like automatic collision notifications and an emergency call button. These can reduce injuries and car damage in the event of an accident, and cut down the cost of insurance.
Coverage. Since the Kia Stinger has just hit the market, most policyholders opt into comprehensive coverage, which protects your car from theft, vandalism and extreme weather.
Restrictions. While some companies exclude certain luxury cars, most major providers should cover a Kia Stinger.
Warranty. Kia covers the Stinger with a five-year, 60,000-mile basic warranty and a 10-year, 100,000-mile powertrain warranty. This is one of the longest warranties in its class and includes five years or 60,000 miles of roadside assistance. Learn what's covered by your warranty to avoid paying for coverage you don't actually need.
Driver factors that affect insurance rates
Aside from the make and model of your car, providers look at a number of driver-specific factors to determine your premiums, including your age, gender, marital status, location, credit score and driving history. If you and your nominated drivers have a driving record that's free from major traffic violations and claims in the past three to five years, you'll most likely be rewarded with a cheaper rate.
It all comes down to risk. The riskier you are to insure, the pricier your policy will be.
Does Kia offer any special programs for the Stinger?
Kia has a slew of special programs. If you're in the military, you may be eligible for a cashback bonus when you purchase or lease a new Kia Stinger.
The manufacturer also offers an Owner Loyalty Bonus of $1,500 for the Stinger's Base and Premium trims and $3,000 for the GT, GT1 and GT2 models. To qualify, you'll need to prove you own a Kia vehicle.
Finally, the Competitive Bonus gives buyers an incentive to switch to Kia from one of its competitor brands. To find out if your car qualifies, talk to your local Kia dealer. If it does, you'll earn a $1,500 to $3,000 bonus on your new purchase.
Does the Kia Stinger qualify for car insurance discounts?
Yes. Discounts vary between providers, but typically you can save 5% to 30% for purchasing a new car and equipping it with extra safety features. The Kia Stinger may be eligible for these discounts.
Anti-theft discount
Anti-lock brake discount
Passive restraint discount like motorized seatbelts
Safety device discount
Reliability and safety ratings for the Kia Stinger
The 2018 Kia Stinger hasn't undergone crash testing by the National Highway Traffic Safety Administration (NHTSA) or the Insurance Institute for Highway Safety (IIHS). It only recently rolled out in US showrooms, so that's not unusual.
However, US News ranked the Stinger as #1 in its luxury small cars category. It gave the car a score of 9.1 out of 10 thanks to its athleticism, design, spaciousness and long list of standard features. JD Power backs this up, awarding the Stinger an above-average reliability rating of 4 out of 5 stars. It also gave the car a score of 83 out of 100 based on safety, quality and performance.
The Stinger is equipped with a slew of safety features. Many of the more sophisticated safety features come at a cost. For $2,000, you can add a tech-savvy package made up of forward-collision warnings, adaptive cruise control, lane-keeping assistance, lane departure warnings, emergency automatic braking and blind spot warnings. While Kia isn't alone in asking drivers to pay extra for these features, critics point out that forward-collision warnings come standard with most sports sedans. They do praise the short stopping distance and smooth steering, though.
The Kia Stinger hasn't had any recalls, and no consumer complaints have been filed.
The car's fuel economy could be better, with the average fuel cost ringing in at $2,450 a year. That number reflects current fuel prices, as well as a mix of highway and city driving over 15,000 annual miles. It'll cost you around $55 to fill the 15.9-gallon tank. According to Fuel Economy, you can expect to pay $4,500 more in fuel over five years in comparison to the average new car.
Kia Stinger facts
The word Kia is made up of the Sino-Korean characters ki (to come out) and a (East). In English, this roughly translates to "rising out of the East." This is fitting for a few reasons: Kia hails from South Korea in eastern Asia, and even though it only started manufacturing cars in the '40s, it has a pretty powerful reach around the world.
To name its cars, Kia looks to geography for inspiration. For example, Cerato is the Greek word for peak, Sorento is a beautiful coastal town in Italy and Mohave is a county in Arizona.
Compare Kia Stinger competitors
Still searching for the perfect set of wheels? Find similar cars or compare makes that are completely different.
Bottom line
While the Kia Stinger is on the pricier side to insure, the rates reflect its status as a luxury small car. You'll need to pay extra for the most sophisticated safety features, but Kia makes up for that with its fantastic warranty and maintenance program. The manufacturer rewards military members and loyal customers with cashback bonuses, and your provider may also offer discounts for safe driving and paying your premium up front. Compare insurance providers to get the most value for insuring your Kia Stinger.
Get the cheapest quotes
Compare car insurance companies near you.
Your information is secure.
Frequently asked questions