Finder is committed to editorial independence. While we receive compensation when you click links to partners, they do not influence our opinions or reviews. Learn how we make money.
Audi R8 insurance rates
Average Audi R8 insurance rates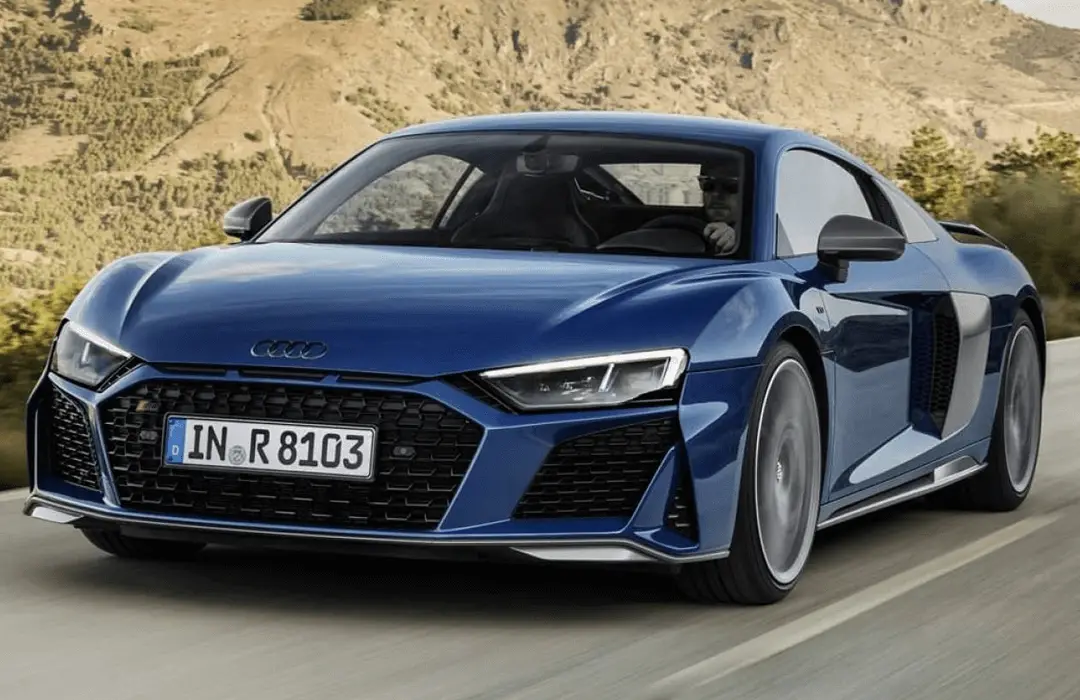 Compare car insurance quotes
Enter your ZIP code below and click Compare to see the cheapest rates in your area.
While the Audi R8 is one of the more affordable supercars, it's a substantial investment that should be protected on and off the road. The Audi R8 is a luxury sportscar that's surprisingly cheap to insure. The average insurance costs for an Audi R8 is $197 a month, or $2,364 a year. With a base price of $162,900, the annual insurance cost–to–base car price ratio is 1.5%, making it one of the cheapest luxury cars to insure.
Discover coverage that's broader than competitors, valuable discounts up to 30% off and perks like shrinking deductibles that reward no claims.
Broad coverage, including for custom car parts or ridesharing
Transparent pricing tools that help you buy within budget
Accident forgiveness on small claims or for staying claim-free
Stack a variety of discounts for multiple cars, autopay or homeownership
Compare insurance for your Audi R8
Audi R8 car insurance rates
While insurance for the R8 is roughly $1,000 higher than the national average, it's a pretty reasonable estimate considering how many variables can influence the cost of car insurance. While the R8 is designed for performance and has the potential to be driven at high speeds, sports cars are stolen far less than sedans, which may help to keep insurance rates down.
| Model | Monthly insurance rate | Base car price |
| --- | --- | --- |
| A3 | $191 | $31,200 |
| A4 | $191 | $34,900 |
| A4 ALL ROAD | $132 | $44,000 |
| A5 | $127 | $41,200 |
| A6 | $136 | $47,600 |
| A7 | $124 | $68,800 |
| A8 | $191 | $82,500 |
| Q3 | $191 | $31,800 |
| Q5 | $138 | $40,900 |
| Q7 | $197 | $49,000 |
| R8 | $197 | $162,900 |
| RS7 | $191 | $110,700 |
| S3 | $132 | $42,900 |
| S5 | $98 | $53,100 |
| S6 | $132 | $70,900 |
| S7 | $191 | $79,900 |
| S8 | $191 | $115,900 |
| SQ5 | $132 | $53,300 |
| TT | $128 | $43,500 |
| TTS | $125 | $52,500 |
How to compare insurance for the Audi R8
Despite the R8 being a performance car with a much higher price tag than the average vehicle, finding coverage is surprisingly easy. Most major providers will be able to cover this model, but for those who can't, there are multiple providers with policies designed specifically for sports cars. In order to find the best auto insurance for your Audi R8, you should create a sample policy with the coverage you need and use that template to get quotes from different providers. Here are a few factors you should consider when comparing your options.
Price. Once you've established what coverage and features you need, get quotes from multiple providers to find a policy and price that suits your budget.
Deductible. Your deductible amount can affect your monthly premiums. Choosing a higher deductible will reduce your monthly premiums, while a lower deductible will increase them.
Minimum coverage. Most states have mandatory coverage requirements for all drivers. Before purchasing a policy, make sure the coverage amounts meet your state's minimums.
Additional coverage. If additional coverage like personal injury protection or uninsured motorist coverage are important to you, be sure to find a provider that has the options available.
Extras. Accident forgiveness and roadside assistance are two of the many extra options you might find when shopping for insurance. Find out what's included in your policy and whether its worth paying for extra features.
Restrictions. Some providers have restrictions that may effect where you can drive or when you'll be covered by your policy.
Manufacturer offer or loyalty discount. Find out if Audi has any manufacturer offers or loyalty discounts through partnerships with insurance providers.
Warranty. Find out what's covered by your manufacturer or extended warranty to avoid paying for overlapping coverage.
What factors affect car insurance rates for Audi R8?
Many people assume that insuring a sports car like the Audi R8 will cost an outrageous amount due to its price tag and performance. However, auto insurance is a lot more complicated, as providers analyze a number of factors outside performance to determine your rates. Things like body type, theft rates, safety features and many other variables are all taken into account, meaning there are a number of ways to keep prices competitive. Here's how the Audi R8's characteristics might affect auto insurance rates.
Body type. The R8 is considered a coupe, which can actually be cheaper to insure compared to a sedan.
Type of car. The R8 is a performance sports car, which has the potential to be driven at high speeds. This may increase the cost of car insurance.
Theft. Sedans are by far the most frequently stolen type of vehicle. The R8 is considered a coupe and it stands out, reducing the chances of it being stolen. This could lead to lower premiums.
Repairs. Repairing an Audi R8 could be expensive. Parts will likely cost more than other Audi models and maintenance may require certified technicians. This could be part of the reason why insurance is expensive.
Safety ratings. While the R8 doesn't have any official safety ratings, the vehicle comes standard with a number of great safety features that could help you get auto insurance discounts.
How do trim packages and extra build options affect insurance cost?
Insurance providers calculate your premiums based on variables that influence the chances of you filing claims and the expected costs of paying them out. This is why driver, location and vehicle-specific factors can all affect your rates. Just as every driver and vehicle are different, the features and options on your particular R8 set it apart from the rest. Whether you choose the sport package, upgraded driver assistance technology or any other option, the packages and trims on your R8 can affect your auto insurance premiums. Based on the standard 2018 Audi R8 V10 coupe, here's how various packages and trims might affect the price you pay for auto insurance.
Engine & drivetrain
V10 Plus. If the standard R8 just doesn't cut it, the V10 Plus offers a total of 602 HP along with ceramic brakes, full LED headlights, a carbon fibre engine and more. This option is almost $60,000 more expensive than the standard model and adds a significant amount of power, so you'll likely see an increase in your premiums.
Quattro. Quattro is Audi's all wheel drive system. Adding this package can improve handling and traction With that being said, it's also $30,000 more than the standard option, which will probably increase the cost of insurance.
Packages and options
Premium package. Although this package won't effect your R8's performance, the $8,000 price tag might increase insurance premiums.
Audi R8 money-saving safety features
You could save money on car insurance for your Audi R8 if it comes equipped with these safety features.
Airbags
Daytime running lights
Anti-lock brakes
Anti-theft device
Surround camera system
Parking sensors
Rear back-up sensors
LED fog lights
Electronic stability control
Seatbelt pretensioners
Does the Audi R8 qualify for auto insurance discounts?
Your vehicle may be eligible for various auto insurance discounts depending on which provider you choose. However, the exact discounts you receive may vary depending on location, provider, options, and other factors. Here are a few that should apply to the Audi R8:
New car discount
Anti-lock brake discount
Anti-theft discount
Passive restraint discount (Airbags, motorized seat belts, etc.)
Emergency roadside assistance discount
How reliable is the Audi R8?
According to U.S. News and J.D. Power, the R8 gets a below average reliability rating of 2.5/5 stars. Previous model years are a bit better, but with an average of 3/5 stars, not by much. According to customer reviews, many owners seem to be satisfied with the R8's reliability.
2011: A number of 2011 Audi R8 vehicles were recalled due to leaks from the fuel supply line which was caused by rubbing against the heat shield in the engine compartment. While it's unclear how many models were affected, a fuel leak in the presence of an ignition source could be a fire hazard, making it important to deal with this issue promptly.
There are very few common complaints and problems with the Audi R8. However, the R8 is an expensive sports car, meaning that the sample size is much smaller than that of common vehicles like the Audi A4 or Q5. With that being said, some owners have experienced transmission problems, power loss and carbon buildup.
Audi R8 maintenance
The R8 is a performance vehicle that is designed to provide an exciting and entertraining driving experience. It may be driven more aggressively than other Audi vehicles, which could require more frequent service. However, whether you drive an R8 or an A3, it's always important to keep a routine maintenance schedule to keep your vehicle running at its best. Routine oil changes and scheduled service appointments are a couple ways to get the most out of your R8. Here's what to expect in terms of oil change prices, mileage and more.
Audi recommends an oil change every 10,000 miles or 12 months, whichever comes first. However, if your car is being driven vigorously, you may want to have it changed more frequently. Audi R8s require a lot of oil, which may be part of the reason why oil changes could cost up to $500.
According to the 2017 Audi maintenance schedule, your R8 should be brought in for minor maintenance at 10,000 miles and every 20,000 miles after that. Standard maintenance should be done after the first 20,000 miles and every 20,000 after the initial service appointment.
The 2017 Audi R8 gets an average of 17 miles per gallon, with 14 in the city and 22 on the highway.
The 2017 Audi R8 comes with a four-year/50,000-mile warranty and four years of 24/7 roadside assistance.
Is an extended warranty worth it for the Audi R8?
The Audi R8 comes with a standard four-year, 50-000 mile warranty. If you're looking for extended coverage, you may want to consider the Audi Certified Plus Limited warranty. The extended warranty covers your vehicle for two additional years or up to 50,000 more miles after your initial warranty expires. While the standard warranty offers great coverage, performance vehicles like the Audi R8 can benefit from the additional protection you'd get from the extended warranty. Plus, it can boost resale value if you decide to sell it in the future.
How safe is the Audi R8?
Unfortunately, the Audi R8 doesn't have any official safety ratings, which may be due to the fact that it is produced in much smaller numbers than other Audi vehicles. With that being said, like many other Audis, the R8 comes standard with a number of safety and driver assistance features that can help prevent collisions and mitigate damage in the event of an accident.
Compare Audi competitors
See what other vehicles has to offer or explore other sports cars and similar models from other manufacturers.
Compare all car makes & models
Bottom line
The Audi R8 is an impressive sports car that offers incredible performance at a fraction of the price of other supercars. Despite its price tag and potential to be driven at high speeds, auto insurance for the R8 is fairly easy to find. You should have no problem getting coverage from any of the main providers, but should you choose to go elsewhere, some providers specialize in performance cars may be able to offer more tailored policies. In order to get the best rates, you should compare your options to find a policy and provider suits your needs.
Get the cheapest quotes
Compare car insurance companies near you.
Your information is secure.
Frequently asked questions about the Audi R8
Read more on this topic