Finder is committed to editorial independence. While we receive compensation when you click links to partners, they do not influence our opinions or reviews. Learn how we make money.
Audi A5 insurance rates
Average Audi A5 insurance rates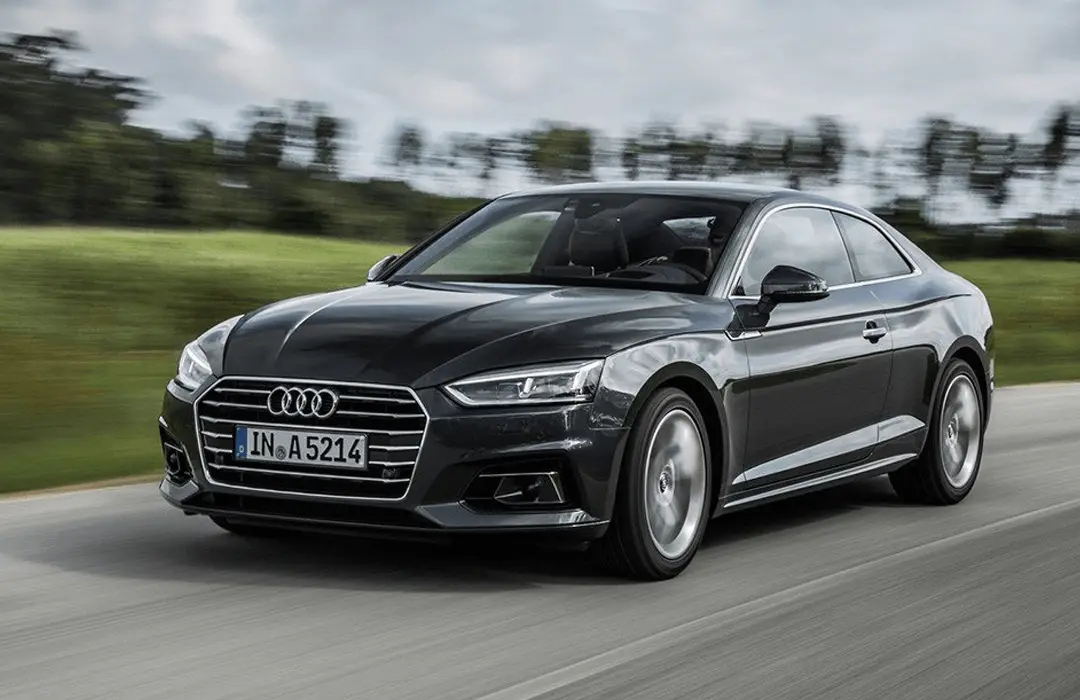 Compare car insurance quotes
Enter your ZIP code below and click Compare to see the cheapest rates in your area.
The average cost for auto insurance on an Audi A5 is $127 a month — or $1,524 a year. While this is only slightly higher than the national average of $1,318, your actual cost may vary based on your location, among many other factors. For example, the average cost of auto insurance in Montana is $2,013, compared to Ohio's much more modest average of $926.
Discover coverage that's broader than competitors, valuable discounts up to 30% off and perks like shrinking deductibles that reward no claims.
Broad coverage, including for custom car parts or ridesharing
Transparent pricing tools that help you buy within budget
Accident forgiveness on small claims or for staying claim-free
Stack a variety of discounts for multiple cars, autopay or homeownership
Compare insurance providers that cover Audi A5
Audi A5 car insurance rates
A 2017 Audi A5 starts at a base price of $41,200. With the average insurance rate at $1,524 per year, the annual insurance cost–to–base car price ratio is 3.7%.
| Model | Monthly insurance rate | Base car price |
| --- | --- | --- |
| A3 | $191 | $31,200 |
| A4 | $191 | $34,900 |
| A4 ALL ROAD | $132 | $44,000 |
| A5 | $127 | $41,200 |
| A6 | $136 | $47,600 |
| A7 | $124 | $68,800 |
| A8 | $191 | $82,500 |
| Q3 | $191 | $31,800 |
| Q5 | $138 | $40,900 |
| Q7 | $197 | $49,000 |
| R8 | $197 | $162,900 |
| RS7 | $191 | $110,700 |
| S3 | $132 | $42,900 |
| S5 | $98 | $53,100 |
| S6 | $132 | $70,900 |
| S7 | $191 | $79,900 |
| S8 | $191 | $115,900 |
| SQ5 | $132 | $53,300 |
| TT | $128 | $43,500 |
| TTS | $125 | $52,500 |
How to compare insurance for the Audi A5
Shopping for auto insurance on an Audi A5 can be difficult when all policies sound the same. Many providers use similar language and coverage options, making it tough to compare products. Knowing what to look for can make it easier to shop around and find the best auto insurance for an Audi A5. Here are a few factors you should consider:
Price. Price is best used as a tool to find the best value for auto insurance. Find out how much coverage you need and use that sample policy to compare prices from different providers.
Deductible. Your deductible can influence the cost of monthly premiums. Be sure to choose an amount that fits into your budget but won't cost too much out of pocket if you need to file a claim.
Minimum coverage. Every state has different requirements for auto insurance. Make sure to check your state's minimums to ensure you get the coverage you need.
Additional coverage. If you need extended coverage like personal injury protection or coverage for medical payments, make sure to find a provider that offers the additional coverage options you're looking for.
Extras. Extra policy features like accident forgiveness and vanishing deductibles aren't available everywhere. If you value policy extras, make sure the provider you choose has the options you want.
Restrictions. Some providers may have occupancy or location-based coverage restrictions. Be sure to check with any potential provider about restrictions to avoid any issues down the line.
Manufacturer offer or loyalty discount. Some manufacturers partner with insurance providers to provide special offers or loyalty programs. Check with Audi to find out if you are eligible.
Warranty. Find out what's covered by your warranty to avoid paying extra for coverage you don't need.
What factors affect car insurance rates for Audi A5?
Insurance providers calculate your premiums based on your risk of getting into an accident, costs of repairs, chances of your vehicle getting stolen and more. Because of this, the vehicle you drive plays a large part in the price you'll pay for auto insurance. Here's are a few factors that affect insurance rates for the Audi A5.
Body type. The Standard Audi A5 is a 2-door coupe. This will likely be more expensive to insure compared to a sedan, but less than a sports car.
Type of car. The A5 Coupe is considered a luxury small car. Luxury vehicles are generally more expensive to insure due to cost of repairs, increased probability of theft, and more.
Theft. Sedans are the most frequently stolen type of vehicle, so choosing the coupe option may save you money on auto insurance.
Repairs. Parts and service providers for Audi vehicles are abundant, which could help bring down the cost of auto insurance. However, since it's a luxury vehicle, repairing interior or body damage could be expensive.
Safety ratings. The A5 comes packed with a number of safety features that can help mitigate damage to occupants and the vehicle itself during an accident. This could help reduce the cost of auto insurance.
How do trim packages and extra build options affect insurance cost?
The Audi A5 Coupe is a luxury sports vehicle that's designed for both comfort and pleasure. While it makes a great daily driver, it's also suited for scenic drives and exploring the open road. Part of the excitement of buying a new vehicle comes from building it the way you want it. Whether that's a sports package to increase the top speed or upgraded safety packages to protect your passengers, the build options you choose can affect the performance of your vehicle. Because of this, your insurance premiums may differ depending on the packages and trims you choose. Based on the Audi A5 coupe, here's how different models, trims and packages might affect your insurance rates:
Model
A5 Sportback. Opting for the A5 Sportback over the coupe could impact insurance rates since it's better suited for families and more casual driving. However, since sedans are the most frequently stolen type of vehicle, providers may consider it higher risk.
A5 Cabriolet. Sports cars are generally more expensive than coupes when it comes to auto insurance. The cabriolet's higher price tag and sportier design could lead to higher premiums.
Trim & drivetrain
Komfort. The standard trim and drivetrain package on the Audi A5. This features a top speed of 130 MPH and goes from 0-60 in 5.9. This package shouldn't affect your insurance rates, even if you opt for the S-Tronic option.
Progressive. The Progressiv package adds a number of driver assistance, exterior, and interior features. The increase in visibility and safety could lead to lower premiums.
Technik. The Technik package adds even more features that can increase visibility and make the vehicle safer to drive. While the higher price tag may affect premiums, the improvement in driver safety might help you save.
Packages and options
S Line Sport Package. Other than the sport suspension, most features in this package are aesthetic. Since the performance isn't affected, it's unlikely that this package will impact your premiums.
Advanced Driver Assistance Package. This package adds adaptive cruise control, lane assist, traffic assist, and more. The increase in safety could help reduce insurance rates.
Sports Suspension. This package may affect your vehicles handling, which could impact the cost of car insurance.
Wheel locks. Wheel locks make it much harder for anyone to steal your wheels. Many providers recognize this and will offer a discount if you have them installed.
Audi A5 money-saving safety features
You could save money on car insurance for your Audi A5 if it comes equipped with these safety features.
Airbags
Daytime running lights
Anti-lock brakes
Anti-theft device
Surround camera system
Parking sensors
Rear back-up sensors
LED fog lights
Electronic stability control
Seatbelt pretensioners
Does the Audi A5 qualify for auto insurance discounts?
Your vehicle may be eligible for various auto insurance discounts depending on which provider you choose. However, the exact discounts you receive may vary depending on location, provider, options, and other factors. Here are a few that should apply to the Audi A5:
New car discount
Anti-lock brake discount
Anti-theft discount
Passive restraint discount (Airbags, motorized seat belts, etc.)
Emergency roadside assistance discount
How reliable is the Audi A5?
According to U.S. News and J.D. Power, the 2018 Audi A5 coupe received an impressive 4/5 star reliability rating, which is better than most vehicles in its category. Ratings from previous years were slightly lower but still above average in its class. Additionally, a driver survey of over 30,000 car owners ended up with a score of 94% for reliability.
The Audi A5 has been around since 2007, leaving plenty of time for Audi to work out any major issues with the vehicle. In doing so, there have been multiple recalls over the years:
2018: A limited number of 2018 models were recalled due to the aluminum trim on front and rear doors coming loose and leaving sharp edges exposed.
2017: Some A5 Coupe and A5 Cabriolet models were recalled due to an overheating coolant pump which could increase the risk of a fire.
2016: A number of A5 Coupe and Cabriolet models were recalled due to the coolant pump issue along with electrical system wiring issues that could cause heater wires to overheat or melt.
2013-2015: Some 2013-2015 A5 Coupe and Cabriolet models were also affected by the coolant pump and wiring issues found on the 2016 models.
There are almost no common problems with the 2017-2018 Audi A5 models. Most owners of this vehicle are very satisfied with their purchase and have no major issues to report. Some owners mention minor carbon buildup which could lead to decreased power and fuel efficiency, but this can likely be solved during a routine service appointment.
How safe is the Audi A5?
The 2018 Audi A5 received an impressive 9.6/10 safety rating from U.S. News and J.D. Power. It holds good scores in all categories according to the IIHS, and almost perfect ratings from the NHTSA. The vehicle comes packed with a number of safety features, making it great for commuting, pleasure, and daily driving.
Audi A5 maintenance
The Audi A5 is a luxury sports vehicle that's designed for both convenience and pleasure. It doesn't require a great deal of maintenance, but it's important to stay on top of oil changes and manufacturer recommendations to ensure it performs at its best. Here's what to expect in terms of oil changes, mileage, and maintenance on an Audi A5.
Audi recommends an oil change every 10,000 miles or 12 months, whichever comes first. Oil changes could cost anywhere between $50 and $150 depending on where you bring it for service.
According to the 2017 Audi maintenance schedule, your A5 should be brought in for minor maintenance at 10,000 miles and every 20,000 miles after that. Standard maintenance should be done after the first 20,000 miles and every 20,000 after the initial service appointment.
The 2017 Audi A5 Coupe Quattro gets an average of 26 miles per gallon, with 23 in the city and 32 on the highway.
The 2017 Audi A5 Cabriolet Quattro gets an average of 24 miles per gallon, with 21 in the city and 29 on the highway.
Audi encourages owners to bring their A5 to a dealer for service, but won't void your warranty if you bring it elsewhere.
The 2017 Audi A5 comes with a four-year/50,000-mile warranty and four years of 24/7 roadside assistance.
Is an extended warranty worth it for the Audi A5?
The Audi A5 comes with a four-year, 50-000 mile warranty. There is also an option to extend your coverage, which is called the Audi Certified Plus Limited warranty. If purchased, the extended warranty becomes effective after the new vehicle warranty expires. It provides coverage for two years or up to 50,000 additional miles, up to a maximum of 100,000 in total. The extended warranty might be worth considering if you drive your vehicle very frequently or plan on selling it in the future.
About the Audi A5
The Audi A5 has been in production since 2007. The Audi A5 is a line of compact executive cars. The 2017 model was not evaluated by the Insurance Institute for Highway Safety or the National Highway Traffic Safety Administration.
Insurance companies determine the insurance cost for an Audi A5 based on safety ratings, theft rates, replacement costs and overall damage susceptibility. Insurance rates can change based on your driving history and location. If you're considering an Audi A5, grab quotes from several insurance companies to find the lowest premium possible before you commit. Do your research to see if you qualify for insurance discounts.
Compare Audi competitors
Find out what else Audi has to offer or explore other manufacturers to compare other models that are similar to the A5.
Compare all car makes & models
Bottom line
The Audi A5 is a luxury sports car that's designed for comfort & pleasure. With a handful of standard safety, performance and driver convenience features, it's perfect for commuting, scenic road trips, or any other excuse to get it on the road. Depending on your preference, the A5 is also available as a 4-door sportback or a convertible. However, the build options and packages on your A5 may affect insurance rates, making it important to compare your options to find out how much you'll actually pay to insure this vehicle.
Get the cheapest quotes
Compare car insurance companies near you.
Your information is secure.
Frequently asked questions about the Audi A5
More guides on Finder