Finder is committed to editorial independence. While we receive compensation when you click links to partners, they do not influence our opinions or reviews. Learn how we make money.
Compare TD Bank products: Checking, Savings, and CDs
This East Coast provider offers expanded hours for convenient accessibility.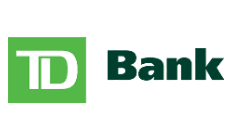 If you live in a state that it services, TD Bank can be a one-stop shop for your personal financial needs. Checking and savings accounts are tiered and more perks are awarded for higher balances, though maintenance fees can get steep.
Compare TD Bank products
What banking products does TD Bank offer?
It offers a host of financial products for personal and business financial management. However, TD Bank is only available to people living in these states:
How does it compare to other banks or services?
TD Bank is ranked 7th in the nation for total number of domestic deposits, landing just beneath Capital One and US Bank. Its tagline is "America's Most Convenient Bank," and has extended hours on weekends and evenings to help substantiate that claim.
Compared to other national banks, it has the 8th most physical locations. If you live in a state on the East Coast, you'll have access to over 1,300 branch locations and 1,900 ATMs from Maine to Florida.
Checking accounts
Pros
Low opening deposits. You can open most checking accounts with as little as $0.
Several account options. This bank offers four personal checking accounts and three business checking accounts.
No foreign transaction fees. TD Bank doesn't have foreign transaction fees and you can find free ATMs in parts of Canada.
Overdraft forgiveness. If you have a TD Beyond Checking account, TD Bank refunds two overdrafts per year.
Cons
Complicated fee structures. If you're younger than 24 or older than 61, getting the monthly fee waived requires you to maintain a somewhat hefty balance, and for its Simple Checking account you're stuck paying the $5.99 no matter what.
Service fees. You'll pay $25 for outgoing domestic wire transfers and $35 for overdraft charges, up to 5 times a day. These fees are on top of potential monthly fees.
Small ATM network. TD Bank has around 2,000 ATMs scattered along the East Coast, which is far fewer than other banks.
Savings accounts
Pros
Tiered rates encourage savings. Interest increases as you put money away, an added perk that can help incentivize savings.
Relationship rates. Earn a higher APY when you keep your checking and savings account with TD Bank.
Low opening deposits for savings accounts. Most TD Bank savings accounts have low opening deposits, but you may need to maintain a high daily average balance to earn interest.
Cons
Less competitive APY on savings accounts. Even at its highest rates, TD Bank's savings account APYs don't top 1%, which means it isn't the most competitive option on the market.
Monthly fees. TD Bank doesn't offer any free savings accounts, but there are several ways to avoid the monthly fees its accounts do have.
High minimum deposit for money market. If you want to open a TD Growth Money Market account, you'll need at least $2,000 to get started.
CDs
Pros
Low opening deposit. You only need $250 to open a TD Bank CD and you won't pay any monthly fees to maintain your account.
Wide range of terms. CD terms range from three months to five years.
Several CD options. Choose a no-penalty CD if you want one free withdrawal per term, a Step Rate CD if you want a guaranteed rate increase or a regular CD if you want to lock in the highest APY.
Cons
Low APYs. Current TD Bank checking customers can take advantage of higher, relationship CD rates, but even these are lower than the rates offered by other banks.
APYs vary by location. CD interest rates vary by state, so you'll need to visit the bank's website to find current rates in your area.
Early withdrawal penalty. Unless you have a no-penalty CD, you'll pay a fee if you need to access your money before your CD term ends.
Overall banking
Pros
Emphasis on convenience. TD Bank's extended hours offer greater flexibility, since most banks close at noon on Saturdays and remain closed on Sundays. Plus, customer service is available by phone 24/7.
Access for people with disabilities. ATMs ate designed to meet wheelchair height and reach requirements. It also has telecommunication relay services for callers who are Deaf, hard-of-hearing, blind or speech-impaired.
Cons
Limited national presence. Even if the East Coast is your home base, if you travel regularly TD Bank's regional limitations could be inconvenient.
Some accounts must be opened in-person. Not all TD Bank accounts can be opened online. Some require you to fill out an application at a local branch.
Low APYs overall. As a whole, TD Bank has low APYs and high monthly fees. Unless you can meet its strict account requirements, you may pay more in fees each month than you'd earn in interest.
Compare TD Bank to the competition
TD Bank reviews and complaints
The BBB gave it an A+ rating, and it's been officially accredited there since 2002. An average of 25 customer reviews average out to just one star, but that's pretty normal for complaints about similarly sized banks. There are about 9,700 complaints on the CFPB website, but nearly all of them indicate a timely response.
It's a member of the FDIC, and the FFIEC has reviewed most branch locations as "outstanding" or "satisfactory." In 2018, it was rated the Best Bank for Seniors by Money Magazine, and it tied for #1 in Global Finance World's list of 50 Safest Commercial Banks.
TD Bank customer service
Get support from TD Bank through one of the below:
Phone: For online banking support, call 888-751-9000, open 24/7.
Facebook Messenger: Send a general question or comment through the social network's IM.
Branch: Make an appointment online or drop in to a branch location for face-to-face service.
Twitter: Send a DM to @TDBank_US.
Bottom line
TD Bank's expanded access may be appealing if it syncs with your lifestyle. But if you're hoping for service with nationwide presence or simpler account structures,
shop around to find a better fit
.
Frequently asked questions.
Read more on this topic