Finder is committed to editorial independence. While we receive compensation when you click links to partners, they do not influence our opinions or reviews. Learn how we make money.
What is piggybacking — and is it worth it?
You might make money or temporarily raise your credit score. But beware of the risks.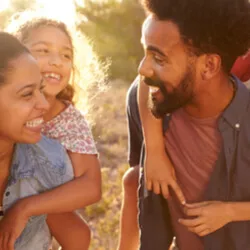 With so many ways to improve your credit, clever people are always looking for new ones.
One of these methods is piggybacking. Piggybacking is a tactic where one person seeks to raise their credit by becoming an authorized user on another person's credit card account.When it works, it can lead to a significant increase in your credit score. And you could use it to make a few extra bucks if you already have good credit. But its legality is unclear, it's frowned on by the credit industry and it's far from guaranteed to work.
How can piggybacking raise my score?
Here's the basic idea: As a cardholder makes on time payments on a card, the card's provider reports that cardholder's payment history to the credit bureaus. This, in turn, increases their credit score.
Now, let's say that cardholder adds you to their card as an authorized user. The provider may then report the card's account activity for you as well. If you're lucky, the card's entire payment history shows up on your credit report and raises your credit score.
Without doing much, your credit score goes up. That's piggybacking in a nutshell.
Piggybacking is often used for two reasons:
Forward-looking parents want to help their kids build credit early. You can't get a credit card before you're 18. But piggybacking can be a way for kids to get a head start on building credit. Many personal-finance experts recommend it, and the credit industry is mostly OK with it.
People with shaky credit looking to boost their scores. Someone might piggyback off a stranger's card to temporarily raise their credit score. This could be helpful if, say, they're applying for a car loan soon and want a lower interest rate.
Is piggybacking legal?
The legality of piggybacking is unclear. Many banks frown on it — especially when it's between strangers. They might even argue it constitutes fraud. However, the government hasn't given an official ruling.
Providers seem to be more accepting for piggybacking among family members. More controversial is credit-repair companies that attempt to leverage the practice for profit.
Such a company pairs two strangers — one with a credit card and good credit score, the other who wants to become an authorized user. Then, it acts as the middleman in a for-profit transaction.
The authorized user pays a fee to be added to the other person's account, and the cardholder gets a cut of that fee.
Does piggybacking actually work?
Piggybacking isn't always effective. Some providers don't report payment activity for authorized users. Even if you find a provider that does, it might not consistently do so. If you'd like to try piggybacking, call the card provider and ask about their reporting.
When piggybacking does work, it can produce noticeable results. Many parents have helped their children build strong credit scores before age 18. And a stranger on someone's card account could see a significant jump in their credit score — though it'll only last as long as they remain an authorized user.
For another option to build credit, consider a secured credit card.
Compare secured credit cards
Which card issuers allow authorized users?
Some issuers only allow spouses as authorized users. However, all major card providers allow authorized users with almost no restrictions. Most commonly, the individual you add to your account must be at least 13 years old.
If you're getting a card from a big bank, chances are good that your provider reports card activity for authorized users.
Which providers help authorized users build credit?
Credit card providers that report account activity for authorized users include:
American Express
Barclays
Bank of America
Capital One
Chase
Citi
Discover
US Bank
Wells Fargo
Can I boost another person's credit score for a fee?
If you have a good credit score and need extra cash, you could add users who need to boost their credit. The most common way to do this is through a credit-repair company that offers tradelines — or credit accounts — for sale.
Here's how it works: You rent access to your positive credit history by adding an authorized user selected by the credit-repair company. The company charges a fee to the person looking for the boost, and you receive a portion of it as payment.
Piggybacking companies
Companies that can help you with piggybacking include:
Boost My Score. BMS sells access to accounts with positive credit histories for a fee. Prices and risk are generally high, with many consumers complaining they never saw an uptick in their scores.
Tradeline Supply Company. TSC offers the same services at a much lower price point with slightly better reviews.
Credit Wealth Express. CWS uses a white-glove service for account matchups, charging a premium fee.
How much does it cost to piggyback on someone's account?
Piggybacking isn't always cheap. It could run you more than $1,000 to get on an aged, high-credit-limit account. Though it's likely the most expensive option, this type of account could potentially provide the largest boost to your credit score.
How much could I earn by allowing someone to piggyback?
If you take on an authorized user through a tradeline service, you'll often earn between $125 and $275 while that person remains on your account. The time period is typically one to two months. You might earn more if your card has a high credit limit and has been open for a long time.
Downsides of piggybacking
Consider these risks if you want to be added to someone else's account:
Privacy. You'll have to provide your legal name, date of birth and Social Security number to the person adding you as an authorized user.
It might not work. Though most major providers report payment activity for authorized users, credit-scoring models might not incorporate your piggybacking into your credit score.
Piggybacking may not get you what you want. Many people piggyback for a temporary credit-score boost before applying for a loan or other credit product. Even if your score increases, you can't be sure you'll be approved for whatever you're applying for.
It's temporary. Eventually, you're removed as an authorized user after your piggybacking arrangement ends. That means you'll stop receiving the payment reporting that boosts your score, and your score will return to its previous level.
Taking on a piggybacker carries some risks too:
Your provider could shut down your account. This is a big potential downside. For the most part, card providers don't like for-profit piggybacking, which likely violates your terms of service.
Not all piggybacking companies are reputable. The credit-repair industry attracts less-than-honest operators. Before working with a tradeline company, make sure it's reputable.
Bottom line
Piggybacking could be an effective way to build credit, but it comes with risks and sits in murky legal waters. The safest option is to only piggyback among family. If you'd like to work with a credit-repair company, do your research and beware the pitfalls.
Frequently asked questions
Picture: Shutterstock
More guides on finder