Some refunds yet to be made after thousands of Brits charged twice in card glitch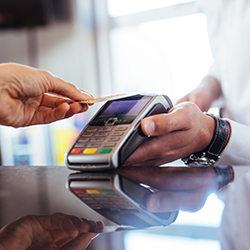 Some customers are still waiting for refunds after thousands were charged twice for payments.
Many Brits who used their debit or credit card to pay at shops, pubs and restaurants on 29 August found duplicated transactions appearing on their statements.
The issue was down to Cardnet, a payment system run by Lloyds Bank and First Data, which is used by many businesses to process over 1.2 billion transactions every year.
Lloyds Banking Group said the error affected just under 5% of Cardnet transactions made during a short period on 29 August and all customers had now been "automatically refunded".
However, many non-Lloyds customers have complained they were charged twice, with some are still waiting for a refund a week later.
Among those, some on Twitter claimed the issue had made them overdrawn, resulting in unexpected bank fees and charges.
Architect Phil Miller said the glitch affected him and his work colleagues when they bought food and drink at The Horseshoe pub in Hampstead, north London, on 29 August.
Although some of his colleagues with Tesco and John Lewis cards have since been refunded their duplicate transactions, Phil was still waiting for NatWest to refund him his debit card transaction on 5 September.
Phil said: "I only realised I had been charged when my one of my colleagues alerted me. I tried calling NatWest on my lunch break to find out how to get my money back, but was kept on hold for ages and didn't get to speak to a human. It's frustrating it's taking so long to rectify."
However, NatWest has been advising customers on its official Twitter help page that "recovery actions are underway to reverse all duplicate transactions, this should be done between today/tomorrow (5-6 September). Apologies again for any inconvenience caused".
Cardnet apologised to customers on its website, saying: "We continue to work closely with all parties to resolve this issue swiftly."
If you're fed up with your high street bank, why not explore opening an account at one of the rising new digital banks.
What to do if you're affected
First of all, check your bank statement to check you've definitely been charged twice. It could help if you've still got the receipts for the disputed transactions.
Cardnet said it would be automatically refunding all affected customers, but if you're still waiting, contact the bank or card provider directly which you used to make the payment.
If the duplicated transactions have caused financial problems for you, such as going into an unarranged overdraft or missing a bill payment deadline, keep all your receipts and statements. You may need these when you contact your bank to dispute any extra charges you may have received as a result.