Mortgage on benefits: The lenders that accept benefits
It is still possible for you to get a mortgage if you're on benefits. Many lenders will take government benefits into account when calculating your affordability.
Check eligibility for a mortgage on benefits
No upfront fee
Whole market broker
Access to exclusive rates
First class support
Our guide outlines the key things to consider if you're trying to get a mortgage while receiving government benefits, including which benefits are usually accepted as income, what different lenders' policies say and what home ownership schemes are currently available.
Think carefully before securing debts against your home. Your home may be repossessed if you do not keep up repayments on your mortgage.
Can I get a mortgage on benefits?
Yes, you can get a mortgage when receiving benefits. When assessing your mortgage application, a lender's biggest concern is the amount and stability of your income – and many are happy to consider government benefits as a source of income.
Therefore, as long as you can afford a mortgage, there is no reason why being on benefits should stop you applying for one.
The biggest hurdle for many mortgage applicants is that their benefits are often used to supplement a low income. If you're in that position, check out our guide on getting a mortgage with a low income.
Which income sources qualify for a mortgage?
As well as income from an employer or your own business, many lenders will take government benefits into account when calculating your affordability.
These include the following:
Attendance Allowance
Bereavement Support Payment (BSP)
Carer's Allowance
Child Benefit
Child Tax Credit
Employment and Support Allowance (ESA)
Industrial Injuries Disablement Benefit (IIDB)
Maternity Allowance
Personal Independence Payment (PIP)
Pension Credit
Universal Credit
Working Tax Credit
Some mortgage lenders will only consider these benefits as income if you're also employed or retired. A few won't consider them at all.
The easiest way to find a lender who will take your benefits into account is to work with a mortgage adviser. These professionals have detailed knowledge of lenders' individual eligibility criteria and will be able to point you towards the best lender that's willing to work with you.
Mortgage options if you're disabled or ill
Your physical health won't play a role in a lender's decision on your mortgage application. In fact, it's illegal for it to alter its offer based on your health.
However, a lender will place a lot of weight on your income, and this is why a lot of ill or disabled mortgage applicants struggle to secure a deal.
If your health is too poor for you to work, it could be difficult to earn enough to be approved for a mortgage, but it's not impossible.
Can disability benefits count towards a mortgage?
Mortgage lenders will make a calculation on the maximum amount you can borrow based on your annual income.
However, not all mortgage lenders will consider disability benefits when assessing your income. Some will flat-out refuse to accept these payments as income, while others will only consider these benefits if you're also employed or retired.
If disability benefits make up the majority of your income, it's worth only approaching lenders who will consider these payments.
The easiest way to find these lenders is by using a mortgage adviser. These individuals have specialist knowledge about the inner workings of lenders' eligibility assessments and will be able to recommend to you the deals that you're most likely to be approved for.
Home ownership schemes for disabled people
If you receive disability benefits, there are a couple of home ownership schemes available for you as part of the government's affordable housing scheme.
HOLD – (Home ownership for people with a long-term difficulty). This scheme works similarly to shared ownership, but a local housing association will buy the remaining share of the property. It's the housing association that negotiates with the seller and mortgage lender on your behalf.

You can only apply for this scheme if traditional shared ownership properties do not suit your needs.

My Safe Home. A similar shared ownership scheme for disabled people, albeit with stricter eligibility criteria and added fees. This is only suitable for people who are too disabled to work.
There is nothing stopping disabled people from applying for a mortgage through normal means, provided they can afford it. In fact, it's illegal for lenders to discriminate against applicants based purely on their disability.
Mortgage lenders' policies on applicants with disabilities
Below, you'll find information from July 2021 about how some major UK banks and building societies can help out mortgage applicants with disabilities.
Provider
How it can help
Compare
Aldermore Bank

Allowable income for applicant applying for a residential mortgage must be at least £10,000 per year.
When applying for a mortgage, up to 50% benefit income can be shown using Disability Living Allowance, Incapacity Benefit, Severe Disability Allowance, Industrial Injuries Disablement Benefit or Personal Independence Payment.

Compare with broker
Barclays

Accepts a variety of disability benefits such as Disability Living Allowance/PIP, Incapacity Benefit, Disability Working Allowance, Industrial Injuries Disablement Benefit, Employment and Support Allowance.
Disability benefits can be counted as 100% of your primary income.
You must bring in your latest DWP statement of benefits and latest bank statement clearly identifying the source of income.

Compare with broker
Coventry Building Society

The lender's website lists disability benefits as one of its "Unacceptable Sources of Income".

Compare with broker
Halifax

Disability Living Allowance can count towards income, but only as additional/other income and not as the primary income.
Income Payment Protection (for Scottish Widows only) can be counted as Disability Living Allowance and listed as an additional/other form of income.
Applicant must provide a benefit award letter or latest bank statement.

Compare with broker
HSBC

Accepts disability allowances in the following forms, providing they are of a long-term nature: Disability Living Allowance, Disability Income Support, Industrial Injuries Disablement Benefit, Personal Independence Payment and Universal Credit.
Applicant must provide a statement or letter from the DWP dated within the last 12 months, plus the latest month's bank statement.
For Universal Credit, a breakdown of benefits and who they are payable to must be provided.

Compare with broker
Nationwide Building Society

Applicants whose income is primarily made up of disability or other benefits are likely to be denied, according to Nationwide's website. Disability benefits must be keyed in as "Other Income" when applying.

Compare with broker
Natwest

Disability Living Allowance can be listed as a source of income.

Compare with broker
Royal Bank of Scotland

Disability Living Allowance can be listed as a source of income.

Compare with broker
Santander

Disability benefits can be accepted as primary income if benefit is indefinite.
Disability benefits will be accepted as secondary income, if they have to be renewed frequently.
DWP letter will be required to confirm the amount and benefit type.

Compare with broker
Virgin Money

Disability Living Allowance, Employment and Support Allowance and Disabled Persons Tax Credit are accepted forms of income from employed applicants.

Compare with broker
Yorkshire Bank

The lender has no set policy for accepting or rejecting disability benefits. Every application is considered on a case-by-case basis.

Compare with broker
Home ownership schemes for people with low incomes
The government has created a range of schemes to help people with low incomes be able to step onto the property ladder. Taking advantage of these will make it easier to have a mortgage application approved.
Help To Buy equity loans. This scheme allows you to borrow up to 20% of a property's value from the government to put towards your mortgage deposit. You'll only need to stump up 5% of the property's value yourself, potentially allowing you to secure a 75% mortgage with very little down payment. The equity loan is interest-free for 5 years, and you'll only need to pay it back once you've sold the house or completed your mortgage term.
Right To Buy. If you live in a council or housing association property, you may be able to buy it at a huge discount using Right To Buy. You'll need to have lived in the property for at least 3 years to be eligible, but you'll get a bigger discount the longer you've lived there. You can apply to buy the property from your landlord via the Right To Buy website.
Starter homes. The government has worked with house-building companies to construct hundreds of thousands of Starter Homes, available at 80% of their market value. You can register your interest in this scheme via the government's Starter Homes website.
How to get a mortgage on benefits: A summary checklist
1. Work out your income, including any benefits you receive.
2. Research the benefits-related lending policies of different mortgage lenders before you apply.
3. Consider using a mortgage broker if you want to save some research time or explore the wider market.
4. If you can't get a mortgage to buy a house outright, consider any shared ownership schemes that may be open to you.
5. You could also look at buying a house jointly with someone else to boost your borrowing capabilities (although remember your finances will be linked to theirs if you buy a property together).
How to boost your chance of mortgage approval
Borrow less.

The lower the amount you apply to borrow from a mortgage lender, the more likely you are to be approved for the loan. A smaller mortgage means lower repayments that you're more likely to be deemed able to afford. You can borrow less by saving a bigger deposit, looking to move into a cheaper house or taking advantage of the schemes listed above.
Reduce your outgoings. Lenders will check your recent bank statements to make sure you're able to afford your mortgage repayments. By reducing your regular outgoings now, you'll come across as a more viable prospect. Start by haggling over the cost of your utility bills and paying off any debt you're paying interest on.
Apply jointly. You can apply for a mortgage jointly with up to 3 other people. All of your incomes will be considered jointly during affordability assessments, so this should dramatically increase the size of the mortgage deemed affordable to you. Bear in mind that you'll be jointly responsible for clearing mortgage debt, even if only one of you has stopped making repayments. What's more, all homeowners will have to agree on when the property is going to be sold.
The bottom line
It is possible to get a mortgage when you're in receipt of benefits, although the total amount you can borrow will depend on your overall income, including those benefits and any salary you may have coming in. You can widen your options by looking at any relevant home ownership schemes or by buying jointly with someone else. Different lenders will have different applicant criteria and different benefits documentation they will accept, so it could be beneficial to use a mortgage broker who will have a broader knowledge of lending criteria and access to many mortgage products on the market.
If you are on certain types of benefit, you may also qualify for a Support for Mortgage Interest (SMI) loan from the Department of Work and Pensions (DWP). This helps pay towards the interest on your mortgage, and you can apply if you own your home or if you're in a shared ownership scheme.
Citizens Advice
says: "The DWP will charge interest on the SMI loan – this means you'll pay back more than you borrowed. Even though you'll pay interest, it could be cheaper than other ways of borrowing money. You'll need to pay back the loan, but usually only when you sell your home or give it to someone else."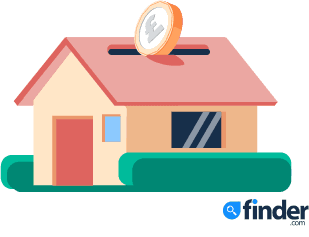 From February 2020 to May 2020, mortgage approval rates fell by 87%.
For more property-related statistics, download the PDF below.
We show offers we can track - that's not every product on the market...yet. Unless we've said otherwise, products are in no particular order. The terms "best", "top", "cheap" (and variations of these) aren't ratings, though we always explain what's great about a product when we highlight it. This is subject to our
terms of use
. When you make major financial decisions, consider getting independent financial advice. Always consider your own circumstances when you compare products so you get what's right for you.