Are loyalty points all they're cracked up to be?
There is such a thing as a "free lunch", but you'd need to spend between £300 and £600 to get it.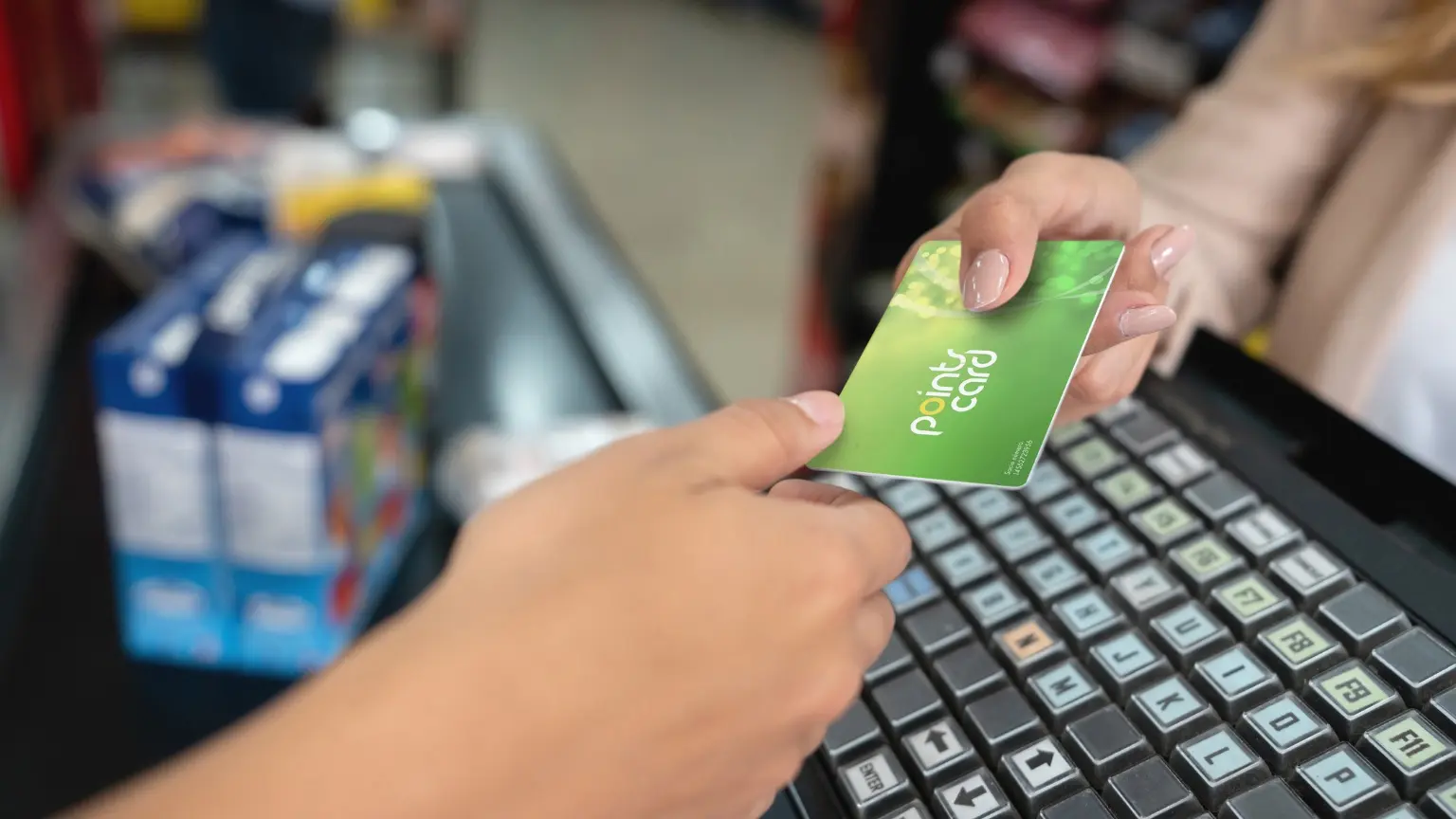 As consumers, we all love free stuff, just as much as retailers love the opportunity to nail down our shopping loyalty. Many retail chains around the UK have combined these two aspirations by promising free rewards to customers the more often they shop. Like credit cards, you collect points that then translate to vouchers, which you can use in the store when doing your shopping.


But are the most popular loyalty point schemes from Sainsbury's, Tesco and Morrisons good value, and just how much do you have to spend to qualify for a "free lunch"?
Quick overview
A free weekly shop, you'd have to spend £10,300 on average at the UK's biggest supermarkets
Customers would have to spend a hefty £12,400 at Sainsbury's or Morrisons to earn enough points to buy one weekly grocery shop there.
Buying an electric toothbrush with loyalty points would require an eye-watering average spend of £10,700 to generate enough rewards.
In order to get a free meal deal for lunch at the 3 shops we looked at, you'd have to spend between £300 and £600 using their rewards schemes.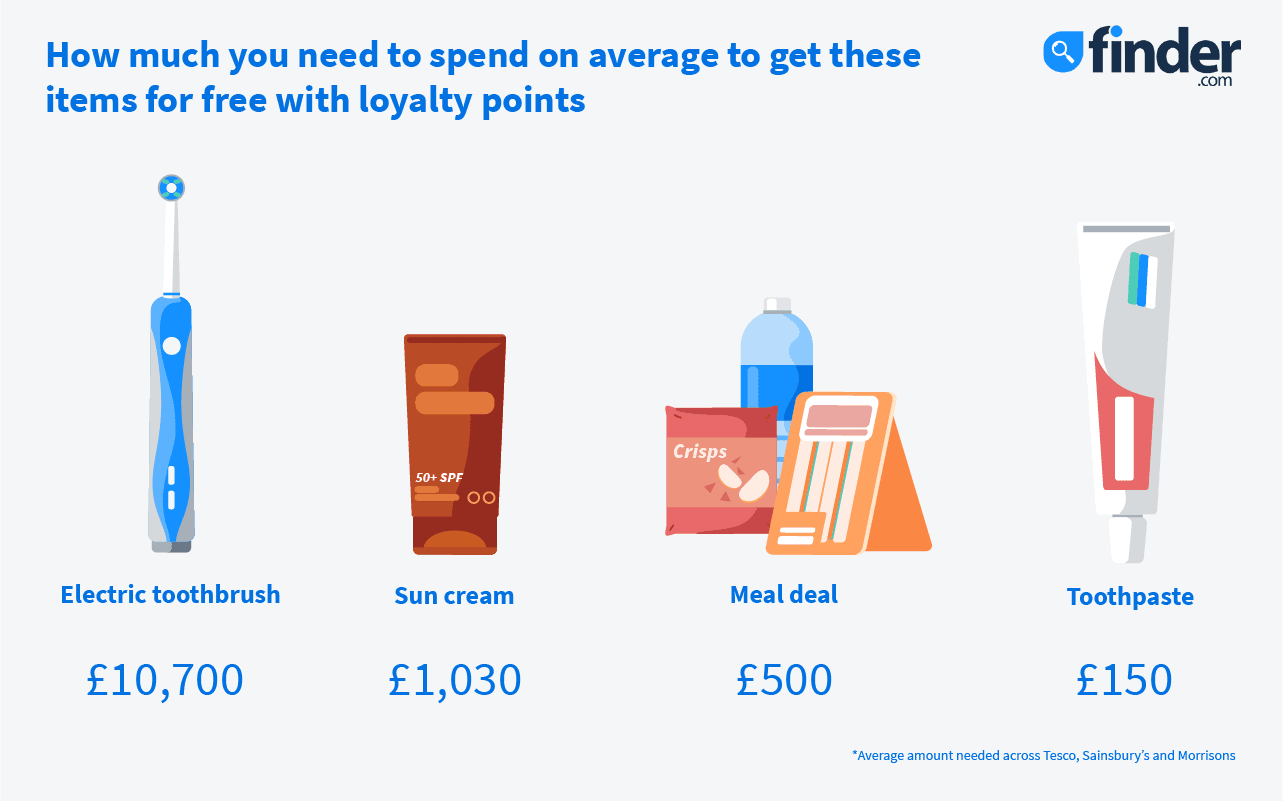 Which rewards programme is the best?
According to ONS, the average UK household spends £3,224 on food per year.
Based on that number, someone would have to fork out £12,400 (which would take nearly four years) at Sainsbury's or Morrisons before they earned enough loyalty points to get one weekly shop worth £62 for free. This is because the loyalty schemes at both of these supermarkets give you 0.5p for every £1 spent.
Tesco fares a little better, rewarding shoppers with 1 point for every £1 spent and turning that point into the equivalent of 1p to spend in-store or online. So a customer would need to spend £6,200 (or shop there for nearly two years) to land their free weekly shop.
| Supermarket | Card | Points per £1 spent | 1 point's value |
| --- | --- | --- | --- |
| Sainsbury's | Sainsbury's Nectar Card | 1 | £0.005 |
| Tesco | Tesco Clubcard | 1 | £0.010 |
| Morrisons | Morrisons More | 5 | £0.001 |
How much you'd need to spend to bag a free item
If you're more interested in saving up your loyalty points to walk away with a specific item for free, then you could also be in for a long wait.
Morrisons and Sainsbury's would require a £12,000 spend for you to bag that £60 electric toothbrush you've got your eye on. You'd need to part with £8,000 at Tesco (where the same toothbrush costs £80).
At the other end of the spectrum, a tube of Colgate Cavity Protection Toothpaste to use with the electric toothbrush would set you back £200 at Morrisons. In Sainsbury's and Tesco (where this toothpaste is priced at 80p), building enough reward points would cost the equivalent of £160 and £80 respectively.
| Store | Meal deal | Electric toothbrush | Nivea Q10 | Colgate Cavity protection | Piz Buin Sun cream |
| --- | --- | --- | --- | --- | --- |
| Morrisons | £600 | £12,000 | £2,200 | £200 | £1,200 |
| Sainsbury's | £600 | £12,000 | £1,800 | £160 | £1,300 |
| Tesco | £300 | £8,000 | £1,100 | £80 | £600 |
| Average | £500 | £10,667 | £1,700 | £147 | £1,033 |
The true cost of a "free lunch"
A lunch meal deal (typically including a sandwich, a drink and a snack) costs £3 in Morrisons, Sainsbury's and Tesco. 

So how much would your rewards-bought "free lunch" actually cost you?
Well, in Morrisons and Sainsbury's, you would have to rack up a £600 spend before you had enough loyalty points to redeem a free lunch. In Tesco, it would cost £300 to generate the reward points needed before you could chow down on your free meal deal.
| Store | Spend for a free lunch |
| --- | --- |
| Tesco | £300 |
| Morrisons | £600 |
| Sainsbury's | £600 |
For all media enquiries, please contact
Sources
Tesco
Sainsbury's
Morrisons