Fiat currencies

21

Supported assets

76
Our verdict
Trade a wide range of cryptocurrencies on this popular social trading platform.
Finder Awards 2023 winner
Creating a platform that is suitable for both beginners and advanced cryptocurrency traders is a difficult task, but eToro Crypto has done an admirable job. eToro has created one of the most active social trading networks in the world and finds a good balance between complex features and an intuitive UI. However, the exchange fees can be crippling and make it a less optimal choice for non-US users.
eToro is secure and user-friendly. Its intuitive UI and copy trading make it a brilliant choice for beginners. However, our main concerns are its high trading fees and its limited selection of altcoins. If you're looking for a simple and easy way to get started in crypto, then eToro is a solid option. That said, if you've been around crypto for a while and are comfortable with advanced UIs, you may find a better option elsewhere. If that sounds like you, read our best crypto exchanges comparison to discover the best crypto exchanges around.
Pros
Copy trading features

Well-trusted exchange

FCA registered

Easy to navigate

Insurance fund

Tiered membership options for advanced traders
Cons
No live chat for customers without a deposit

Higher spreads than other exchanges

Non-US customers pay extra exchange fees

Limited altcoin representation
Product Name
eToro UK Cryptoasset Investing
Fiat Currencies
EUR, GBP, NZD, USD, AUD, CAD, HKD, SGD, CHF, NOK, RMB, THB, IDR, MYR, VND, PHP, SEK, DKK, NOK, PLN, CZK, PEN, MXN, QAR, BHD, OMR, AED
Cryptocurrencies
BTC, ETH, BCH, XRP, DASH, LTC, ETC, ADA, MIOTA, XLM & 67 more
Deposit Methods
Bank transfer
Debit card
eToro Money

Trading Fee
1% plus spread
Deposit Fees
None
Withdrawal Fees
$5 (min. withdrawal $30)
Don't invest unless you're prepared to lose all the money you invest. This is a high-risk investment and you should not expect to be protected if something goes wrong. Take 2 mins to

learn more

.
Estimated reading time: 2 min
Due to the potential for losses, the Financial Conduct Authority (FCA) considers this investment to be high risk.
What are the key risks?
1. You could lose all the money you invest
The performance of most cryptoassets can be highly volatile, with their value dropping as quickly as it can rise. You should be prepared to lose all the money you invest in cryptoassets.
The cryptoasset market is largely unregulated. There is a risk of losing money or any cryptoassets you purchase due to risks such as cyber-attacks, financial crime and firm failure.
2. You should not expect to be protected if something goes wrong
The Financial Services Compensation Scheme (FSCS) doesn't protect this type of investment because it's not a 'specified investment' under the UK regulatory regime – in other words, this type of investment isn't recognised as the sort of investment that the FSCS can protect. Learn more by using the FSCS investment protection checker.
The Financial Ombudsman Service (FOS) will not be able to consider complaints related to this firm or Protection from the Financial Ombudsman Service (FOS) does not cover poor investment performance. If you have a complaint against an FCA regulated firm, FOS may be able to consider it. Learn more about FOS protection here.
3. You may not be able to sell your investment when you want to
There is no guarantee that investments in cryptoassets can be easily sold at any given time. The ability to sell a cryptoasset depends on various factors, including the supply and demand in the market at that time.
Operational failings such as technology outages, cyber-attacks and comingling of funds could cause unwanted delay and you may be unable to sell your cryptoassets at the time you want.
4. Cryptoasset investments can be complex
Investments in cryptoassets can be complex, making it difficult to understand the risks associated with the investment.
You should do your own research before investing. If something sounds too good to be true, it probably is.
5. Don't put all your eggs in one basket
Putting all your money into a single type of investment is risky. Spreading your money across different investments makes you less dependent on any one to do well.
A good rule of thumb is not to invest more than 10% of your money in high-risk investments.
If you are interested in learning more about how to protect yourself, visit the FCA's website here.
For further information about cryptoassets, visit the FCA's website here.
Finder ratings for eToro Crypto
| | |
| --- | --- |
| Supported cryptocurrencies | ★★★★★ |
| Transferring money or assets | ★★★★★ |
| Fees and costs | ★★★★★ |
| Ease of use | ★★★★★ |
| Customer service | ★★★★★ |
| Features | ★★★★★ |
| Staking/earn rating? | N/A |
| Trustworthiness/security | ★★★★★ |
| Overall score | ★★★★★ |
What is eToro Crypto?
eToro Crypto is an experienced player in the digital trading market, having been founded in 2007. Though it started in Tel Aviv, Israel, eToro has gone international, with headquarters in Cyprus, the UK, the US and Australia among others.
The platform is known for its wide range of features, notably its CopyTrader feature for "social trading". This gives users the ability to track, interact with and copy other traders on eToro. In that sense, eToro is like social media for investors.
The fee structure can be confusing, and there isn't the huge range of cryptocurrencies that you might see on other popular exchanges. However, eToro compensates by presenting its users with a suite of advanced features.
eToro also offers stocks and shares – we've reviewed its share trading platform in a separate eToro review.
eToro UK is registered with the UK financial regulator, the Financial Conduct Authority (FCA). Crypto trading isn't regulated, but the FCA keeps a register of firms and they must pass checks for anti-money laundering and anti-terrorism activity.
If this is your first exchange: eToro's social trading feature is naturally appealing for first-time traders as it gives you a sense of what experienced investors are looking for. However, this can be dangerous for beginners as it discourages independent research. If you simply want to buy and sell major cryptocurrencies, eToro is a fine option.
If you're switching exchanges: More experienced users will find features like the training academy and free demo account useful, allowing them to deepen their understanding of crypto trading. That said, the fee structure isn't completely transparent and trading on the platform can be a bit pricier than some alternatives.
What to know about eToro Crypto
eToro uses spreads in its pricing. Spreads are the difference between a buy and sell price – which essentially becomes a fee on all cryptocurrency trades. Additionally, all transactions made on the platform are done in US dollars. This means that deposits and withdrawals in different currencies are subject to exchange rates, which can slash potential profit margins for lower-volume traders.
eToro's CopyTrader for crypto
eToro's CopyTrader feature doesn't just let you view and mirror someone else's trades. Instead, think of it like investing in that user. It's an automated process that follows the copied trader's positions, whether new or historic (but active). That said, copiers can manually close specific trades or stop the copy-trading process at any time.
Supported fiat currencies: EUR, GBP, NZD, USD, AUD, CAD, HKD, SGD, CHF, NOK, RMB, THB, IDR, MYR, VND, PHP, SEK, DKK, NOK, PLN, CZK, PEN, MXN, QAR, BHD, OMR, AED
Supported cryptocurrencies: Approximately 76 cryptocurrencies
eToro fees and costs for crypto
With eToro, you'll pay a withdrawal fee of US$5, along with an exchange fee for deposits/withdrawals in fiat currencies other than US dollars.
Fiat withdraw and deposit fees
| Deposit | Withdrawal |
| --- | --- |
| 0.5% conversion fee for non-US$ | US$5 + conversion fee |
eToro is known for providing commission-free trading to its customers on stocks and commodities. Instead of charging commission, its cryptocurrency fee structure relies on variable "spreads" that can be as high as 4.9% on trades.
| Cryptocurrency | Spread |
| --- | --- |
| Bitcoin (BTC) | 0.75% |
| Ethereum (ETH) | 1.90% |
| Bitcoin Cash (BCH) | 1.90% |
| Ripple (XRP) | 2.45% |
| Dash (DASH) | 2.90% |
| Litecoin (LTC) | 1.90% |
| Ethereum Classic (ETC) | 1.90% |
| Cardano (ADA) | 2.90% |
| IOTA (MIOTA) | 4.50% |
| Stellar (XLM) | 2.45% |
| EOS (EOS) | 2.90% |
| NEO (NEO) | 1.90% |
| Tron (TRX) | 3.50% |
| ZCASH (ZEC) | 3.50% |
| Binance Coin (BNB) | 2.45% |
| Tezos (XTZ) | 5.00% |
| Compound (COMP) | 3.90% |
| Chainlink (LINK) | 3.90% |
| Uniswap (UNI) | 3.90% |
| Yearn Finance (YFI) | 2.90% |
| Dogecoin (DOGE) | 2.90% |
| Aave (AAVE) | 3.90% |
| Algorand (ALGO) | 3.90% |
| Decentraland (MANA) | 4.90% |
| Basic Attention Token (BAT) | 2.90% |
| Polygon (MATIC) | 3.90% |
Transferring fiat and cryptocurrency
eToro Crypto offers close to the broadest range of fiat withdrawal/deposit options of any cryptocurrency exchange. Customers from nearly every supported nation will find an instant web transfer option available to them.
Transferring cryptocurrency to eToro's external wallet is much less efficient and can take up to 5 business days. It's also worth noting that you cannot transfer cryptocurrencies from the eToro wallet back onto the exchange. Also, that etoro's token conversion service is no longer available, so you're unable to convert any cryptoassets held on the wallet to other cryptocurrencies.
You can, however, send and receive supported cryptocurrencies from other wallets using the eToro Money crypto wallet.
What is it like to use eToro Crypto?
User dashboard
The dashboard is the first thing you will see when you log into your eToro account. It works a lot like a news feed and provides you with updates on your social circle.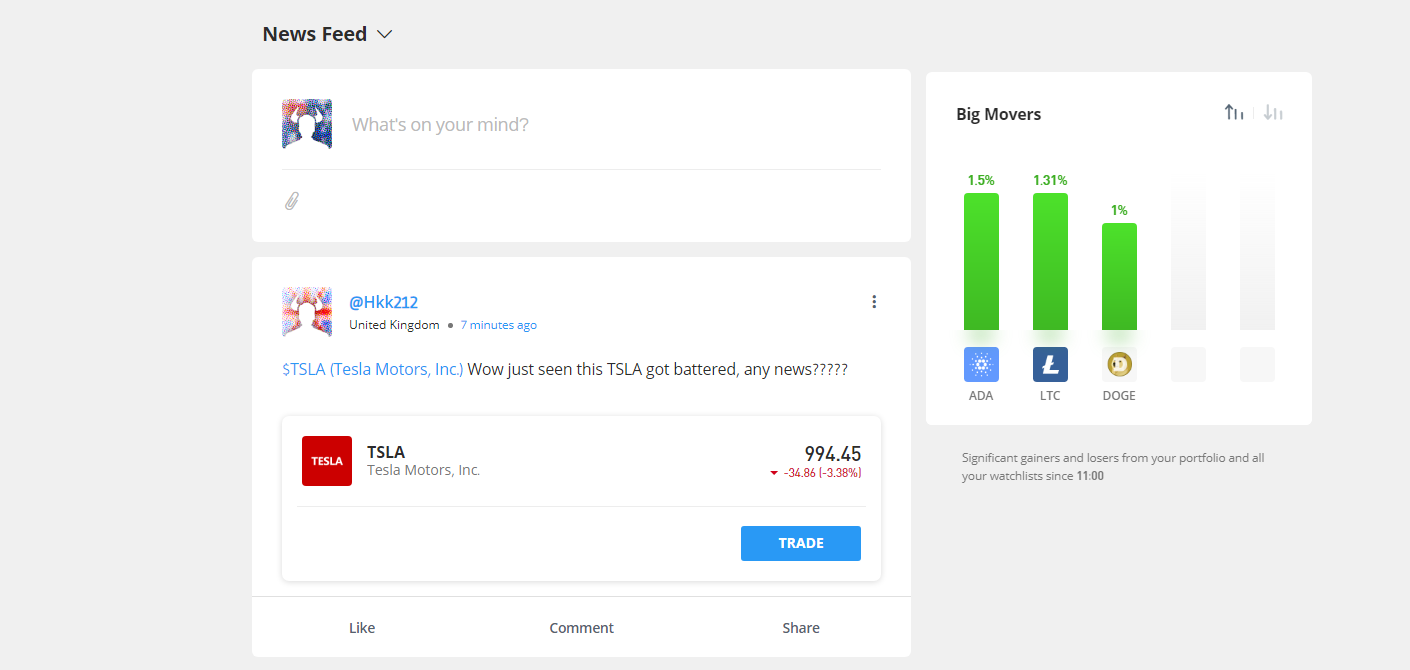 Customer service
Users can find answers to the most common questions as well as access live support on the same page.
Markets
eToro users can refine their "watchlist" to a specific set of assets. Once set, they can watch the market move live, without having to constantly refresh the page.
eToro Money card
Users can sign up for an eToro Money account card, which lets them make transactions across the globe. This feature is only available for UK users.

Virtual trading
eToro offers its customers $100,000 fake dollars to "virtually trade". This gives newcomers trading experience without putting themselves at risk of financial loss.
Does eToro have good customer support?
eToro offers live customer support for users that have deposited money into their accounts.
They also run a "ticket system", where you can email unique enquiries to the team who will typically reply within 24 hours.
A thorough help centre exists that will answer most questions.
| | Support offered | Wait times |
| --- | --- | --- |
| Contact us form | | 6+ hours |
| Live chat | | |
List of services on eToro Crypto
Earning on eToro
eToro gives its customers the option to stake their crypto assets. This process is done by the eToro team on behalf of the user and is only available for a select few cryptocurrencies (Ethereum, Cardano and Tron).
Visa on eToro
British eToro members that have subscribed to their Club program are given access to a debit card associated with their eToro Money accounts. These cards can be used like any normal Visa – internationally, digitally and in-store.
Trust rating
eToro UK is registered with FCA. Registered firms have to pass checks for anti-money laundering and anti-terrorism activity.
eToro is a trustworthy platform with excellent security measures in place to prevent fraud and theft. It has been running for 15 years without a major hacking or fraud incident. eToro undertakes regular third-party audits and offers insurance to all of its clientele.
Past hacks
No hacks have ever taken place on the eToro platform.
Security Audits
eToro has a dedicated audit and risk committee. Also, its financial records are frequently audited by Ernst & Young.
Insurance
eToro provides all of its clients with free insurance from specialist insurer Lloyd's of London. This covers theft, hacking and insolvency losses up to $1 million.
Signing up on eToro Crypto
Step 1
Getting started is simple. Navigate to the eToro home page and select "Sign up" and then fill out the relevant details.
Step 2 (KYC)
Next, verify your email address and begin the KYC (know your customer) process.
This includes the following:
Filling out your residential address and passport number.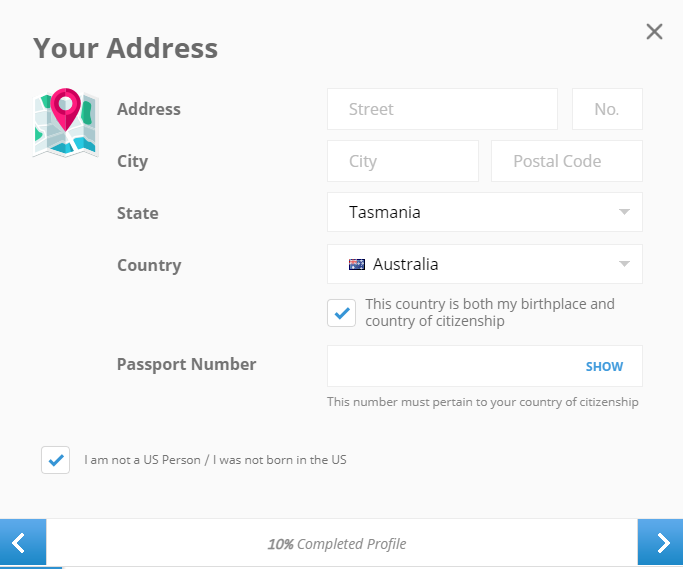 Typically, this will be enough to get verified on eToro. Occasionally, this process will fail and you will need to provide images of government-issued identification like a driver's licence or passport.
Step 3
Complete your profile by answering the "Trading Knowledge Assessment" questionnaire. This process determines how experienced you are and therefore what products and features eToro will offer you.
Step 4
Once eToro has verified your account, you will be able to begin trading.
Compare eToro Crypto to other cryptocurrency exchanges
Table: shows partner brands and other brands, sorted by popularity
Crypto is unregulated in the UK; there's no consumer protection; value can rise or fall; tax on profits may apply*.
Crypto platform news & launches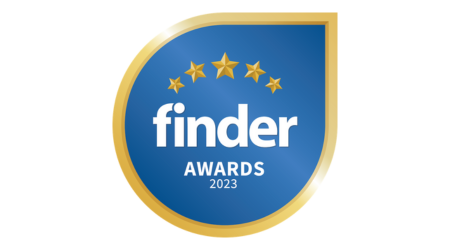 These awards recognise the crypto providers displaying the best innovations in their field.
Read more…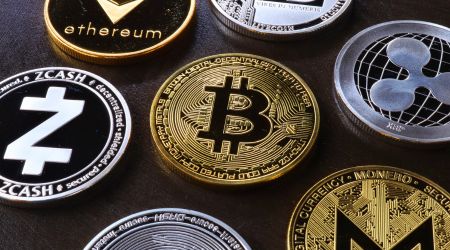 The new crypto Travel Rule came into force on 1 September 2023 – find out what it is and what it could mean for you.
Read more…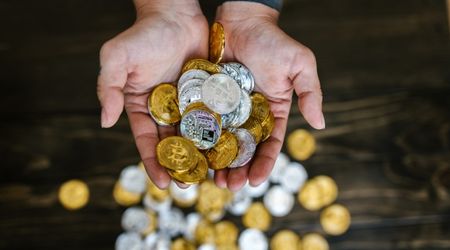 Binance has suspended pound sterling deposits and withdrawals – find out what this means for its UK customers.
Read more…
Frequently asked questions
* Cryptocurrencies aren't regulated in the UK and there's no protection from the Financial Ombudsman or the Financial Services Compensation Scheme. Your capital is at risk. Capital gains tax on profits may apply. Cryptocurrencies are speculative and investing in them involves significant risks - they're highly volatile, vulnerable to hacking and sensitive to secondary activity. The value of investments can fall as well as rise and you may get back less than you invested. Past performance is no guarantee of future results. This content shouldn't be interpreted as a recommendation to invest. Before you invest, you should get advice and decide whether the potential return outweighs the risks. Finder, or the author, may have holdings in the cryptocurrencies discussed.