What is Ethereum Classic? The DAO, DApps and The Hard Fork
Born out of a hack and a philosophical disagreement in the Ethereum community, Ethereum Classic has become one of the top cryptocurrencies on the market.
$28.28
Starting life as Ethereum, Ethereum Classic (and its value token, ETC) is the result of a long debate over how cryptocurrencies should handle disagreements within the community and data hacks. That does not mean it's in any way a lesser entity than Ethereum. On the contrary, the community behind Ethereum Classic aims to make Ethereum Classic the best cryptocurrency on the market.
Learn more Buy Ethereum Classic
Disclaimer: This information should not be interpreted as an endorsement of cryptocurrency or any specific provider, service or offering. It is not a recommendation to trade.
What is Ethereum Classic?
Ethereum Classic is an open-source, peer-to-peer, computing platform based on blockchain technology and the original Ethereum code. Just like Ethereum, it provides a value token, or "altcoin", called "classic ether" which is used to pay users for products and services, and as a transaction fee when using decentralised apps and smart contracts.
| Icon | Symbol | Initial release date | Algorithm type | Max. supply |
| --- | --- | --- | --- | --- |
| | ETC | 30 July 2015 | SHA3 | 210-230 million ETC |
The story behind The DAO attack and subsequent hard fork
The decentralised autonomous organisation (The DAO) was a venture capital fund built on the Ethereum platform. It was meant to allow users to invest in the development of decentralised apps to run on the Ethereum blockchain.
By May 2016, The DAO had accumulated over US$150 million and was ready to begin its operations. Then a paper was released detailing a security flaw in the DAO architecture. Developers of The DAO ignored the concerns raised and moved forward with their operations.
In June 2016, The DAO was hacked using the same security flaws outlined in the paper and approximately US$50 million were stolen.
This hack and the debate that followed it caused a schism in the Ethereum community. On one hand, Ethereum developers could revert the hack back, returning all Ether coins to their respective owners. On the other hand, the very core philosophy of cryptocurrency is that the transactions cannot be edited and cannot be deleted.
As a result, Ethereum underwent a hard fork, copying and modifying the main code to revert the DAO hack. Meanwhile, the main code remained as is, and the community began calling it "Ethereum Classic". Since then, Ethereum and Ethereum Classic have been operating as separate coins while sharing the same goals and vision: to become the world's first decentralised computing platform.
How is Ethereum Classic different from bitcoin?
As a platform, Ethereum Classic aims to take advantage of bitcoin's blockchain technology. While the developers of bitcoin restricted the blockchain to only compute currency transactions, Ethereum Classic, like Ethereum, aims to build a decentralised computing system on top of the blockchain.
Decentralised Applications
The core goal and vision of Ethereum remains in Ethereum Classic. The aim is to build a blockchain platform that allows software developers to build applications whose databases and transactions are stored, not on a single server owned by a specific company, but on all nodes and users connected to the Ethereum Classic blockchain.
Centralised vs decentralised data
Most of everything you use on the Internet today uses a centralised database system, ie, the database is stored on a single server. While the server itself might be a collection of different machines working in tandem, the database itself is still in a central location. If a hacker were to hack into the server and change some of the information on the database (say, giving himself or herself an extra US$5 million), there would be no way to validate the changed data.
To mitigate this, most reputable companies maintain one or more backups of their data. That way, if something doesn't look right, they can compare the live database with any of the backups and notice (and revert) the discrepancy.
Decentralised apps on the Ethereum and Ethereum Classic platform share their database transactions with every user on the blockchain. Because there is now no central location in which the database resides, hackers would need to hack the databases of 51% of all users on the blockchain to be able to convince everyone that they have that extra US$5 million.
Where can I use ETC?
As of September 2017, ETC has yet to gain the widespread acceptance of its parent currency ETH. After the hard fork, the majority of merchants and market movers followed Ethereum, leaving Ethereum Classic at a disadvantage.
Nevertheless, ETC can be purchased on many online currency exchanges, and it can be held as a way to increase the value of Ethereum Classic in the eyes of merchants and service providers.
Historical pricing of Ethereum Classic
2017 has seen growth for all cryptocurrencies, and ETC is no different. From US$1.40/ETC on 1 March 2017…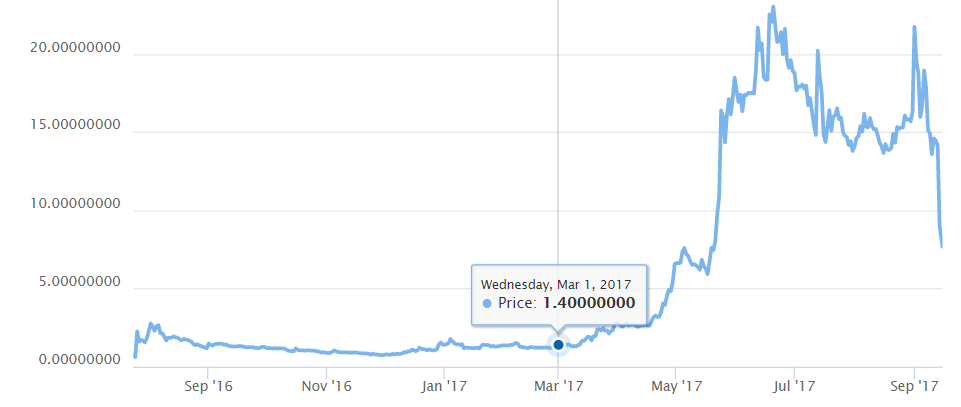 … it rose to US$23.01 by 20 June 2017.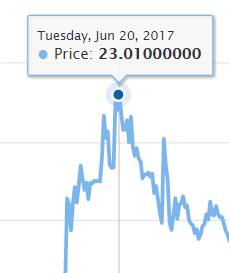 The price of ETC decreased drastically in September 2017, down to US$7.69/ETC.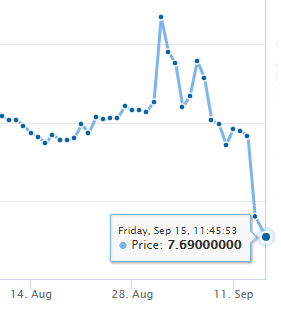 Transferring money with ETC
Classic Ether (ETC), like other altcoins, is very simple to use once you have an Ethereum Classic compatible wallet installed. You just need to take a few steps:
Install an Ethereum Classic wallet. Wallets that can access the Ethereum Classic blockchain are often able to access the Ethereum blockchain as well. Make sure you set it up correctly or you might end up sending ETC to the wrong user.
Get the recipient's wallet address. The recipient of ETC will give you a public key address, either as a string of numbers and letters or as a QR code which you can scan with your phone.
Enter the value to send. After agreeing upon an amount to send, enter the value of ETC into your wallet, ensuring that you have the required amount of funds available.
Send the money. After pressing "Send" (or the equivalent button in your wallet), the ETC amount will be deducted from your wallet and added to the recipient's. The transaction should appear immediately, but it might take about a minute to verify completely.
Getting Ethereum Classic
Table: shows partner brands and other brands, sorted by popularity
Get paid in ETC. If you're a merchant providing products or services for sale, especially if you conduct your business entirely online, there is nothing stopping you from receiving payment in ETC. Every ETC transaction helps Ethereum Classic grow, and if this causes the value of the currency to rise, so will the value of your wallet.
What to keep an eye out for
Ethereum Classic is not without its problems, many stemming from the fact that it is considered by many as a lesser fork of Ethereum.
The biggest concern users and investors have is that the "Ethereum Classic vs Ethereum" situation has created what many have dubbed a double blockchain. In a way, both the Ethereum Classic and the Ethereum blockchains are compatible with each other because they were born from the same trunk. As a result, one can attempt to access the Ethereum Classic blockchain using an Ethereum wallet and this can cause problems. For example, public wallet addresses might not belong to the same user on one chain as on the other.
This causes confusion and is detrimental to both Ethereum Classic and Ethereum itself. In fact, many Ethereum users are of the opinion that Ethereum Classic should be destroyed for the benefit of both platforms.
As such, this has caused a lot of volatility in the value of ETC and this will likely remain the case unless an agreement can be reached between both halves of the community.
What's in store for Ethereum Classic?
The future of Ethereum Classic further builds on the mantra that "the code is law". While the initial plan was to follow in the footsteps of Ethereum, Ethereum Classic will likely continue to diverge away as Ethereum continues to introduce features with which many in the Ethereum Classic community disagree. Whether this is a good or a bad thing remains to be seen.
One of the biggest divergent decisions to be taken in the near future is that of Ethereum Classic's doubling down on mining (or proof of work) being the best option for generating ETC for its users. There are indications that Ethereum may instead move towards a proof-of-stake system, where block generation is done by coin-holders instead of miners. Stay tuned.
Long term, many believe that Ethereum Classic's "immutability at all costs" philosophy (cannot be edited, cannot be deleted, even if hacked) might prove to be the better option as it is considered somewhat more secure compared to Ethereum's platform, but time will tell.
Frequently asked questions
Disclaimer: Cryptocurrencies are speculative, complex and involve significant risks – they are highly volatile and sensitive to secondary activity. Performance is unpredictable and past performance is no guarantee of future performance. Consider your own circumstances, and obtain your own advice, before relying on this information. You should also verify the nature of any product or service (including its legal status and relevant regulatory requirements) and consult the relevant Regulators' websites before making any decision. Finder, or the author, may have holdings in the cryptocurrencies discussed.
Image sources: Shutterstock, CoinMarketCap