CoinJar cryptocurrency exchange
Fiat currencies

4

Supported assets

64
Our verdict
Take your first steps into crypto with this user-friendly, if limited, exchange.
Finder Awards 2023 winner
CoinJar is ideal for beginners and long-term investors. While it started adding more advanced trading software - it doesn't compete with the likes of Binance and KuCoin. Still, CoinJar is ideal if you're looking for a quick and easy platform to get started with.
The platform also provides a transparent fee structure, a crypto debit card and a built-in wallet to keep your assets safe. However, it is important to note that CoinJar is currently only available to use in Australia and the United Kingdom. In case CoinJar isn't suitable for you, check out our deep-dive comparison of the best crypto exchanges.
Pros
Simple and easy to use platform

Built-in crypto wallet

Instant card payments

Crypto debit card
Cons
Limited services for active trading

Wait time for withdrawals

Not so great for ambitious trading strategies
Product Name
CoinJar Cryptocurrency Exchange
Fiat Currencies
GBP, EUR, AUD, USD
Cryptocurrencies
BTC, ETH, LTC, XRP, XLM, ALGO, EOS, SOL, ADA, XTZ & 55 more
Deposit Methods
Bank transfer
Credit card
Cryptocurrency
Debit card
SEPA
Faster Payments (FPS)
Apple Pay
Google Pay

Trading Fee
Maker: 0.02-0.10%
Taker: 0.06-0.10%
Deposit Fees
Cryptocurrency: No fee
FPS: No fee
Visa / Mastercard purchase (Instant Buy): 2%
Apple Pay / Google Pay purchase (Instant Buy): 2%
Withdrawal Fees
Bank transfer: No fee
Cryptocurrency: No fee
Don't invest unless you're prepared to lose all the money you invest. This is a high-risk investment and you should not expect to be protected if something goes wrong. Take 2 mins to

learn more

.
Estimated reading time: 2 min
Due to the potential for losses, the Financial Conduct Authority (FCA) considers this investment to be high risk.
What are the key risks?
1. You could lose all the money you invest
The performance of most cryptoassets can be highly volatile, with their value dropping as quickly as it can rise. You should be prepared to lose all the money you invest in cryptoassets.
The cryptoasset market is largely unregulated. There is a risk of losing money or any cryptoassets you purchase due to risks such as cyber-attacks, financial crime and firm failure.
2. You should not expect to be protected if something goes wrong
The Financial Services Compensation Scheme (FSCS) doesn't protect this type of investment because it's not a 'specified investment' under the UK regulatory regime – in other words, this type of investment isn't recognised as the sort of investment that the FSCS can protect. Learn more by using the FSCS investment protection checker.
The Financial Ombudsman Service (FOS) will not be able to consider complaints related to this firm or Protection from the Financial Ombudsman Service (FOS) does not cover poor investment performance. If you have a complaint against an FCA regulated firm, FOS may be able to consider it. Learn more about FOS protection here.
3. You may not be able to sell your investment when you want to
There is no guarantee that investments in cryptoassets can be easily sold at any given time. The ability to sell a cryptoasset depends on various factors, including the supply and demand in the market at that time.
Operational failings such as technology outages, cyber-attacks and comingling of funds could cause unwanted delay and you may be unable to sell your cryptoassets at the time you want.
4. Cryptoasset investments can be complex
Investments in cryptoassets can be complex, making it difficult to understand the risks associated with the investment.
You should do your own research before investing. If something sounds too good to be true, it probably is.
5. Don't put all your eggs in one basket
Putting all your money into a single type of investment is risky. Spreading your money across different investments makes you less dependent on any one to do well.
A good rule of thumb is not to invest more than 10% of your money in high-risk investments.
If you are interested in learning more about how to protect yourself, visit the FCA's website here.
For further information about cryptoassets, visit the FCA's website here.
Finder ratings
| | |
| --- | --- |
| Supported cryptocurrencies | ★★★★★ |
| Transferring money or assets | ★★★★★ |
| Fees and costs | ★★★★★ |
| Ease of use | ★★★★★ |
| Customer service | ★★★★★ |
| Features | ★★★★★ |
| Staking/earning | ★★★★★ |
| Trustworthiness/security | ★★★★★ |
| Overall score | 4 |
Overview of CoinJar
CoinJar is an Australian-based cryptocurrency exchange that was established in 2013. It is one of the oldest crypto exchanges currently on the market. The exchange allows users to enter the world of cryptocurrency investing through a simple and beginner-friendly platform. While offering a vast range of digital assets, the platform is uncomplicated and could be the perfect starting point for inexperienced investors.
Although initially targeting those new to crypto, the exchange now also offers a range of advanced trading features, such as charting software and different order types. The exchange can be used via both desktop and mobile applications, and users can top up accounts using both card or bank transfers.
If this is your first exchange. You will find a beginner-friendly platform which offers a varied range of digital assets but keeps things simple.
If you're switching exchanges. Coinjar has added advanced trading features along the way, so you can take advantage of different order types and charting software.
What to know about CoinJar
Although more commonly used as a route for those looking to hodl (hold) cryptocurrencies over the long term, the exchange has now expanded to include an advanced trading platform for those looking to capitalise on short-term moves.
The regular platform offers users the opportunity to buy and sell cryptocurrencies using fiat currency reserves. Once purchased, cryptocurrencies can be stored securely on the exchange's built-in crypto wallet and tracked using the exchange's live market data. CoinJar now also offers users the ability to spend cryptocurrency holdings thanks to the new CoinJar Card. Alongside investing, users can access the advanced digital currency trading platform and Over-The-Counter (OTC) services.
What's it like to use CoinJar?
Getting started
Signing up is simple with ID verification all done through CoinJar's mobile app.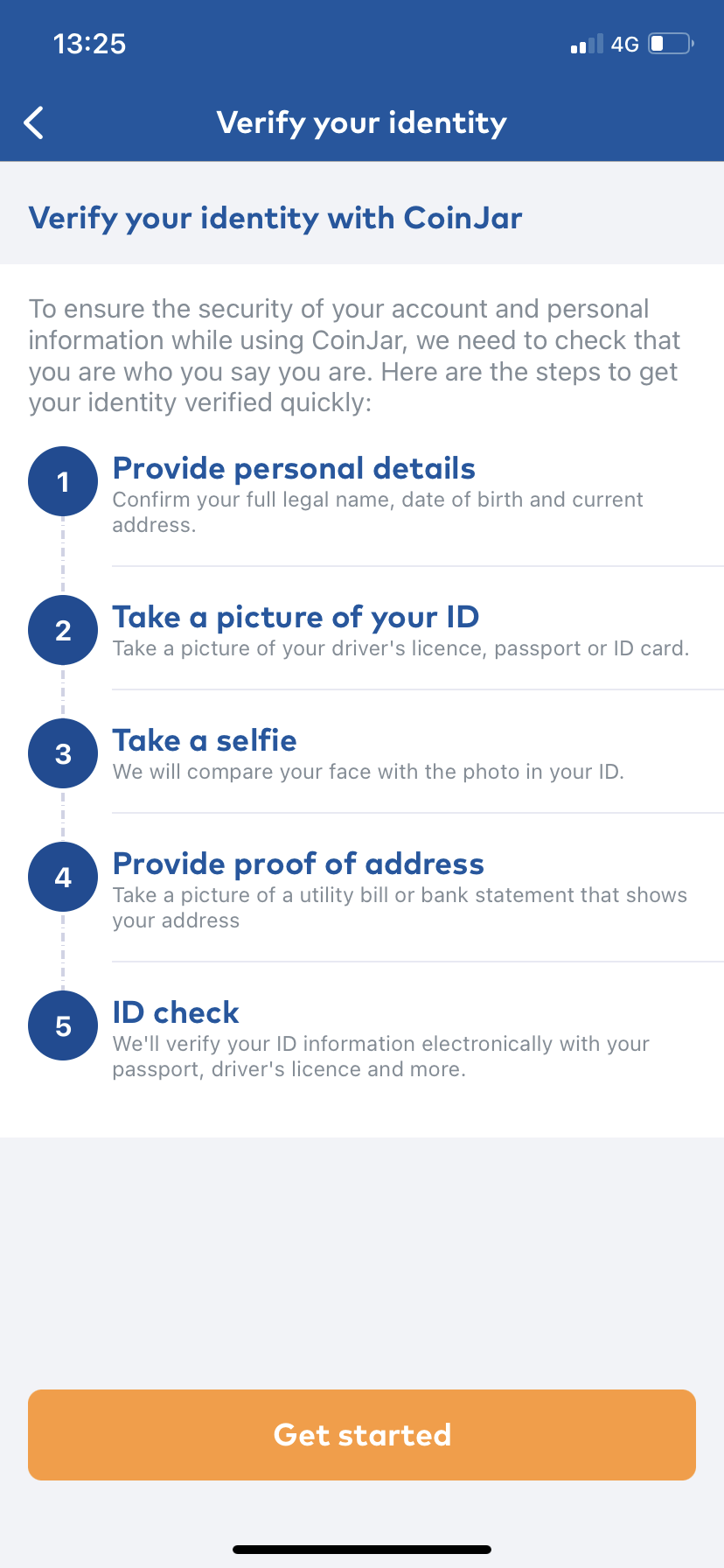 CoinJar Wallet
The on-platform CoinJar Wallet is a warm and friendly introduction to how a crypto wallet works.


Trade easily
You can buy or sell a range of popular cryptocurrencies directly using either fiat cash reserves or a bank credit or debit card.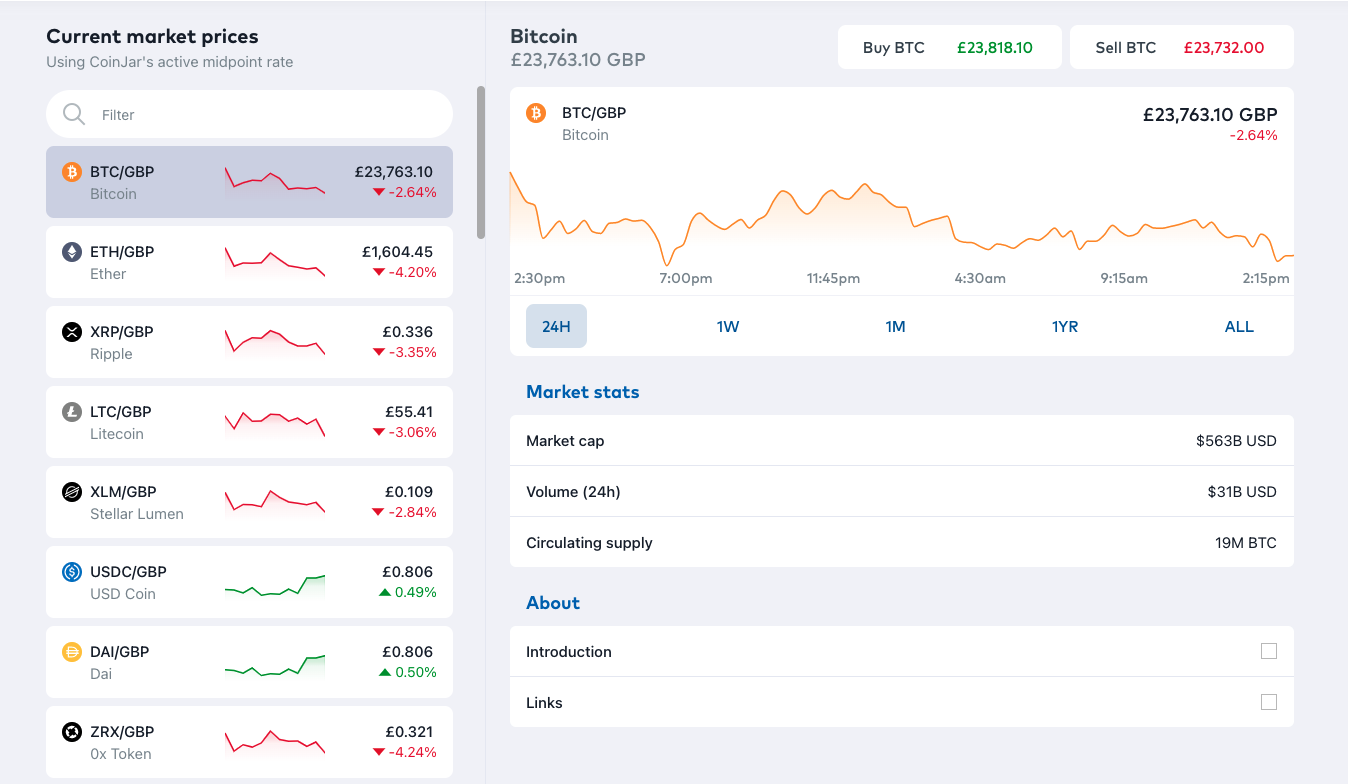 CoinJar card
Now live in the UK, CoinJar's MasterCard will allow you to instantly spend your crypto online and in-store.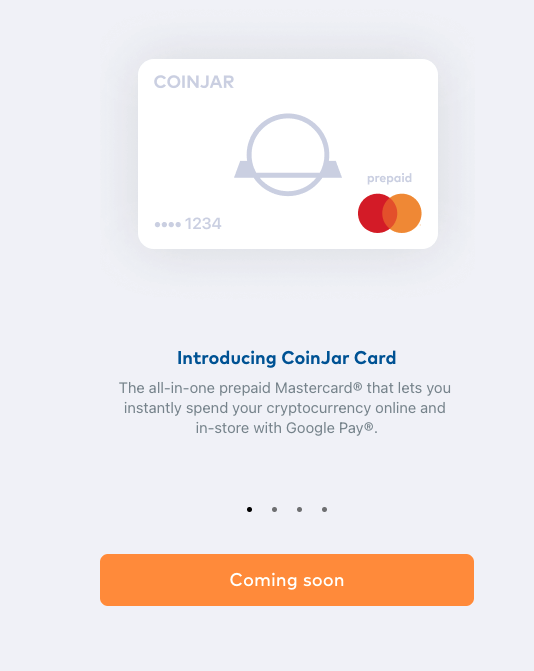 Does Coinjar have good customer support?
Customer support on the exchange is provided in the form of a detailed FAQ section. If an answer cannot be found there, a customer support representative can be contacted via a ticketing system. Response times are generally sent within 2 hours.
CoinJar now has a local UK customer support office, with support available 17 hours a day. Monday to Friday you can talk to someone between 9am and 2am, and there is also weekend coverage between 9am and 5pm.
Reports on Trustpilot are largely positive, with users reporting quick response times and swift resolutions.
If you are on the CoinJar trader plan, you will have access to a special direct line for power users. However, even they don't have access via live chat or social media.
| | | |
| --- | --- | --- |
| | Support offered | Wait times |
| "Contact us" form | Yes | Within 2 hours |
| Live chat | No | N/A |
| Email support | No | N/A |
List of services on CoinJar
At the time of writing, CoinJar has limited services in terms of trading and creating orders. But it does have some interesting additional features.
Cryptocurrency Bundles on CoinJar
For a more consumer audience, CoinJar offers crypto bundle products. Bundles are collections of the major cryptocurrencies you can buy to automatically diversify your holdings. Think of them as being a little like tracker funds in more conventional investing, where holdings can be determined by either percentages or relative values of the stakes. These add to CoinJar's appeal for beginners, given the minimal level of thought required.
Recurring Buy on CoinJar
Dollar Cost Average (DCA) is now available with CoinJar Bundles Recurring Buy. You can set up weekly, fortnightly or monthly purchases at your chosen rate. The appeal is that you can regularly purchase crypto using your debit card, meaning less of an up-front investment and more diversification of your portfolio. There is a 2% debit card fee, but you can cancel and withdraw at any time.
Crypto Card on CoinJar
The CoinJar Card allows users to spend cryptocurrency assets wherever Mastercard is accepted. The card automatically converts cryptocurrencies at the current conversion rate whenever a transaction is executed. For every £1 you spend you'll earn 2 CoinJar Rewards points, which can be used to cover the cost of future trades. It supports 30 cryptocurrencies. All in-store or online purchases incur a 1% charge.
Trust rating
Signing up on CoinJar
Go through a step-by-step guide on the sign-up process, and how to pass KYC.
Compare CoinJar against other exchanges
Crypto is unregulated in the UK; there's no consumer protection; value can rise or fall; tax on profits may apply*.
Frequently asked questions
* Cryptocurrencies aren't regulated in the UK and there's no protection from the Financial Ombudsman or the Financial Services Compensation Scheme. Your capital is at risk. Capital gains tax on profits may apply. Cryptocurrencies are speculative and investing in them involves significant risks - they're highly volatile, vulnerable to hacking and sensitive to secondary activity. The value of investments can fall as well as rise and you may get back less than you invested. Past performance is no guarantee of future results. This content shouldn't be interpreted as a recommendation to invest. Before you invest, you should get advice and decide whether the potential return outweighs the risks. Finder, or the author, may have holdings in the cryptocurrencies discussed.