Coinbase review
Buy and sell cryptocurrency in the UK at one of the world's biggest beginner-friendly crypto exchanges.
Great for first-time crypto buyers
Not so great for its fees. Cryptoasset investing is unregulated in the UK. There's no consumer protection. The value of investments can fall. Tax on profits may apply.
Details
Product Name
Coinbase Digital Currency Exchange
Fiat Currencies
USD, EUR, GBP, CAD, MXN, HRK, CZK, DKK, CLP, BGN & 10+ more
Cryptocurrencies
AAVE, APE, BAT, BTC, BCH, BAL, DAI, DASH, EOS, ETH, ETC & 150+ more
Deposit Methods
Bank transfer (ACH)
Credit card
Debit card
PayPal
Bank transfer (SEPA)

Trading Fee
0.6% ('taker' fee on trades below £10,000) plus spread
Deposit Fees
Debit card: 3.99%
Bank transfer: 0%
PayPal: 2.5%
Withdrawal Fees
£1
Crypto is unregulated in the UK; there's no consumer protection; value can rise or fall; tax on profits may apply.
What is Coinbase?
Coinbase is a San Francisco-based cryptocurrency exchange platform launched in 2012 by computer engineer Brian Armstrong and Goldman Sachs trader Fred Ehrsam.
They founded the exchange to enable the buying and selling of Bitcoin. However, the exchange has grown beyond Bitcoin to support hundreds of digital assets and provides services such as spending, trading and earning.
In April 2021, Coinbase became publicly traded via a listing on the NASDAQ where it can be found under the ticker COIN. As the first cryptocurrency exchange to go public, it represented a new milestone for the industry. It is available in multiple countries across the globe, including the UK.
Coinbase has an advanced trading platform called Coinbase Pro that offers lower fees and more trading options. Pro is automatically available for free once you sign up to Coinbase.
If this is your first exchange: Coinbase is easy to sign up for and has a user-friendly interface that makes buying your first cryptocurrency easy. There are lots of different coins and tokens available.
If you're switching exchanges: Coinbase has a debit card that lets you spend cryptocurrency anywhere Visa is accepted. Fees on Coinbase are higher than some competitors unless using Pro.
Pros and cons of Coinbase
Pros
Coinbase has an insurance fund.
It supports over 100 cryptocurrencies.
It has a Visa debit card.
Cons
Coinbase fees are high compared to other exchanges.
Customer service is slow.
It had a hacking incident in October 2021.
Verdict: Is Coinbase any good?
Yes, Coinbase is a good cryptocurrency exchange and is one of the top exchanges in the world by volume for a reason. It offers a large selection of coins and tokens for buying and selling. There are a variety of ways for users to earn extra cryptocurrency for free through the platform including through staking and learning. There is a Visa debit card available for users in many countries including the UK and US. Getting verified is a streamlined process, and there are options on the platform for beginners and advanced users. Fees can be high through the basic platform but are competitive within the Pro version of the platform, which is free to access once you've been verified. The volume on the exchange makes it easy to quickly buy or sell at any time.
What to know about Coinbase
Coinbase is one of the most used cryptocurrency exchange platforms on the market. It offers over 100 crypto assets and tokens for users to buy, sell and trade. The platform has a user-friendly interface, and offers features such as staking and earning. Trading fees can be high when trades are done on the basic platform rather than the Pro platform which users are automatically given access to. This is not told to users when they sign up. Coinbase gives users the ability to spend cryptocurrency with their Coinbase card but also charges a 2.49% fee for any transaction not done in its USDC stablecoin.
Finder ratings
| | |
| --- | --- |
| Supported cryptocurrencies | ★★★★★ |
| Transferring money or assets | ★★★★★ |
| Fees and costs | ★★★★★ |
| Ease of use | ★★★★★ |
| Customer service | ★★★★★ |
| Features | ★★★★★ |
| Staking/earning rating | ★★★★★ |
| Trustworthiness/security | ★★★★★ |
| Overall score | ★★★★★ |
Supported cryptocurrencies
Coinbase supports more than 100 assets that users can buy, sell and trade on the platform. Here are just some of the supported coins and tokens:
Bitcoin
Ethereum
Litecoin
DAI
Decentraland
Dogecoin
Compound
Chainlink
Crypto.com
EOS
Bitcoin Cash
Ampleforth
Ripple (XRP) is missing from the list of cryptocurrencies supported by Coinbase. The platform suspended the trading of XRP when the SEC took Ripple to court.
Transferring fiat and cryptocurrency
When depositing crypto coins and tokens onto Coinbase there are no fees apart from the network fee required by the blockchain. Withdrawing cryptocurrency to an external wallet only costs the network fee as well.
Withdrawing fiat can incur a 1% fee plus the network fee when converting cryptocurrency directly to cash. Withdrawing and depositing fiat directly has varying fees that depend on the user's location and method used. Wait times vary as well but can be seen below.
As a UK user, deposits to your GBP wallet using GBP bank transfers (Faster Payments) are normally completed within 1 business day.
How long do international deposits and withdrawals take?
EUR deposits and withdrawals are processed with SEPA transfers. CAD transfers are processed via EFT and Interac. We have included the average processing times for transfers below. Note that rare circumstances such as bank holidays may result in longer-than-normal processing times.
Transferring euros (SEPA)
Deposit processing time: 2-3 business days
Withdrawal processing time: 1-2 business days
Transferring CAD (EFT or Interac)
Deposit processing time: 3-4 business days via EFT, instant via Interac
Withdrawal processing time: 1-2 business days
Transferring SGD
Deposit processing time: Instant
Withdrawal processing time: 2-3 business days for normal withdrawals; same-day processing available for a $2.99 fee
Note: Your bank's fees for deposits may vary. For withdrawals there is a fee of €0,15 for SEPA withdrawals. For Canadian users, there is a $1 fee to deposit or withdraw CAD.
Fees and costs
Coinbase has fairly high trading fees on its standard platform because it includes a spread in the price when traders use "Trade" to buy or sell cryptocurrencies, as well as in the exchange rate when it converts cryptocurrencies. When using the Pro platform these fees are instead 0.5% for both maker and taker trades and can be reduced through increased trading volume. All fees users have to pay are disclosed during the transaction, there are no hidden fees.
Fiat withdrawal and deposit fees
| Deposit | Withdrawal |
| --- | --- |
| Swift (GBP) – Free | Swift (GBP) – £1 GBP |
| Wire (USD) – $10 USD | Wire (USD) – $25 USD |
| Debit/credit cards – 2% | |
| SEPA (EUR) – €0,15 EUR | SEPA (EUR) – €0,15 EUR |
| ACH (USD) – Free | ACH (USD) – Free |
Crypto withdrawal and deposit fees
| Deposit | Withdrawal |
| --- | --- |
| Network fee | Network fee |
What is it like to use Coinbase?
Coinbase has designed its user interface, prompts and overall platform to be easy and usable for complete newcomers. Below are some of the interactions encountered on the exchange.
Getting started/KYC. You'll need to create an account, including providing Know Your Customer (KYC) information. After that, a funding method will be required.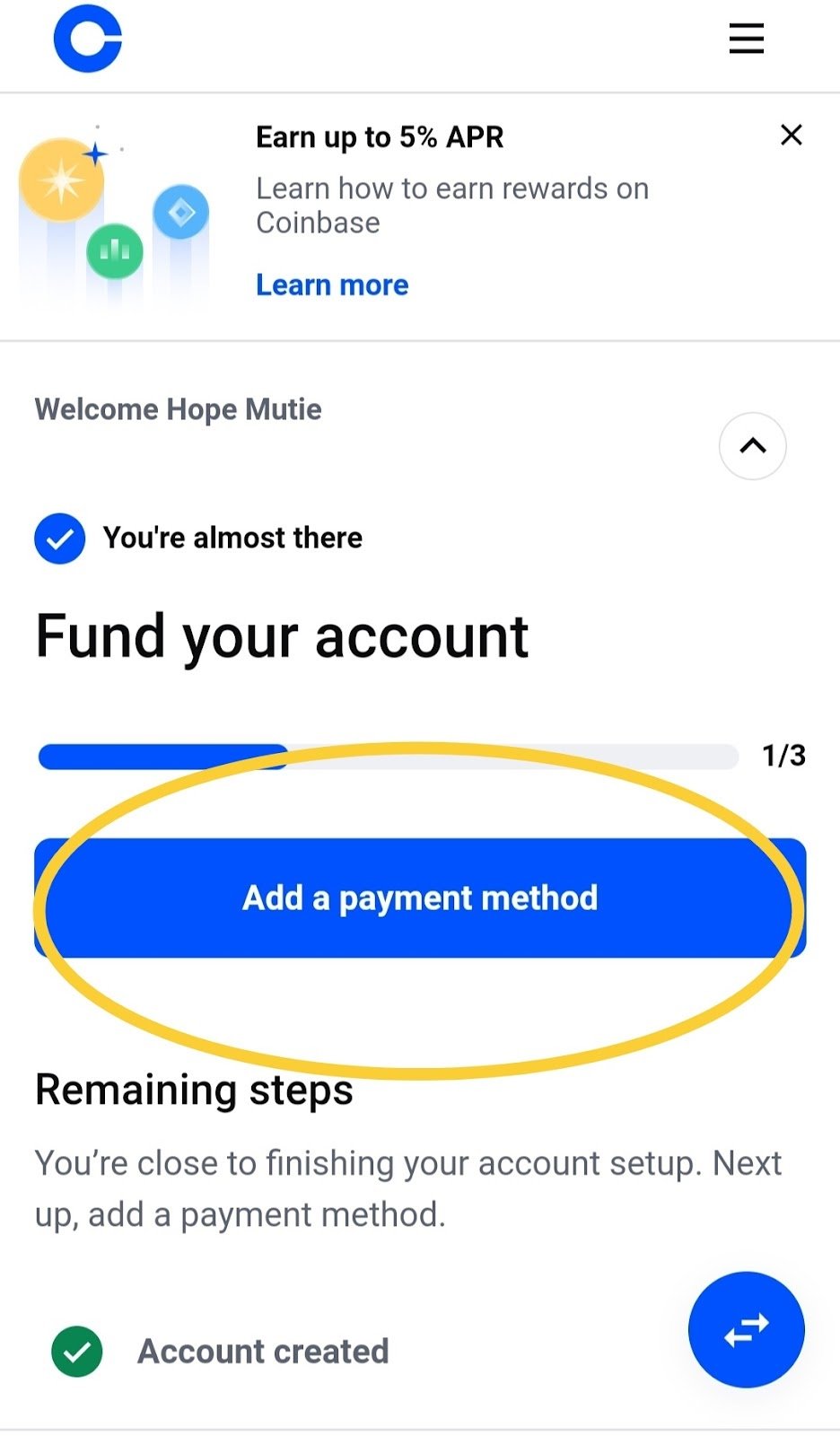 Buy/sell/convert. Easy to use options for buying, selling and converting cryptocurrency. A spread is charged when using this method for trades.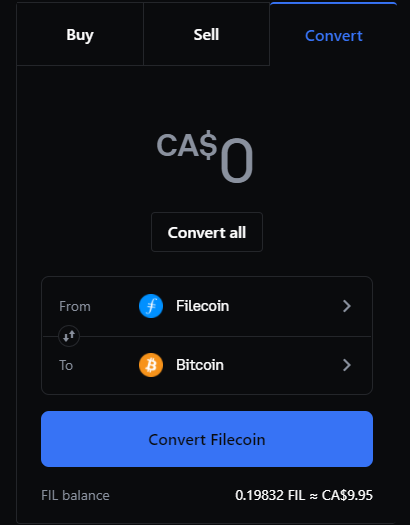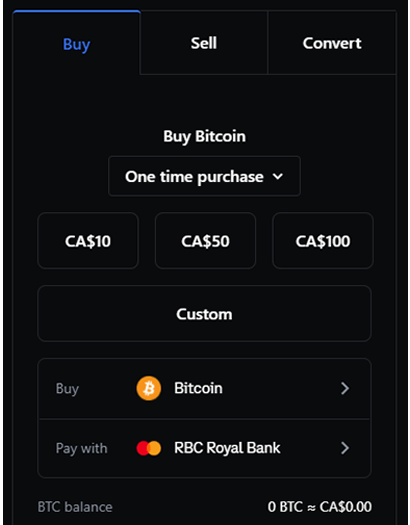 Promotions. Coinbase offers lots of promotions such as its learning program and referral program. Users can invite friends and receive a bonus when they sign up.

Learn and Earn. Coinbase's Learn and Earn program lets you learn about cryptocurrency. Watch videos and take quizzes in order to receive free cryptocurrency as a reward.

Coinbase Card. The Coinbase Card allows you to spend any cryptocurrency in your Coinbase wallet and earn rewards for each purchase. There is a 2.49% fee for all purchases made if not made in USDC.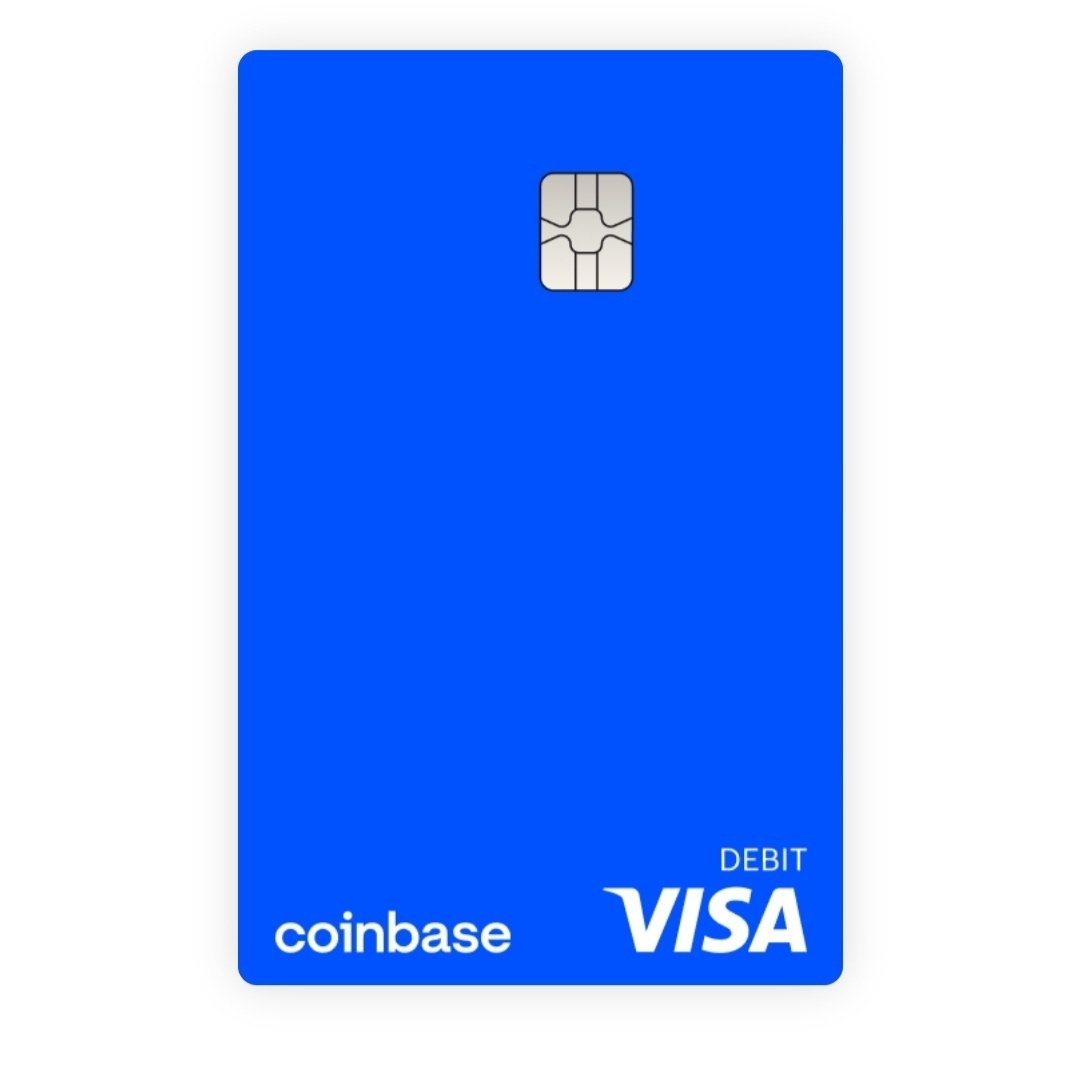 Does Coinbase have good customer support?
Coinbase has live chat customer support available on its website. There is also a phone number for support on the Coinbase card or to lock an account if there is suspicious activity. Otherwise, Coinbase provides a knowledge base and an automated response system for answers via form replies. Users can also email Coinbase support directly and typically you'll receive a reply in 1-3 days. Response times have been reported to be slow for many users.
List of services on Coinbase
Trading
Trading is the main service of the exchange. You can buy, sell or convert cryptocurrency instantly using the easy to use options available through the main platform. These transactions incur a price spread. On the Pro platform traders can set limit orders, stop loss, or buy and sell at market price. Though it may be more intimidating for newcomers to use the Pro version, it is free to access and comes with the added benefit of lower trading fees and no price spread.
Earning on Coinbase
Coinbase lets you earn cryptocurrency via staking. Stake assets like Tezos, Cosmos, Algorand and Ethereum and earn up to 5% interest. Staking these assets will give users a yearly return which can be compounded or spent elsewhere.
Users can also earn free cryptocurrency through the learning program. This involves traders learning about a specific crypto asset and answering a simple quiz in exchange for a portion of the coin or token of topic.
Coinbase Visa debit card
Coinbase Card is a Visa debit card that lets you spend any cryptocurrency in your Coinbase portfolio or USDC anywhere Visa is accepted. Earn up to 4% in cryptocurrency rewards for every purchase. The card is free but there is a 2.49% fee for all non-USDC payments. The Visa card is available in 28 countries including the UK.
Trust rating
Until October 2021, Coinbase had been free of any hacking incidents. While that is no longer the case, the incident was handled well. Coinbase has a long history of trustworthiness before the incident, including regular security audits and insurance policies in place to protect users.
Past hacks
In October 2021, the accounts of about 6,000 customers were hacked and their funds stolen. Coinbase reimbursed users the stolen funds. The hackers exploited a flaw in Coinbase's SMS account recovery procedure. Following that, the hackers would have required the users' personal information. There was no evidence that the users' personal information was stolen from Coinbase, meaning that information was phished from the affected users. This is the only incidence of a hack at Coinbase.
Security audits
In 2020, Coinbase invited security audit firm Grant Thornton to carry out 2 security evaluations. Coinbase Custody, the cryptocurrency custody arm of the exchange, received a Service Organization Control (SOC) 1 Type 2 and SOC 2 Type 2 audit.
The company said it would continue engaging with audit companies to conduct the SOC audits. By doing so, the company hopes to show clients that it is compliant with various security standards.
Insurance
Coinbase is insured for $255 million. This insurance is solely for coins stored in hot wallets. The policy is put in place by Aon insurance and is sourced from insurance companies in the US and UK.
Signing up on Coinbase
The sign-up process for Coinbase is a straightforward process. Users must be at least 18 years of age, and can do so following the proceeding steps.
Compare Coinbase with other exchanges
Table: shows partner brands and other brands, sorted by popularity
Cryptocurrencies aren't regulated in the UK and there's no protection from the Financial Ombudsman or the Financial Services Compensation Scheme. Your capital is at risk. Capital gains tax on profits may apply.
Cryptocurrencies are speculative and investing in them involves significant risks - they're highly volatile, vulnerable to hacking and sensitive to secondary activity. The value of investments can fall as well as rise and you may get back less than you invested. Past performance is no guarantee of future results. This content shouldn't be interpreted as a recommendation to invest. Before you invest, you should get advice and decide whether the potential return outweighs the risks. Finder, or the author, may have holdings in the cryptocurrencies discussed.